We all know that the 2020 graduation year was not like those of the recent past.
Whether it was a high school or college graduation, there was a feeling of loss and disappointment. The large accomplishments that each grad worked so hard for were not celebrated traditionally. But there is still an opportunity to celebrate, to share with the graduate in your life how proud you are of their accomplishment. In fact, it's more important than ever. 
So, whether the graduate in your life is decorating a new apartment, moving to a new city, changing lifestyle habits or hunkering down in their childhood bedroom for now, GlobeIn can help you celebrate them.
Graduate Gift Ideas for her:
1. the perfect start to her own garden

This single bar jute plant hanger is an ideal way to add a little green to a new indoor or outdoor space. This creative item was handmade in India and will make your wall flowers feel like anything but a wallflower!
Take a look at our garden collection for more. 
2. A Monthly subscription that feels like traveling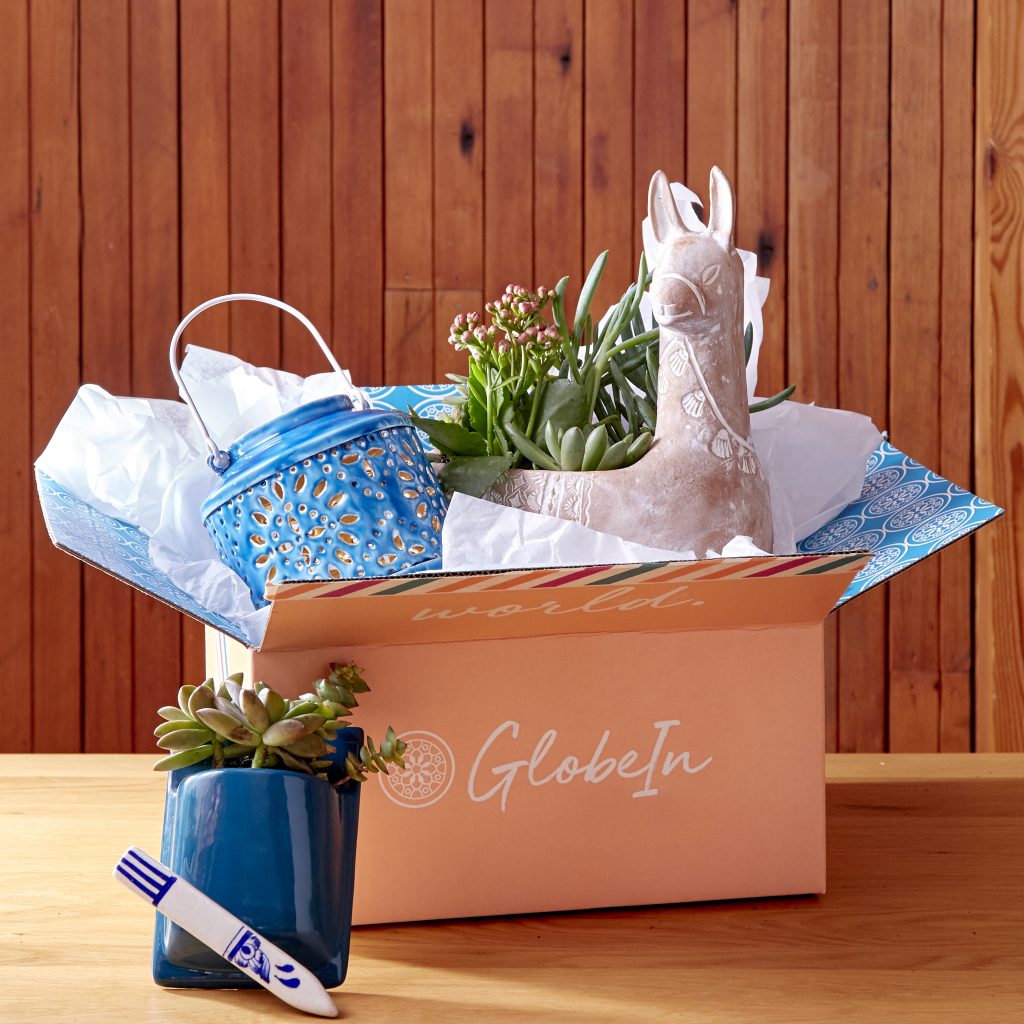 This is a tough time for the graduates of 2020. Maybe there were plans to travel… explore… learn. It won't happen right away. But that doesn't mean you can't help inspire them just the same. Each month GlobeIn sends hand-crafted items from around the world straight to your door. Every box tells a story about empowering women all over the globe. Choose a three, six or 12-month subscription, and your grad can choose products to fill out their home, while being inspired every month.
3. the ultimate travel accessory
When borders do open up, this bag will be ready to roam—just like your grads!
They can take it on-the-go for groceries, to a friend's house or to work (once they score that dream job). This multi-purpose tote is perfect for style and transport. 
Find more Fair Trade fashion here.  
4. Some relaxation essentials
After four or more years of studying for a degree AND a global pandemic, your graduate needs a little R&R. Let's start with a seaside scented shower to relax and reflect. 
Find more self-care goodies here.
5. stylish storage
Made with vetiver grass that adds a splash of color, these traditional handwoven baskets undoubtedly bring some international style to organization and storage for a new apartment.  After all, 20-somethings love and need a colorful, organized, home.
Browse more storage items here.
6. fun glassware
With the end of school comes the beginning of new kitchen decoration, and some snazzy glasses with which to propose some epic toasts. This set of glassware created in India is perfect for sharing celebratory drinks with roommates, friends or family.
7. A gift box she'll love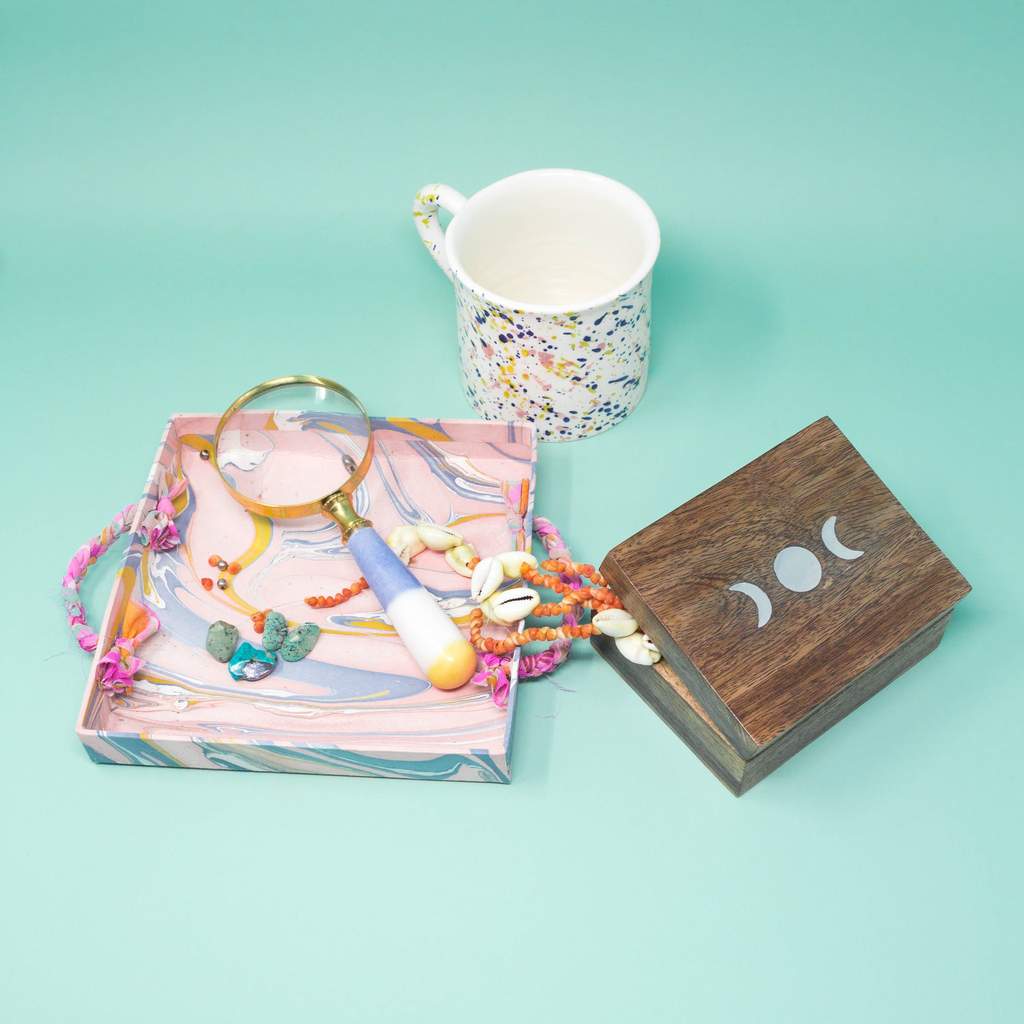 Show your grad some love with a curated Artisan gift box featuring items from all around the world. As a new grad they'll be ready to Discover all that the world has to offer, so the Discover Box, with a handmade keepsake box from India, a hand-painted mug from Morocco, and more, is a great choice. If she's more into cooking (or needs a hand kick starting her culinary journey), try out the Bake Box or the World Kitchen Box.
Check out other curated Artisan Boxes here. 
8. Striking accesories
Whether she is searching for a job or starting a new one, this is the perfect time to impress. She'll feel 100% confident and unforgettable in these Olivia earrings. The perfect keepsake to remember her graduation by.
9. self care goodies
Whether this time is scary for a recent graduate or really exciting, everyone needs to relax on occasion. This fossil clay face mask is refreshing and removes all the yuck from your skin, leaving you with beautiful results. This gift is perfect to pair with one of our scented candles or lipsticks for extra self-care.
10. A morning pick-me-up

This cheery hand-painted floral mug is waiting for a place in your new college graduate's kitchen. It can be paired with our Fair Trade coffee or tea, but sometimes what's inside doesn't matter. It is about the glam factor and this mug has it in spades! 
11. new office accessories
If she's starting a new job, help her do it in style. These gorgeous hand-painted tiffins are great for carrying leftovers to work.
Shop more office accessories here. 
12. The Makings of a Herb Garden
This jar is self-watering, meaning if your daughter/friend/neighbor just graduated from college and wants to start a garden, this can be their first step. There are different herbs that come in these jars, but who doesn't love a touch of Oregano. Get your new college graduates started on a new healthy lifestyle.
Looking for more?
Take a look at the Artisan Shop for many more ideas.