At GlobeIn, we're always listening to our customer's feedback and evolving to make your experience smoother. We are excited to announce some new changes that will create a more seamless way to shop for handmade items directly from artisans all around the world.
If you're a Premium subscriber, this month you'll see a major change to the process of selecting an Artisan Box theme. Rest assured, you'll still be able to choose from several amazing Artisan Box themes or individual items, as usual!
Here's how: 
Step 1: Choose 'Surprise' or 'Customize'
There are two main ways to experience your Premium subscription: either receiving a surprise Artisan Box (we choose!) or selecting your own Artisan Box or additional products (you choose!).
The first step once you've logged into your account is to select between these two options. 
Visit the 'Account' section and you'll see a toggle that says 'Surprise' or 'Customize'.

Choose Surprise, and we'll send you one of our curated Artisan Boxes. Choose 'Customize' and you'll receive Maven Money in your account, equivalent to the amount you paid per box upfront. You can use it to select your own Artisan Box or individual items from the Artisan Fair. 
Note: If you've been a customer for a while, you'll recognize that 'Customize' is the new term for what used to be 'Redeem'. 

Step 2: Shop the Artisan Fair 
If you selected 'Surprise'
: 
Simply head to the 'Artisan Fair' and add any additional Artisan Boxes or individual items to your cart. You'll see that this month, some boxes are priced dynamically, based on the amount that you paid upfront for your boxes. So just for being a Premium subscriber, you can stock up on as many Artisan Boxes as you like at great value! 
If you selected 'Customize':
When you head to the 'Artisan Boxes' section of the Artisan Fair, you'll see that we've listed your first box as 'Included with your subscription'. If you want to receive a box, simply add one to your cart. This will be your 'theme' for the month. You can keep shopping to add any additional items from the Artisan Fair to your cart.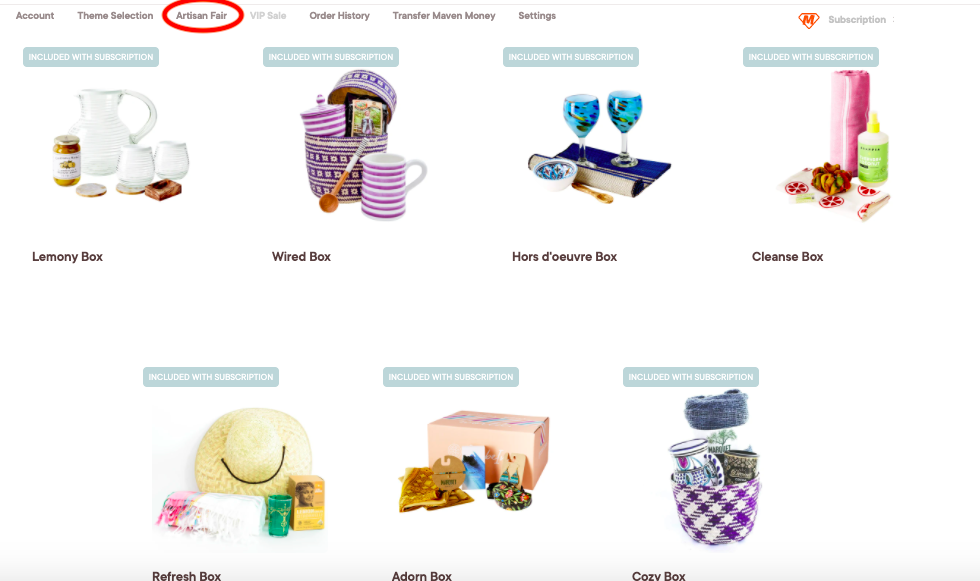 After your first box, any additional Artisan Boxes will be priced dynamically, based on the amount that you paid upfront for each box. You can stock up on even more Artisan Boxes at great value! 
Note: 'Deluxe' Boxes (some of our most popular and limited-supply items!), are not priced dynamically. If you want to select this as your first theme, you'll need to pay a small fee to cover the difference.
If you'd rather not receive a box this month, you can simply shop for individual items instead, or save your Maven Money up to buy something else next month!
Step 3: Come back next month 
Love receiving a surprise box every month? Or prefer to select your own products? If there's a way you prefer to shop, now we'll be able to keep this in mind. Whatever you choose this month ('Surprise' or 'Customize'), we'll automatically pre-select for you again next month. You can easily change it if you'd like to experience GlobeIn differently next month—you're in control! Just login between the 1st – 15th of every month to make your selection.
Enjoy shopping at the Artisan Fair!
We know that there have been a lot of changes recently and we appreciate your patience and openness to these new additions to your GlobeIn subscription. We're taking small steps every day on our journey to a much smoother customer experience, which will allow everyone to shop more easily for handmade items from all around the world.

We hope you enjoy these changes! If you have any questions, you can join the conversation in the Maven's Group, or don't hesitate to reach out via our contact form.