So, someone you know just moved into a new home. And they've invited you over, but you can't come empty-handed. What's a good gift for a new homeowner?
Back in the day, a "housewarming" party would be exactly that: a gathering where visitors brought firewood to warm a new house for the first time. Today, you might not need firewood for a housewarming party, but a great housewarming gift does some important things.
Sometimes a new place lacks a special something that makes it feel homey. It might be filled with the basics—a couch, a coffee table—but it doesn't yet have items with a fun backstory that the owners can remember each time they use them.
That's where a great housewarming gift comes in. It'll fill your recipient with excitement about calling their place home and sharing it with others. And much like the firewood of the past, a good gift will make a new space feel warm, cozy and familiar.
But the best housewarming gifts add that personal touch that makes you sigh with relief and say, "I'm home."
So, whether a new home needs physical warmth or just something unique to make it feel more homey, you'll find what you need amongst these top housewarming gifts for new homeowners.
For the foodie
If they love to cook, get them something that'll make them smile every time they prepare their favorite meal. Upside: they'll think of you every time they don the chef hat!
But if they're kitchen pros, they most likely already have an arsenal of kitchen accessories at home. Solution: get them unique, handmade cooking items that truly stand out.
Give them the best of everything in the World Kitchen Box, complete with spices, a handmade ceramic tagine, and an elegant woven basket for storage. Or try a colorful embroidered apron made out of upcycled saris. If you know a recipe collector, help them keep their recipes organized with a set of block-printed recipe cards.
For the picky ones
Have you ever responded to a question with another question? This is the equivalent of that trick in the world of gift giving: let your friends choose their own gift, every month. Get them an Artisan Box subscription.
Your friends will get to choose their own handmade items to fill their home with, while you take all the credit for the memorable gift. Now, how does that sound?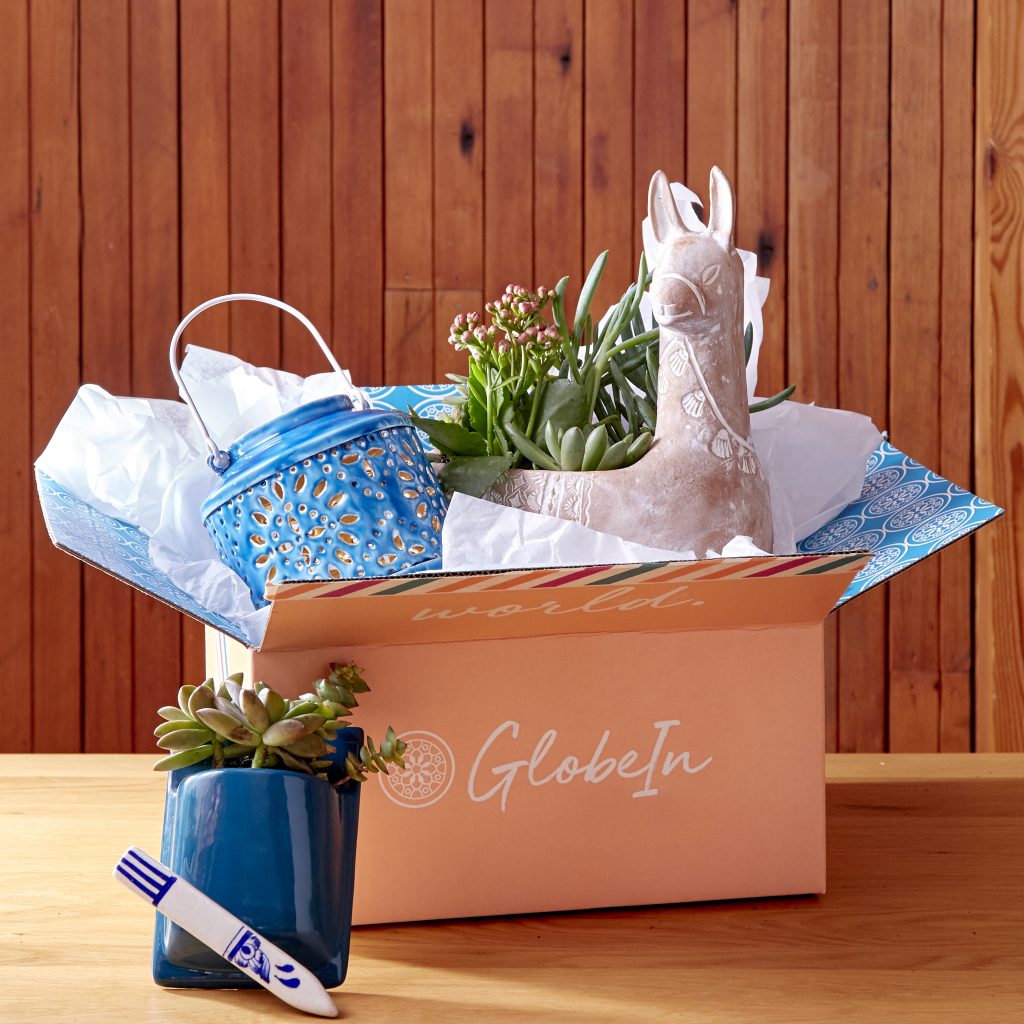 New Artisan Boxes are curated every month and are value-packed with one-of-a-kind items from around the world. And by subscribing to a Fair Trade verified subscription, you help alleviate poverty and provide safe working conditions for artisans around the world.
For the bartenders
If your new homeowners like to mix their own drinks, there are plenty of options. You could go with a bottle of their favorite liqueur, but bottles eventually run out.
Why not give something that lasts? With a bar-themed housewarming gift, the memory of your visit will last for years to come.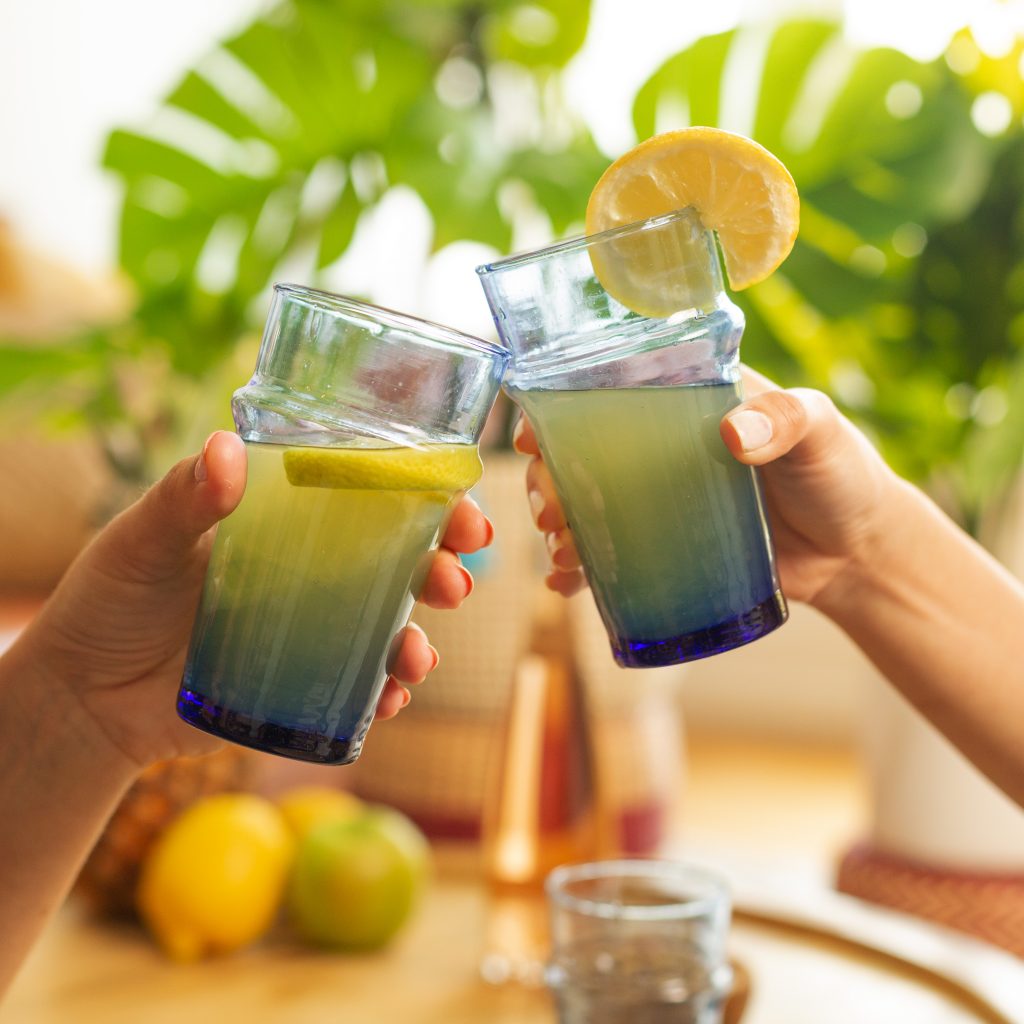 Look for a colorful pitcher for those big parties, a hand carved flight stand, or a fun animal-shaped bottle topper. For an eco-conscious housewarming, go for colorful barware made out of recycled glass.
For the picture-perfect brunchers
If your new homeowners have Instagram-ready plates at every meal, get them a gift that complements their brunch aesthetic. Handmade dinnerware with unique designs is a surefire way to score points with your favorite brunchers.
These intricately-painted plates elevate every meal into a picture-perfect occasion. Or just let them stand on their own for a captivating decor accent.
For the plant-lovers
The best housewarming gifts breathe new life into a home or garden. Whether your friends are expert green-thumbs or beginners, you can't go wrong with garden-themed gifts for a housewarming party.
Try the easy-care Garden Jars that let even the most forgetful owners enjoy homegrown herbs from their windowsill. Or try hand-painted planter sets, plant misters, or wind chimes for classy touches to any garden space.
For the spa lovers
Moving into a new home can be stressful and chaotic. Give a housewarming gift of relaxation and self-indulgence to help your friends ease themselves into a new space.
There are so many ways to bring the spa experience home. Try a clay mask to detox the skin, a scented candle for some aromatherapy, or a nourishing shea butter lotion to keep skin looking smooth all day long.
For homeowners who get cold
Okay, so maybe your friends actually do need something to warm their home. Maybe they haven't gotten their heating set up yet, or they keep the AC on full blast all day, every day. Whatever the situation, keep your friends warm in style.
Give them a patterned throw that will look as good on them as it will draped over the sofa. And maybe even throw in a matching pillow!
For the tidy homeowners

They've just moved in but their home is spotless and organized, as clean as can be. Your gift doesn't have to be something that clutters their minimalist-chic. Give them something that continues to keep their space tidy with multipurpose home decor items.
A handwoven Senegalese basket like this not only catches the eye but will keep a space organized. They can use it as a laundry hamper, a place to keep throws or linens, or let it decorate a drab corner of the house!
For a fresher laundry day
You might not think of laundry accessories as a gift, but when you think about it, who wouldn't want to make chores a little more interesting?
A unique laundry accessory will do just that! Not only will these gifts make laundry day more fun, but many of them offer natural alternatives to the chemicals contained in traditional laundry products.
These organic wool dryer balls let your friends ditch the single-use plastic dryer sheets, and they contain no chemicals. You can also opt for laundry powder free of synthetic fragrances, dyes, preservatives, and brighteners for a healthier detergent alternative.
For homeowners with furry friends
Gifts for new homeowners don't have to leave your friends' pets hanging. After all, they moved to a new home too! So give them something special, like some scrumptious treats, an exciting chew toy, or a super soft bed for them to lounge in.
But if you want to keep both pets and owners happy, try a hand carved pet feeder from India. One of a kind, this feeder looks good and prevents mischievous pets from knocking over bowls.
For those who work from home
A housewarming gift for telecommuters can refresh a home office. Crafty office items help a workspace feel more homey. Get them a gift that will help them focus, or instead, try a gift that will give them a fun break from their work.

This Indian rosewood game-set will provide new homeowners with the perfect break from work, while keeping their office space classy.
Finding the perfect housewarming gift
Any of these gifts will leave a lasting impression at your next housewarming party. That's because the best housewarming gifts make a home feel special and unique. With every GlobeIn product, you bring home artisan stories that make your home one-of-a-kind. Personalizing your home has never been easier!
---
ABOUT GLOBEIN
Every month, the GlobeIn Artisan Box delivers a fresh collection of useful and beautiful items from around the world. As an Artisan Box Subscriber, you learn about the products and the people who made them while discovering simpler ways to live a more fulfilled lifestyle. By subscribing to the GlobeIn Artisan Box (or giving it as a gift), you can feel good about the products you purchase, the people you support and how your choices contribute to a better world.