As GlobeIn continuously strives to make our platform the most customizable membership, we came up with a fun new idea. What if we gave our members the ability to curate a box full of items chosen specifically for themselves, by themselves? Because who knows you better than yourself?!
With this idea in mind, we've created our new Box Builder!
Box Builder is a new feature that gives our members the opportunity to select three artisan crafted items from over 30 of GlobeIn's most popular products. No matter what combination of products you come up with, the retail value of your box will be between $70 – $100!
We know we've made a lot of changes to our platform over the last year so we want to give our members something fun and exciting to experience without changing the basic functions of their accounts. Box Builder isn't something you "need" to take part in but we hope that it's something you will "want" to experience.

There will not be any additional fees to use the Box Builder feature. Box Builder equals the same amount as choosing an already curated box from the Artisan Fair – but you get to personalize it yourself!
Box Builder is very easy to navigate! You will go through and select one item from three different categories. Once you select all three items, they will be added to your cart. You will not be charged anything additional unless you select additional items from the Artisan Fair.
Now Including Digital Brochures!
We have listened to your feedback and understand that one of the benefits of choosing an already curated box from the Artisan Fair is that it comes with a digital brochure introducing the artisans behind these handmade products. We are happy to say that we have added this feature to Box Builder as well! Now, when you purchase your three Box Builder items, you will receive an email telling the story of the artisans behind them. This email will be automatically sent to the email address associated with your account once the Artisan Fair closes.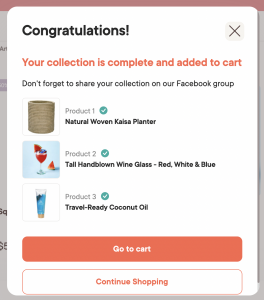 Note: When using Box Builder, you will not see the Ship-Immediately option for these items. These personalized boxes should ship between the 26th and the end of the month.
We hope you are as excited about this new feature as we are! This is another step we are taking to make GlobeIn the most customizable membership! If you have any questions about this new feature, you can join the conversation in the Maven's Group or contact support to get in touch with our Support Team if you need help with something.