Tom Burwell is a solid man with a big heart. Much like his German Shepherd, Mojo, his appearances contrast his kind and caring personality.
Originally from Idaho, Tom wanted to work for a start up. He served several years on the customer service and technical support for big Silicone Valley companies like Dell, Eat24 (who were acquired by Yelp), and Instacart.
"I like to be challenged," says Tom. "Like drinking from the fire hose."
He said his favorite problems to solve are the ones where, "we have a nickel and need to solve a $20 problem."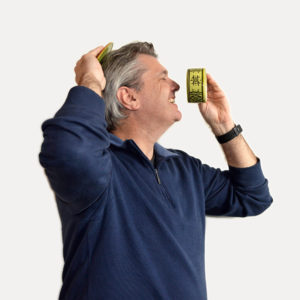 After many years in the customer service world, Tom explains that he views customer service as the face of the company. Tom was drawn to GlobeIn because of his desire to work for a company with a mission. He quotes his mother, a strong, successful woman herself, and his experiences traveling as his inspiration for wanting to work in fair trade.
"I saw firsthand how poorly women are treated in other countries," explained Tom. "It didn't sit right with me and I wanted to be able to affect change."
The father of three daughters, Tom is a fan of GlobeIn's model of purchasing products as a means to empowering women.
"It's not a hand out," states Tom. "We're paying you for something you're doing and giving you a better life and exposing your work to people around the world."
Tom's favorite GlobeIn product is Mr. Ellie Poo's elephant poo journal. Using recycled fibers from elephant waste, this company is working to help Sri Lankans change their attitude towards elephants.
"It's a quirky, unique product you'd never really think of," explains Tom. "I'm a Bear Grylls fan and I remember when he was in Africa. I was a little taken aback when I first saw it, but I read about it and the history and I liked it."
Looking ahead, Tom wants to continue using customer feedback to help grow and better GlobeIn. He sees his role as being the voice of the company. But, most importantly, taking all the customer feedback and doing something with it.
Tom's favorite part of interacting with customers is that it's not always bad feedback he's hearing.
"People love the mission and they like how responsive we are to their concerns," says Tom.
Tom and the whole team at GlobeIn look forward to hearing from you, bad or good.
---
ABOUT GLOBEIN
Every month, the GlobeIn Artisan Box delivers a fresh collection of useful and enthralling items from around the world. As an Artisan Box Subscriber, you learn about the products and the people who made them while discovering simpler ways to live a more fulfilled lifestyle. By subscribing to the GlobeIn Artisan Box, you can feel good about the products you use, the people you support and how your choices contribute to a better world.
---
Post by Barbara Lee.
Barbara is a world traveler who is passionate about sustainable food systems, responsible consumerism, and holistic living. Her professional background and interests include writing, cooking, non-profit work, and eco-conservation.