As part of our ongoing efforts to serve our global community and support our artisan partners, we raise funds every month to assist the needs of a specific artisan group. We work closely with our partners to ensure that our Artisan Fund helps contribute to projects that matter to their communities.
This month, our partner Matr Boomie would like to raise funds to support bell making artisans in India. This fund will directly impact the livelihoods of 42 artisans, helping them continue to support their families and thrive in their traditional craft.

Help us raise $4,200 to build sheds and provide drill machines necessary to make handcrafted bells by artisans in India.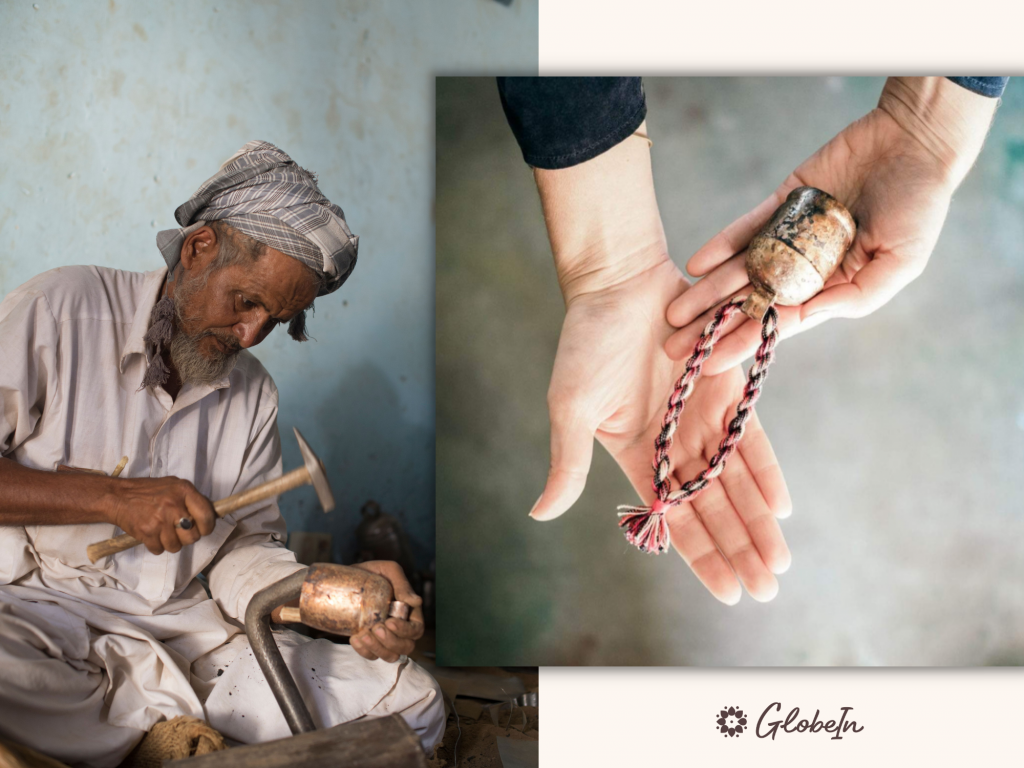 Why are we raising money for these bell making artisans?
In North Western India, on the border with Pakistan, the general population has few employment opportunities. Bell making is a traditional art form in this region, and artisans rely on it to make a livelihood. Since there is not a huge market for their goods in their local area, companies like Matr Boomie and GlobeIn aim to connect them to conscious consumers who are excited to discover these beautiful, one-of-a-kind items. 
Traditional bell making is a multi-step process that requires extensive detail. The artisans compile multiple items including metal to make the bell shape, and then cover it with a layer of copper and tin. This layered bell is then fired in a kiln, and the copper melts to coat the bell and create acoustics. The bell is then fit with a wooden clinger to make the delicate sound.
Most of the artisans live in a small house with one or two rooms, and they work in their home yards. In the desert region where they work, it gets extremely hot in summer. During the height of summer or when it rains, the artisans are not able to work in their yard, which impacts their productivity and ability to maintain a steady income. As well as this, the artisans currently need to travel to another location to visit a shop that can drill holes in their bells, to finalize their products.
Here's How Your Contribution Could Make a Difference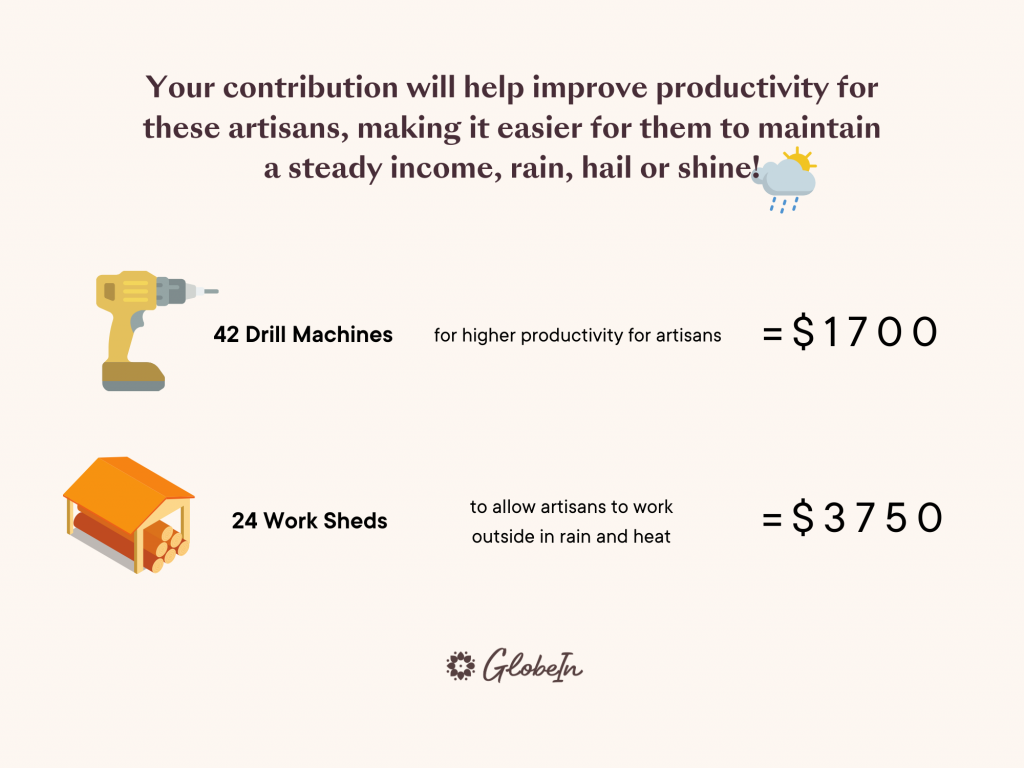 The talented bell making artisanal community are continuing a long-held tradition that enriches the lives of others. This month's Artisan Fund aims to help these artisans get the tools they need to grow their bell making business and maintain their livelihood.
As part of this project, we are raising $1,700 to purchase drill machines for 42 artisans, to make their process faster and remove the need for them to travel to another location to finish their products. By contributing, you would be helping to ensure that these artisans can efficiently complete their bells on site.
We're also raising $3,750 to build sheds for 24 artisans, which will enable them to create their products even during the summer heat or rain. This will help increase their productivity and make sure they can maintain their income, no matter the weather.
By providing the artisans with materials and shelter, we'll be helping them to comfortably and efficiently create their beautiful bells. We'll also be supporting a long-held artistic tradition and ensuring they can make enough income to continue it for years to come.
If you're able to consider making a contribution, please login to your subscription settings between the 1st – 10th of March and add your contribution to your cart. Non-subscribers can contribute via the Artisan Shop!
Thank you for helping us to make a difference in this community.