Every month, we ask our partners for insights into the artisan communities, so together, we can create a program that helps that specific group. Six months after our first Artisan Fund, we are back to Oaxaca, Mexico to continue our ongoing commitment to this community.

---
For the July Artisan Fund, we are raising funds for a women's empowerment workshop and resources for four artisans' children with disabilities.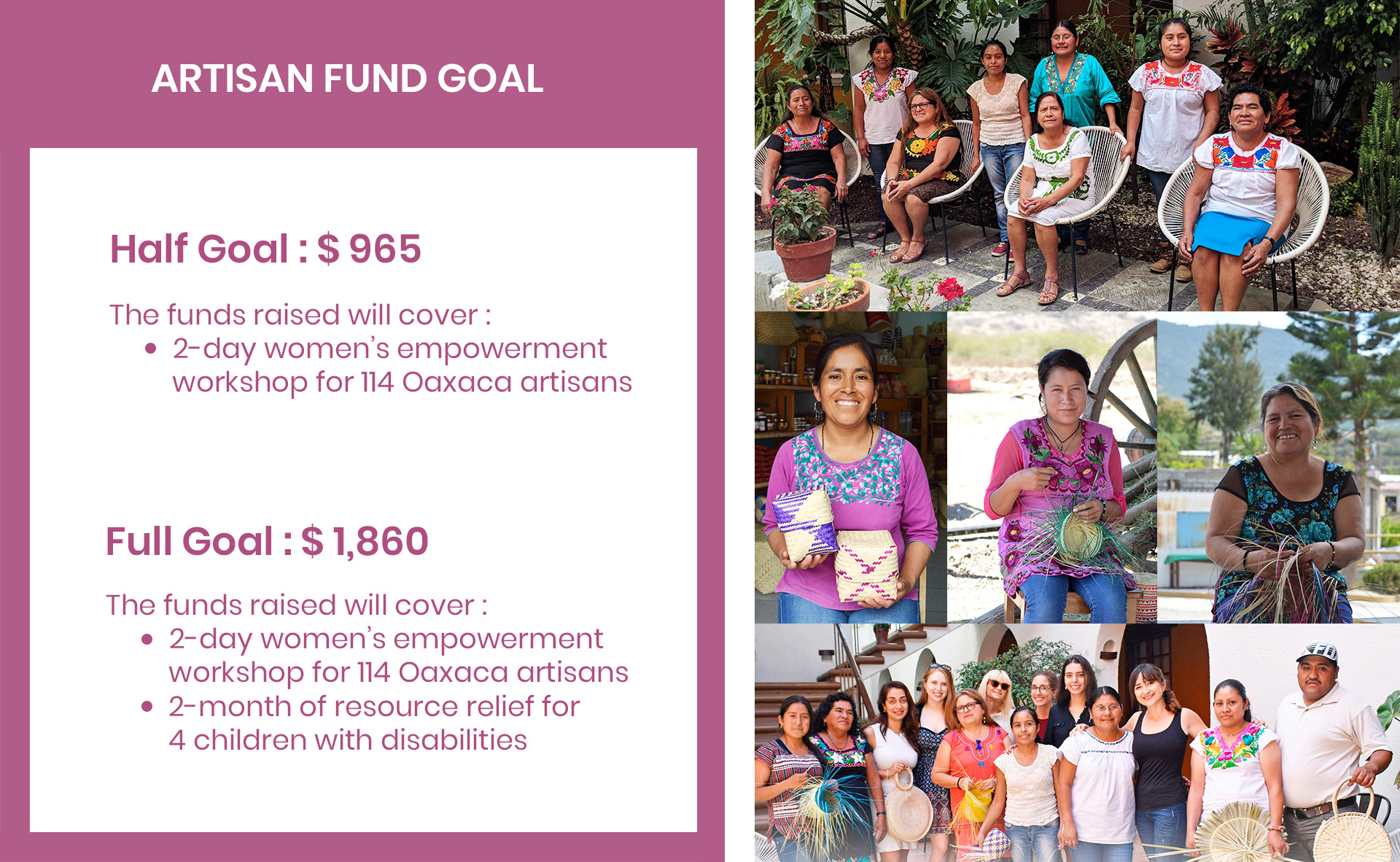 Issue #1: We all have different upbringings and opportunities dependent on our birth situation. For many of us in western countries, our teachers asked us about our futures early on. We were prompted with questions, such as "What do you want to be when you grow up?", and talks about confidence. We may have taken it for granted, but would our lives still be the same without these seeds planted in our heads? In rural Oaxaca, women do not have much access to education, much less the guidance to have these discussions. Women rarely talk about empowerment and female leadership in their communities. At GlobeIn, we hope for the artisans to rise to leadership positions within the group. Unfortunately, it has been reported by Pamela, our Mexico Country Manager, that many of the women do not take on these leadership positions.

What can we do? We want the artisans to feel empowered to take on larger roles, but we must meet them where they are. In her book The Moment of Life, Melinda Gates quotes Dr. Vishwajeet: "Their cup is not empty; you can't just pour your ideas into it. Their cup is already full, so you have to understand what is in their cup." We'll bring 2 workshop leaders to facilitate conversations and help the artisans find ways to advance physically, mentally, and spiritually in their lives. In the workshop, the artisans will also learn about empowerment, leadership, health, self-care, medicinal plants, and other topics pertaining to their role at home and in their community. We're very excited that the artisans are interested in this workshop!

Issue #2:

Additionally, when we asked the artisans what type of support their community could use, they mentioned that 4 of the artisans have
children with disabilities
. Th
e role of a parent is already very difficult and a child with disabilities can have additional challenges—all 4 of the mothers could use assistance and resource relief.
What can we do? Each of the mothers could use resource relief for different issues. If we can raise more than the goal amount, the additional money will go towards more months of resources for these three families.
Camila (11 years old) fell off her bed when she was 9 months old. Her leg has been damaged ever since, and she has trouble walking. Her mother, Honoria, could use assistance with 2 months of doctor appointments. 

Iraís (20 years old) has congenital hypothyroidism. Her mother, Felipa, could use assistance with 2 months of diapers and medicine. 

Aristeo (18 years old) has an intellectual disability. His mother, Maria, could use assistance with 2 months of groceries so she can have one less thing to worry about and focus on working and earning money for future groceries.

Kevin (9 years old)

has an intellectual disability. His mother, Macrina, could also use assistance with 2 months of groceries. 

---
As a reminder, the Artisan Fund is a pool of money that is used for the development of artisan communities.
100% of the proceeds go directly towards community workshops for a
 predetermined artisan group. We collaborate with them to understand how the money is best spent, based on their needs.
Click 
here
 to contribute:
Log in to your 
Subscription Settings
, scroll to the July
 add-ons
, and choose your contribution amount!