---
In January, we launched our first Artisan Fund to support the wellbeing of artisans. We ask our partners for insights into the artisan communities so together, we can create a Fund that is needed for that specific community. Since January, we have created and supported workshops and events every month around the world. We are so excited to continue this month with an Artisan Fund for Accra, Ghana.
For the June Artisan Fund, we are raising funds for first aid and patient advocacy workshops in our partner community.
So what's the goal for June? $1,570

What's the issue?
Accra is the center of Ghana's medical system, yet many locals do not have a good grasp of allopathic medicine. When we reached out to our partner contact and brainstormed different projects, we learned that one of the biggest issues is the employees' perspectives on medicine. Most employees are mothers and do not differentiate between scientific treatment and spiritual remedies. While we believe that traditional medicine is powerful and African cultures and customs are important, we also worry when we hear stories about lives that could have been saved with scientific methods.
There are two parts to the healthcare issue for the Accra workshop.

First, there is a lack of knowledge regarding healthcare and first aid for basic health needs. People will often visit their local herbal practitioners, but in some cases, this results in exacerbation of their condition. For example, a young boy was prescribed to have his arm bandaged tightly with herbs for three days. While this medicine can be helpful, the result was that the boy lost so much blood supply that he eventually needed an amputation. Locals will also use religious and spiritual practices as a recourse for medical emergencies rather than taking patients to the hospital. Elvis Abdolah, the production manager at the workshop, has had to convince multiple people to take an acutely sick person to the hospital for urgent treatment instead of a church.

Second, when patients see the doctors, there is a lack of knowledge of how to advocate for oneself or for their children. On many occasions, Stuart Gold, the managing director, assisted the employees when they were unsure of their diagnosis. He observed that when employees returned from medical appointments, they would be prescribed numerous medications but they would not understand what the diagnosis meant. He later learned that the medications were given to treat a multitude of problems because the doctor had not been able to diagnose the condition properly due to lack of effective communication from both the parties.

There are many cases like this, even with fatal circumstances, which is the reason we are dedicating our June Artisan Fund for the employees in the Accra workshop.

What can we do?  The funds will go towards a 2-part first aid workshop and a patient advocacy lecture. The first aid workshop will give a basic principle orientation regarding emergencies and situations where immediate care is needed before further medical treatment is available. The patient advocacy lecture will teach the workers about navigating the health system, speaking up about their issues, and asking questions when they do not understand their diagnoses. Additionally, since this could potentially be a new and strange concept to most, we will offer a food incentive for participants that attend the workshops. We hope that by introducing these concepts to the employees, they will learn more about taking care of themselves and pass on the knowledge to their children and others in their communities.

As a reminder, the Artisan Fund is a pool of money, used for the development of artisan communities. 100% of the proceeds go directly towards empowering community workshops. All Artisan Funds are given to a predetermined artisan group. we collaborate with them to understand how the money is best spent, based on their needs.
Will there be transparency about where the money is going? Once the goal is reached, we'll keep you updated every step of the way and let you know exactly how the money is being spent.
Why are you creating the Artisan Fund? We believe in creating tools for empowerment and well being, as well as collaborating with the artisans to learn what needs we can assist with.
Can non-subscribers contribute? We're so happy that you asked! Our first iteration is only for Premium subscribers but if we see that others want to contribute as well, we'll definitely think of a solution to allow non-subscribers to contribute as well! Email us at support@globein.com to let us know your thoughts about the Artisan Fund.
Click here to contribute:
Log in to your Subscription Settings, scroll to the April add-ons, and choose your contribution amount!
---
ABOUT GLOBEIN
Every month, the GlobeIn Artisan Box delivers a fresh collection of useful and enthralling items from around the world. As an Artisan Box Subscriber, you learn about the products and the people who made them while discovering simpler ways to live a more fulfilled lifestyle. By subscribing to the GlobeIn Artisan Box, you can feel good about the products you use, the people you support and how your choices contribute to a better world.
---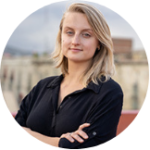 Liza Moiseeva, is a Co-Founder and CMO at GlobeIn. Her passion for creating a positive social impact landed her jobs with nonprofits working in micro-finance and poverty alleviation areas, and an MBA in Finance with a focus on impact investing.