---
We are happy to share some insights and developments on GlobeIn's Artisan Fund. At GlobeIn, we are Fair Trade Federation members and we believe that everyone should be paid fair wages and have a safe working environment.
For this month's Artisan Fund, GlobeIn is seeking to assist Pottery Serghini's artisans in Morocco, the beloved makers of our coveted ceramic collection.
The issue:
Pottery Serghini works mainly with artisans in Marrakesh and Safi. These artisans need to stay up to date with current trends to thrive in the global economy. This can only be possible if they have access to information that the rest of the world possesses. Many of these artisans remain stunted in their growth due to massive digital division. This division exists due to differences in socioeconomic status and living situations. That is why Pottery Serghini wants to upskill their artisans in order to have them undertake more responsibilities. But the lack of general computer literacy is holding these artisans back.
The Solution:
Majority of artisans live in communities, where the quality of education and opportunities are, unfortunately, quite low. In order to fuel and propel artisans to gain exposure globally, GlobeIn wants to sponsor a Computer literacy course. Some of these artisans have expressed their wish to learn computers. And have also tried, but haven't been able to secure any fruitful outcome. Given the fact that it can be extremely difficult when you don't know how to turn on a computer or have access to one.
GlobeIn's Goal: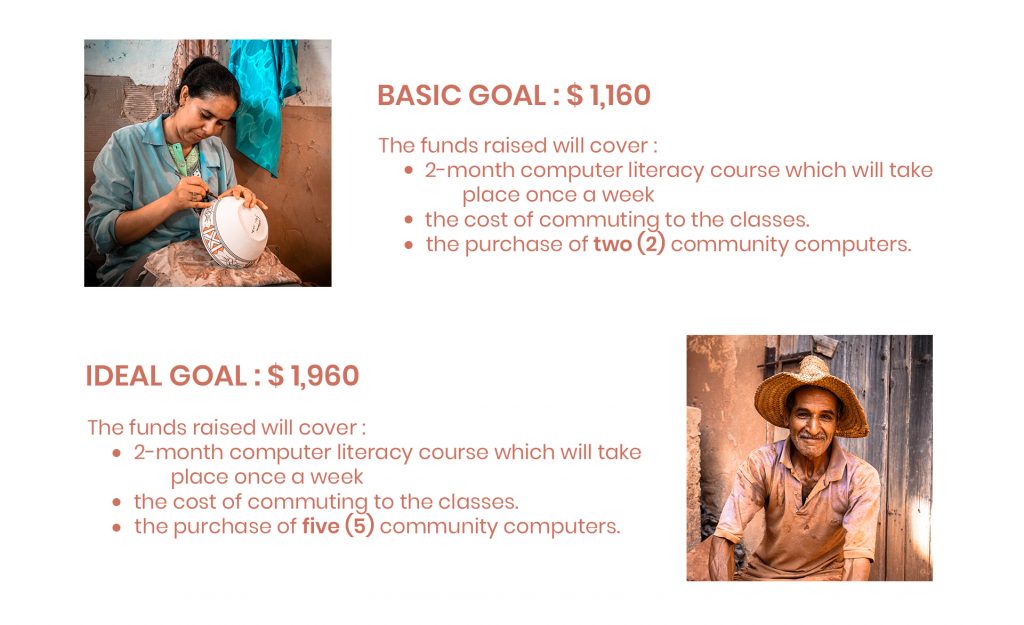 The computer school's syllabus will cover basic computer operations and settings. The artisans will be able to work with Microsoft Office and Social media (Instagram, Twitter, etc.,). This, in turn, will help them to promote Pottery Serghini. The artisans will also gain hands-on experience in market research and writing emails.
For last month's Artisan Fund, we raised $1290 for Financial Workshops in Tonala, Mexico. These artisans were the talented creators behind our most beloved glassware collections, including the best-selling Colorful Stemless Wine Glass. The workshop helped impart on these artisans the financial knowledge to properly manage their income. It also helped them overcome debt troubles and prevented them from becoming victims to deceptive credit companies.
As a reminder, the Artisan Fund is a pool of money, used for the development of artisan communities. 100% of the proceeds go directly towards empowering community workshops. all Artisan Funds are given to a predetermined artisan group. we collaborate with them to understand how the money is best spent, based on their needs.
Will there be transparency about where the money is going? Once the goal is reached, we'll keep you updated every step of the way and let you know exactly how the money is being spent.
Why are you creating the Artisan Fund? We believe in creating tools for empowerment and well being, as well as collaborating with the artisans to learn what needs we can assist with.
Can non-subscribers contribute? We're so happy that you asked! Our first iteration is only for Premium subscribers but if we see that others want to contribute as well, we'll definitely think of a solution to allow non-subscribers to contribute as well! Email us at support@globein.com to let us know your thoughts about the Artisan Fund.
Click here to contribute:
Log in to your Subscription Settings, scroll to the May add-ons, and choose your contribution amount!
---
ABOUT GLOBEIN
Every month, GlobeIn Artisan Box delivers a fresh collection of delightful items from around the world. Subscribe to the Artisan Box, to know the story of the people who make your wonderful products. Thus, making you feel good about your purchase. These boxes will inspire you towards discovering simpler ways to live a more fulfilled lifestyle. So, let's start by supporting artisans and contributing to a better world.
---

Written by Jamini Hariharan, Social Media, Copywriter
Jamini is a Copywriter, currently residing in San Francisco, California. She believes in emotionally engaging people through her writing. Thus, she works on uplifting and empowering projects.