As you may have noticed, we are making some big changes at GlobeIn. We're always listening to the feedback of our customers and evolving to make your experience smoother. After all, GlobeIn is all about adding joy to your home, and we want to keep making it more and more joyful.
In response to customer feedback, today we are announcing three major changes to how the Premium subscription works. Please take a moment to read each of them carefully, and be sure to reach out to us if you have any questions. 
1. We're changing the name of your next monthly box.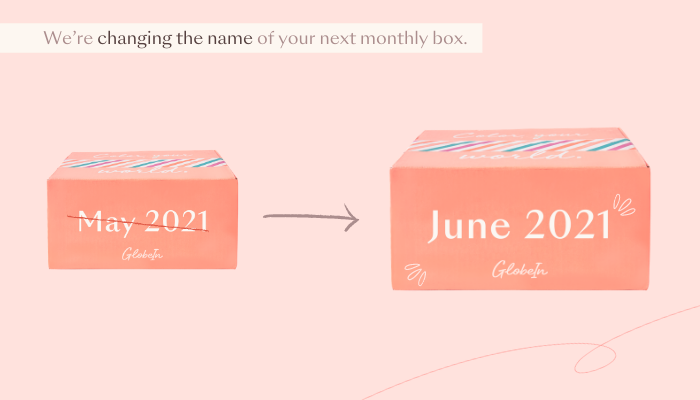 Many customers who have just signed up to GlobeIn find it confusing that they receive their monthly box in the month after they chose it. While this may seem odd, it's the way our business is designed to run, and not a result of delays to shipping. 
So to help make this clearer, we're changing the name of your next monthly box. 
Instead of choosing your May box next month, you'll be choosing your June box. When theme selection opens in May, you will choose your June box, and these boxes will ship in the first week of June as usual.
Note: This won't change anything in terms of your shipping schedule or how many boxes you'll receive. It's simply a name change 🙂
Everything else will remain exactly as it was before:
Your subscription will continue for the number of months you signed up for

If you have skipped a box, it'll still be skipped

You will receive your next box at the beginning of June, as is our usual schedule. 
Your next box will be titled your 'June' box on your invoice and order history, which may be confusing for a month since you will never see a May 2021 box in your order history. However, from next month, we'll continue on this way ongoing and soon it'll become the norm. 
We hope this helps clear up some confusion and makes it easier to keep track of your shipments. 
2. We're changing the time that you login to Add-Ons and theme selection.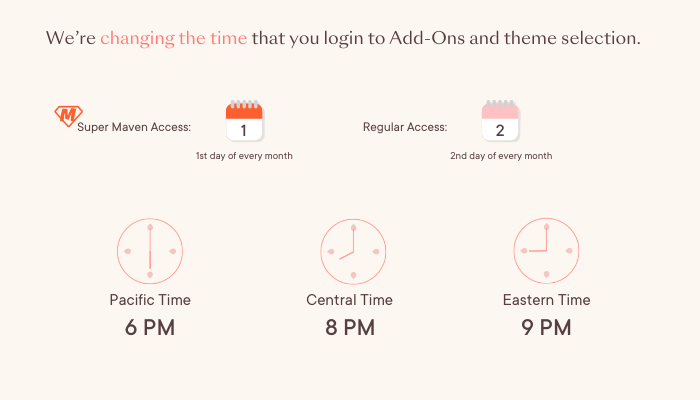 Alongside the change to what we call your monthly box, we rethought theme selection and Add-Ons opening times. To keep it simple, Super Mavens will be able to select their next box and login to Add-Ons on the 1st of every month, and everyone else can access theme selection and Add-Ons on the 2nd of every month.
So on the 1st or 2nd of May, you'll login to select your June box and Add-Ons, and on the 1st or 2nd of June, you'll be able to select your July box and Add-Ons. 
The date that you login will be dependent on your status:
Super Maven Access: 6pm(PT) / 8pm(CT) / 9pm(ET) on the 1st

Regular Access: 6pm(PT) / 8pm(CT) / 9pm(ET) on the 2nd
We hope this makes it easier to remember, since it'll be the same date every month (no more thinking 'is it the 30th, or the 31st, or even the 28th??').
3. We're adding a timer to your Add-Ons cart.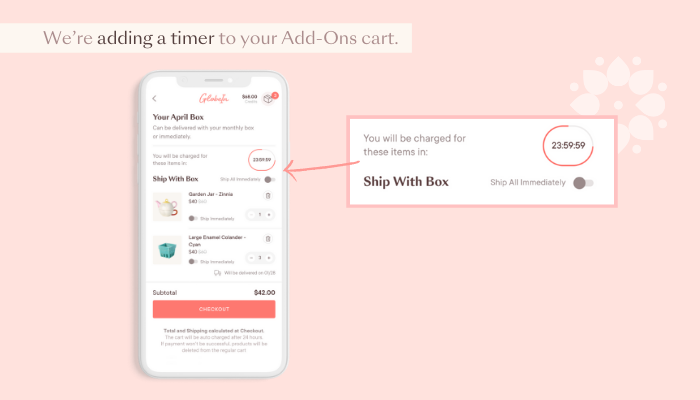 Previously, you could leave your Add-Ons in your cart until the end of the Add-Ons period on the 10th, and we'd charge the payment method you have on file on the 10th.
This month, we are adding a 24-hour timer to your Add-Ons cart. 
Here's how that will work:
Auto-charge will work the same way that it used to, only we'll charge you within 24 hours instead of at the end of the Add-Ons period on the 10th.

Any items in your regular Add-On cart will be charged 24 hours after you add the last item to your cart.

Items in your

Ship Immediately cart

will not be auto-charged—you need to checkout for these manually.

You can still edit your order by pressing 'Continue Shopping' after your card has been charged, up until the 10th of the month. Any items you remove from your cart will add Add-On credit in your account that you can spend on different items either that month or later.
This feature was requested by customers to help everyone get access to the limited supply Add-On items that they want. 
We hope you enjoy these changes! If you have any feedback on these new features, you can join the conversation in the Maven's Group, or don't hesitate to reach out via our feedback form.