We have an exciting new feature which can help you get some of your Add-Ons sooner. 
It's called 'Ship Immediately', and is available now in Add-Ons. Read on to find out what it is and how you can try it out!
What is it?
For the first time, you will be able to choose to have your items ship with your box or ship immediately. 
'Ship Immediately' products are already picked, packed and ready to be on their way to you, just like an Artisan Shop order (for a small shipping fee). 

'Ship with Box' are first access or popular items that you can have ship as part of your monthly subscription.
Where did this new feature come from?
Long-term we plan to combine the subscription and the Artisan Shop, so you will be able to do all of your GlobeIn shopping in one place. This is something that you, our mavens, have been wanting for a long time, and this new 'Ship Immediately' feature is the first step towards combining the shop and Add-Ons experience. We hope you like it!
How does it work?
Here's how it works.
Add Add-On items to your cart as usual.

Visit your cart to see which items can be shipped immediately, and click the 'Ship Immediately' toggle to select those items for faster shipping.

 
You'll see two separate orders created, one for your 'Ship Immediately' items, and one for your 'Ship with Box' items.
Note: the items in your 'Ship Immediately' cart aren't reserved for you. You should check out right away for those items to make sure they are yours. You will need to actively checkout for these items—they will not be charged automatically at the end of the month.Tip: Save your items in your regular cart first and only move them to ship immediately when you're ready to checkout! 
Click 'Checkout' on your 'Ship Immediately' items to place the order. You will be charged shipping for this order.Note

: at this point this order is confirmed and can no longer be edited. Items under 'Ship With Box' can still be edited and will be charged at the end of the Add-Ons sale (on the 10th) unless you checkout for that order earlier. 
Once you have checked out, you'll see a separate invoice for your Ship Immediately items in your 'Order History' tab.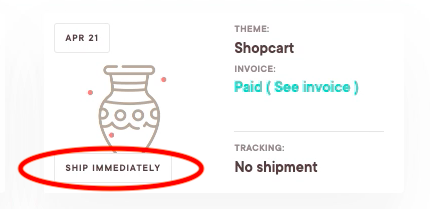 If you have questions about this new feature, be sure to check out our FAQ page dedicated to this topic.