The Festive Season is just starting, and there are lots of opportunities to bring the family together around some fun activities. But if you're like us, then you know that organizing the perfect activity to keep everyone engaged is a challenge. Phones tend to come out, people start to drift away, and before you know it, your fun activity has been all but forgotten.

So how do you make sure everyone is truly present?
Like most good things, you'll find the answer to that question in the kitchen! Yes, we truly believe that people come together around food. And even more true: people come together when they're making food. 
Here at GlobeIn, November is all about the World Kitchen. Each Artisan Box has been curated to bring flavors from every corner of the globe to your kitchen. But whatever box you chose, each will inspire plenty of fun activities that are exactly what we could all use right now: a reason to come together.
So, read on for our tips on fun culinary activities that everyone can participate in!
Umami Box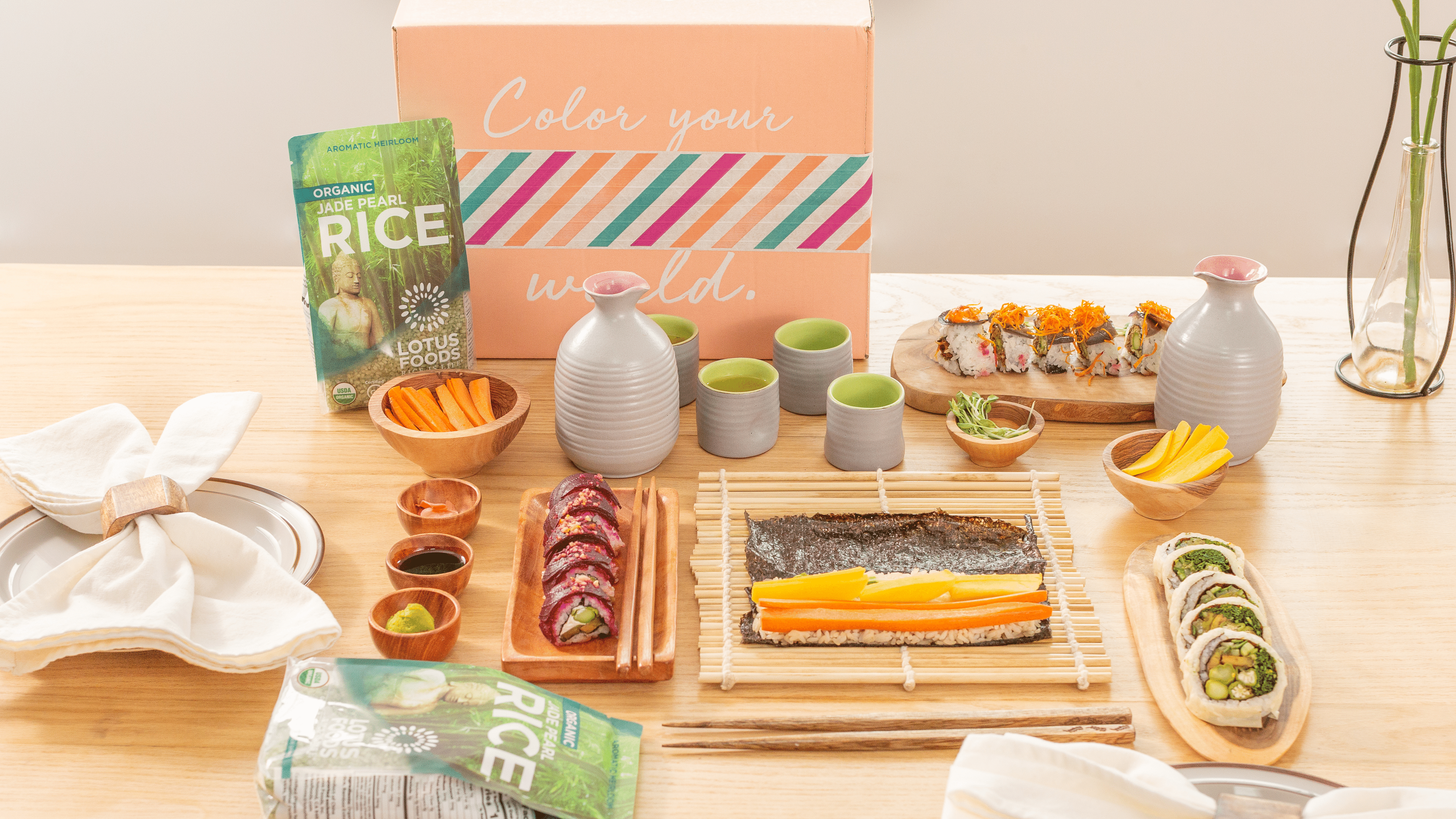 The Umami Box is there for you when you miss eating out. If you might think that perfectly-shaped sushi rolls can only be made by the pros, this box is sure to change your mind. And with the festive season upon us, organizing a sushi-night at home is a perfect activity to get the whole family involved with!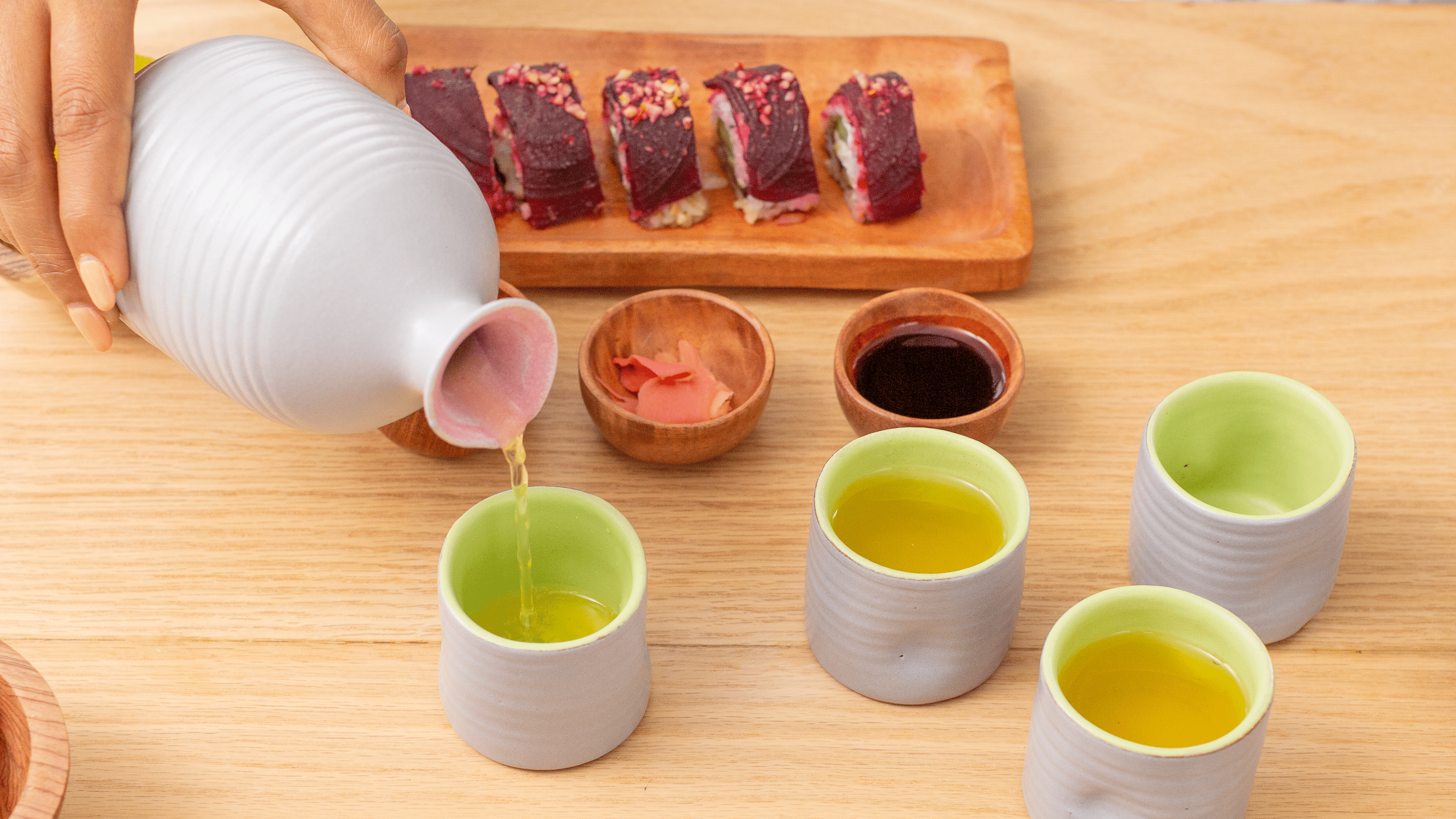 The box comes with a Ceramic Sake Set from Nepal, and it's the ultimate multi-use item. Even when sushi isn't on the menu, this set will help you elegantly serve any beverage. As you glide from the sofa to the bar to the dining table, this Sake Set will be the perfect companion. Feel like serving hot tea? Brew a pot and serve it in this ceramic set, which will keep it warm for longer. Want to indulge in some hot sake? Keep warm throughout the winter months while sharing a bottle of this delicious rice-based beverage.
But what if you can't wait to have your own sushi night? Then the Umami Box will make sure your rolls taste as good as they look. 
Crisp, tight rolls always start with the right rice. The Lotus Foods Jade Pearl Rice is gluten and wheat-free short-grain rice, which is perfect for sushi making. Making the rice itself is easy: just follow the directions. But to make it true sushi rice, you'll need to add a rice vinegar mixture to the rice after it cooks. This gives it the unique, dare we say umami, flavor! For two cups of rice, use two teaspoons of salt, two tablespoons of sugar, and four tablespoons of rice vinegar. Make sure the ingredients dissolve well and pour the mixture into the rice before making your rolls.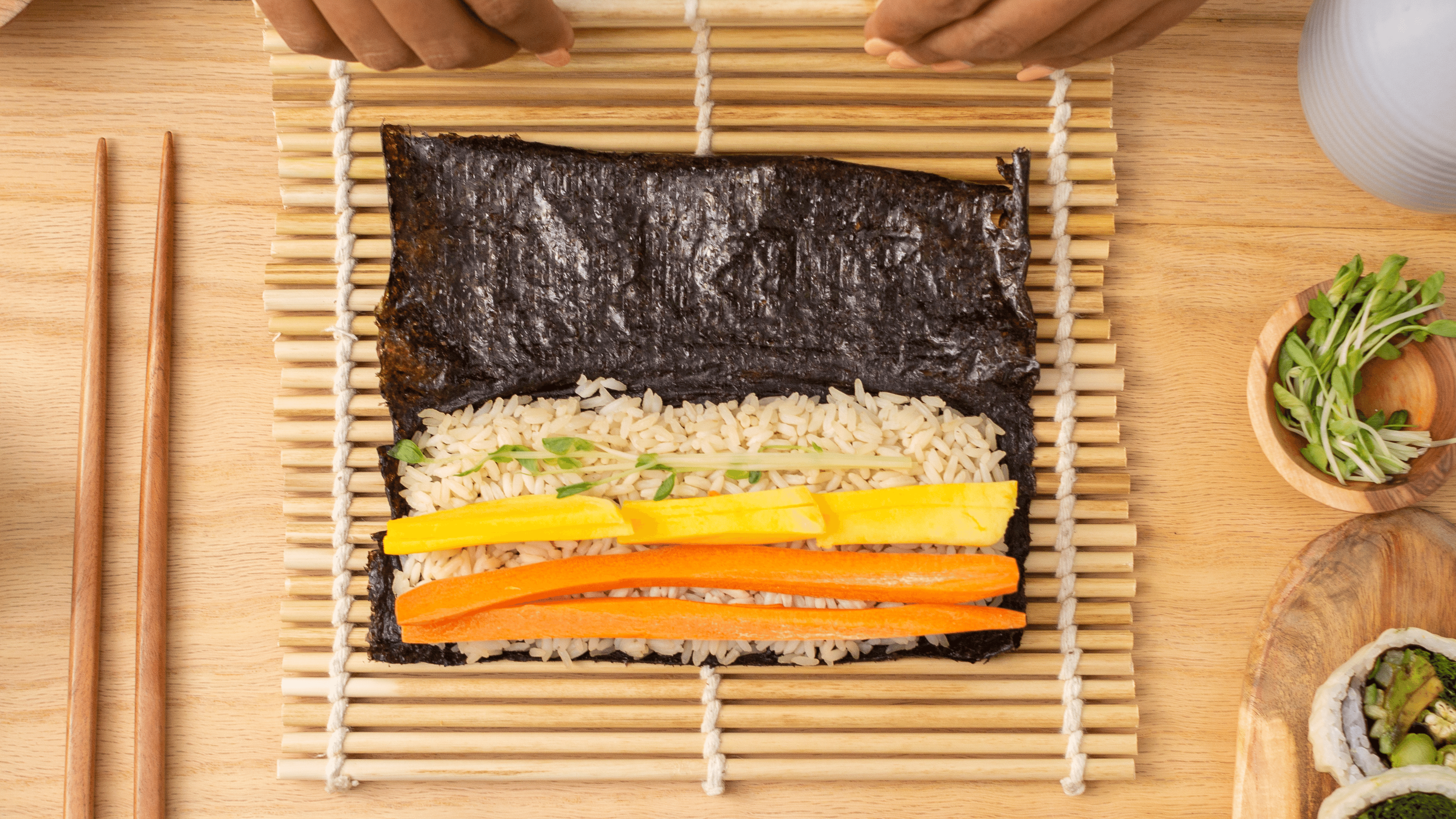 Next, you'll be using the Bamboo Sushi Roller from India. You'll love how easy it is to make picture-perfect rolls with this accessory! Get your ingredients ready, and cover your sushi roller with some plastic wrap to make clean-up hassle-free. Lay your seaweed sheet on the roller, pat your rice onto it, leaving some room at the top and bottom of the sheet. Then place your ingredients, like fish or cucumber, in the middle. Begin rolling with the bamboo roller, making sure that with each fold you press the sushi roll tightly into itself. Once you reach the end, you'll have a perfectly round roll.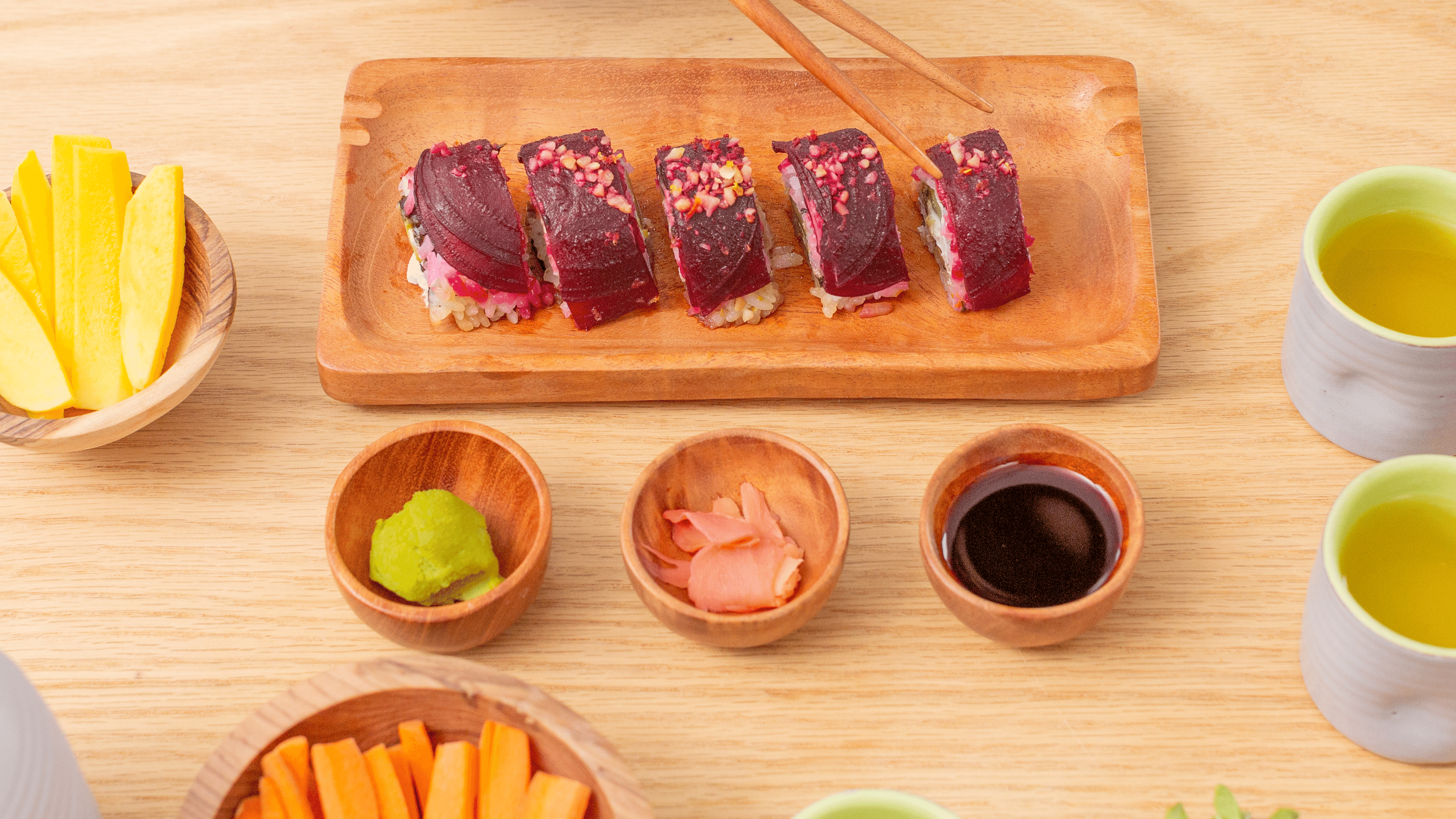 Finally, serve your creation on the Neem Wood Sushi Set from India for a classy presentation that's almost too pretty to eat! 
Sabor Box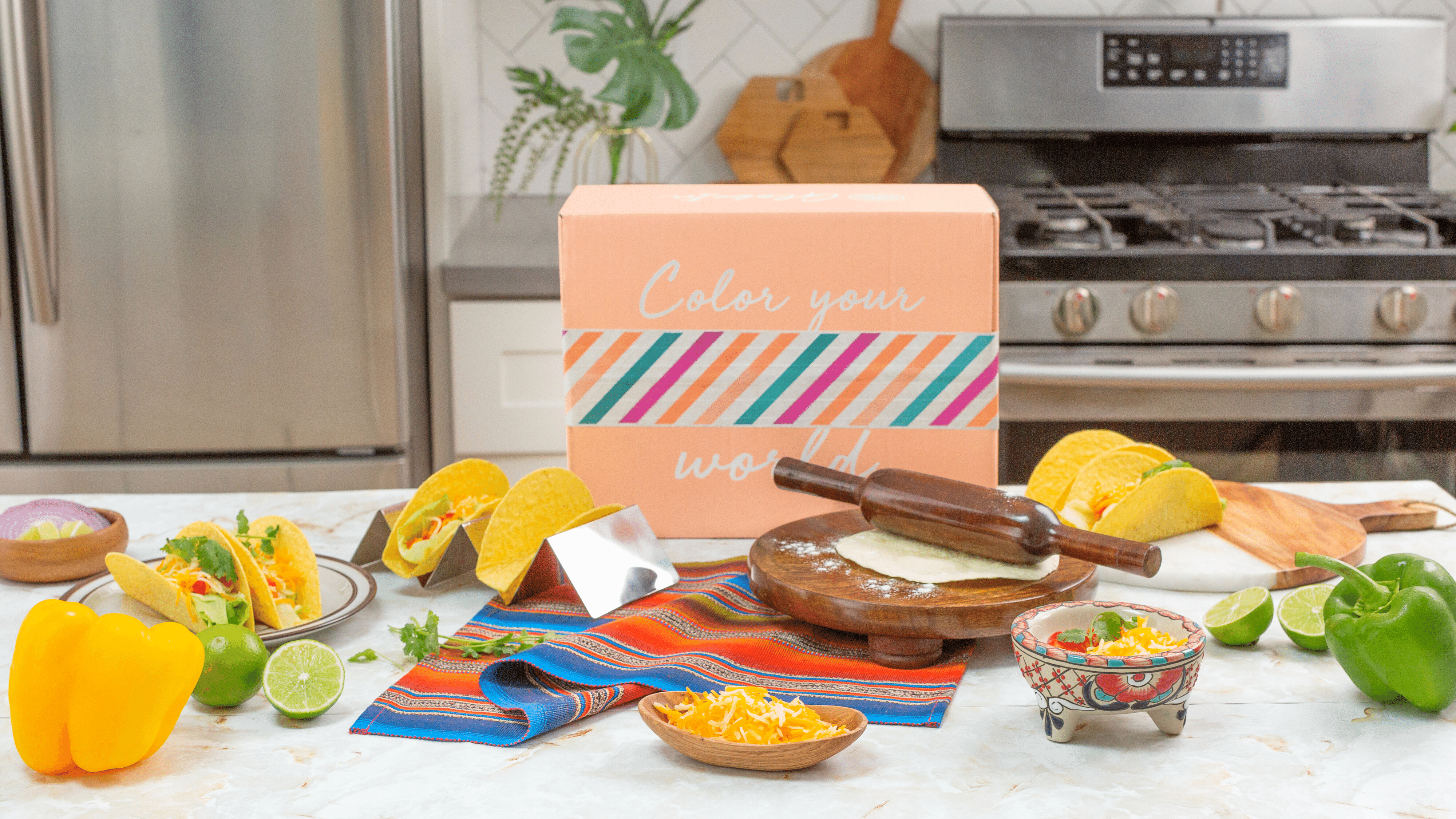 Easy, delicious, and fun to make, tacos are one of our favorite foods. If you love Taco Tuesdays and you're missing your local taqueria, the Sabor Box is a perfect match. 
Like sushi, making tacos is a great family activity. Each taco is the product of a team effort that ranges from making the tortillas, cooking the meat, chopping vegetables, and putting it all together. At each step of the way, there's lots of fun to be had!
You can start your Taco Tuesday by making tortillas. This first step is a great way to get kids involved or anyone who likes to work with flour! Each tortilla recipe is different, but all involve some sort of combination of flour, water, salt, and oil. Once you have a dough, you can have the kids roll each tortilla out with the Tortilla Presser from India. Its solid base and hefty mango wood pin will make it easy to get perfectly round tortillas.
But tortillas, and perhaps even tacos, are not a new invention. Indeed, by making them you'll be participating in a process that's at least ten thousand years old! The first tortillas were staples of the mesoamerican Aztecs in pre-Columbian times. Often made out of cornmeal, these delicious flatbreads were called "tortillas", meaning "little cakes", by Spanish colonizers. However, this type of flatbread isn't unique to Central and South America. Around the world, you'll find very similar flatbreads with different names: roti from India, talo from the Basque country, kocho from Ethiopia, and the list goes on!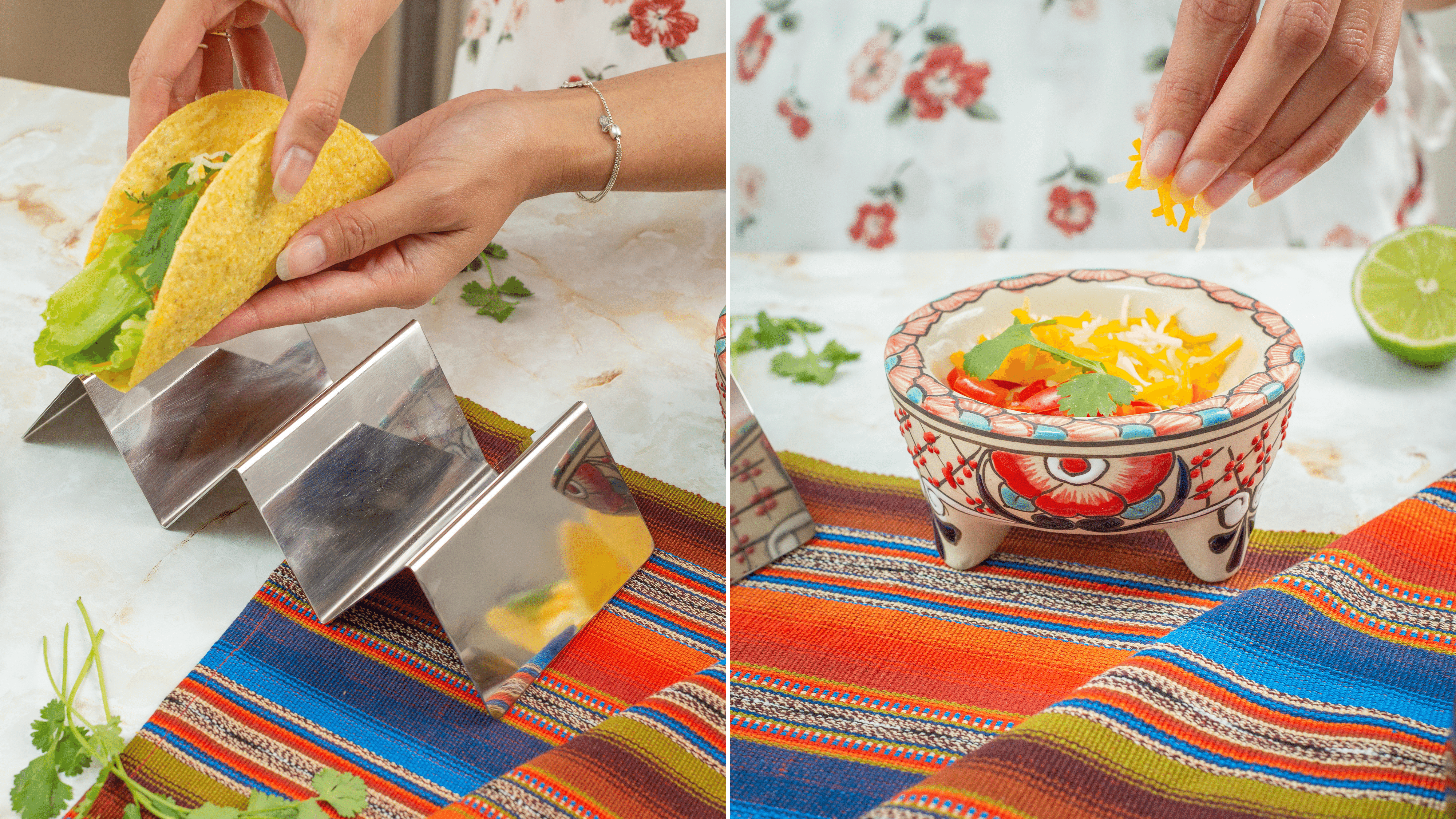 So, whether you make a traditional corn tortilla or try something new on Taco Tuesday, the Sabor Box makes it easy and fun!
Bao BOX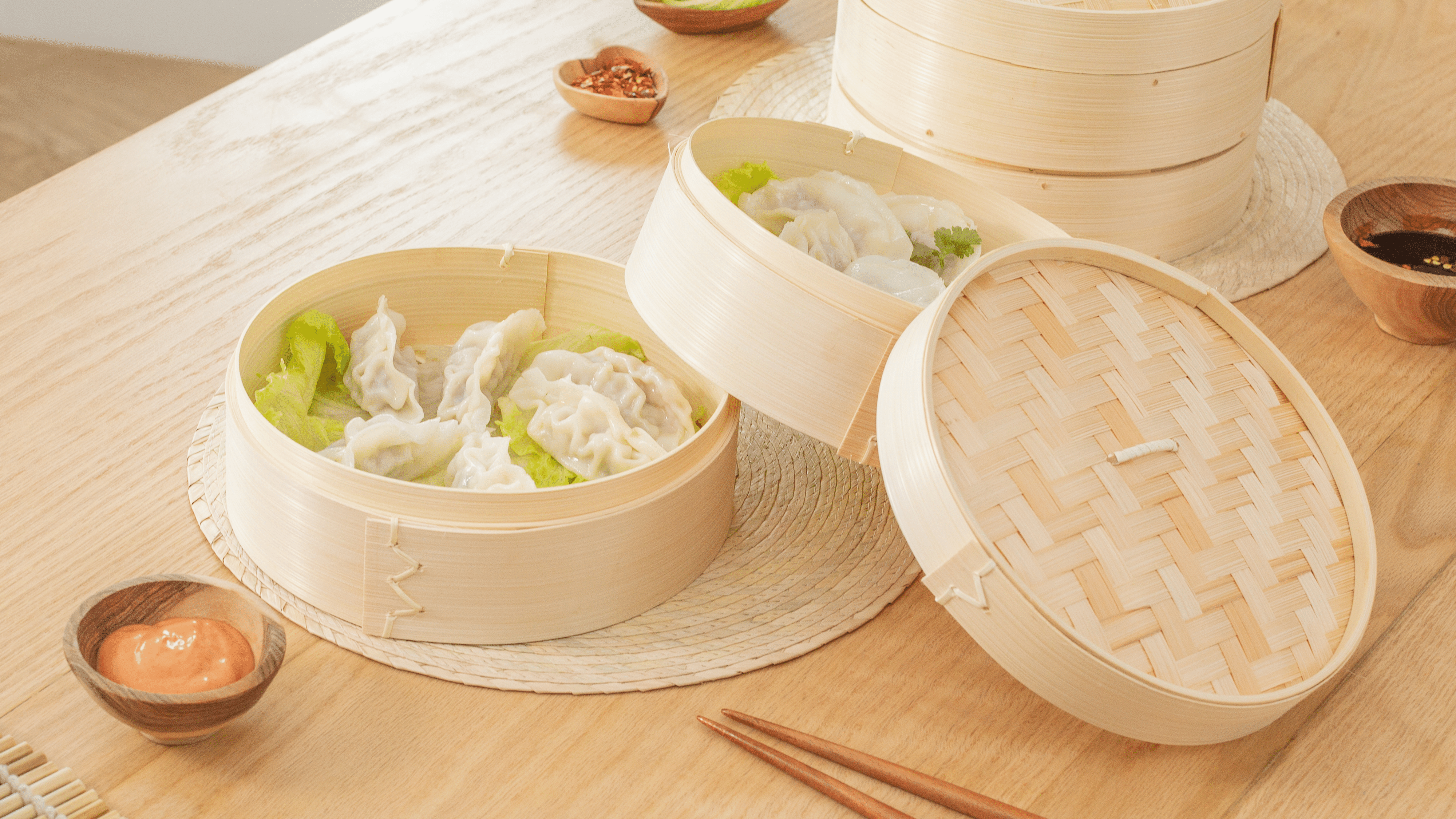 The Bao Box is inspired by the culinary dumpling tradition in Asia. Whether you like to steam them, fry them, or do something totally new with them, this is the box for dumpling-lovers!
"Bao" comes from the Chinese word for steamed dumpling, but it can also refer to a bag or package. And this makes perfect sense: every dumpling consists of a filling held together by an edible wrap. 
The Bao Box's centerpiece is the Dim Sum steamer, which is just like the bamboo steamers found throughout Asian countries. While Dim Sum is Chinese, the practice of steaming dumplings in a bamboo steamer is present in many Asian countries such as Korea, Japan, and Vietnam.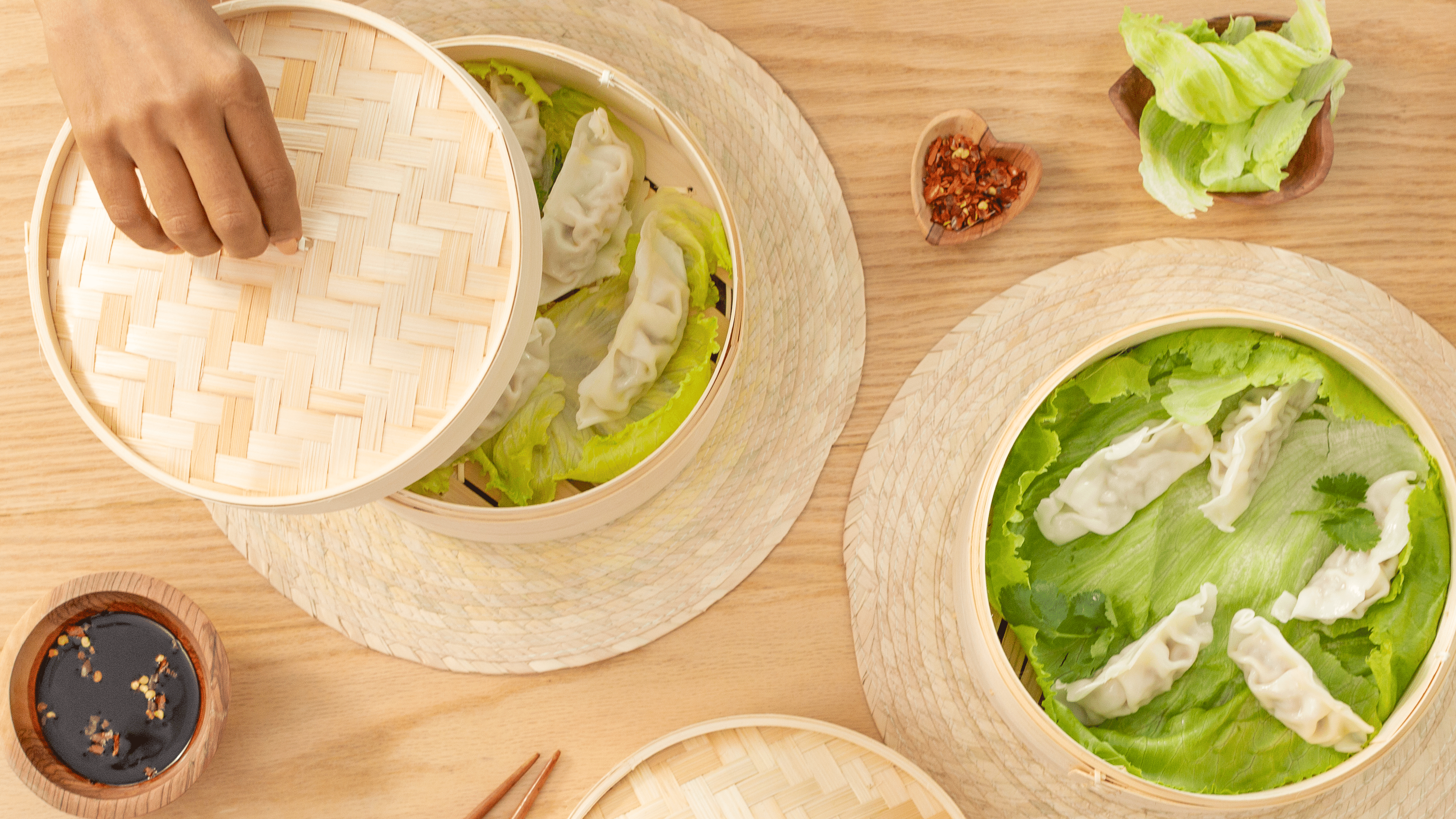 Each culture has its own versions of dumplings, and we recommend that you
explore all the delicious possibilities out there! But Dim Sum-style steamers all function the same way. They're made out of flexible bamboo, which offers many advantages compared to other materials. You can both steam and serve with the Bao Box's two-tiered bamboo Steamer because the bamboo remains cool enough to handle. Their stackable design also lets you steam different dishes and then keep them warm before serving. 
If you chose to have a Dim-Sum night at home, you'll be partaking in a wonderful cultural tradition that is over one thousand years old! Dim Sum originated in what is now Guangzhou in Southeastern China. The Dim Sum tradition emerged from the creation of small-portion meals for travelers, who would often enjoy small dishes with their tea. This evolved into the modern practice of Dim Sum, which roughly translates to "touching the heart".

There's a reason dumplings have been served for centuries. Besides being a delicious food, making dumplings is a great way to bring the family together and have some fun in the kitchen. So, pick up your Bao Box and give it a shot!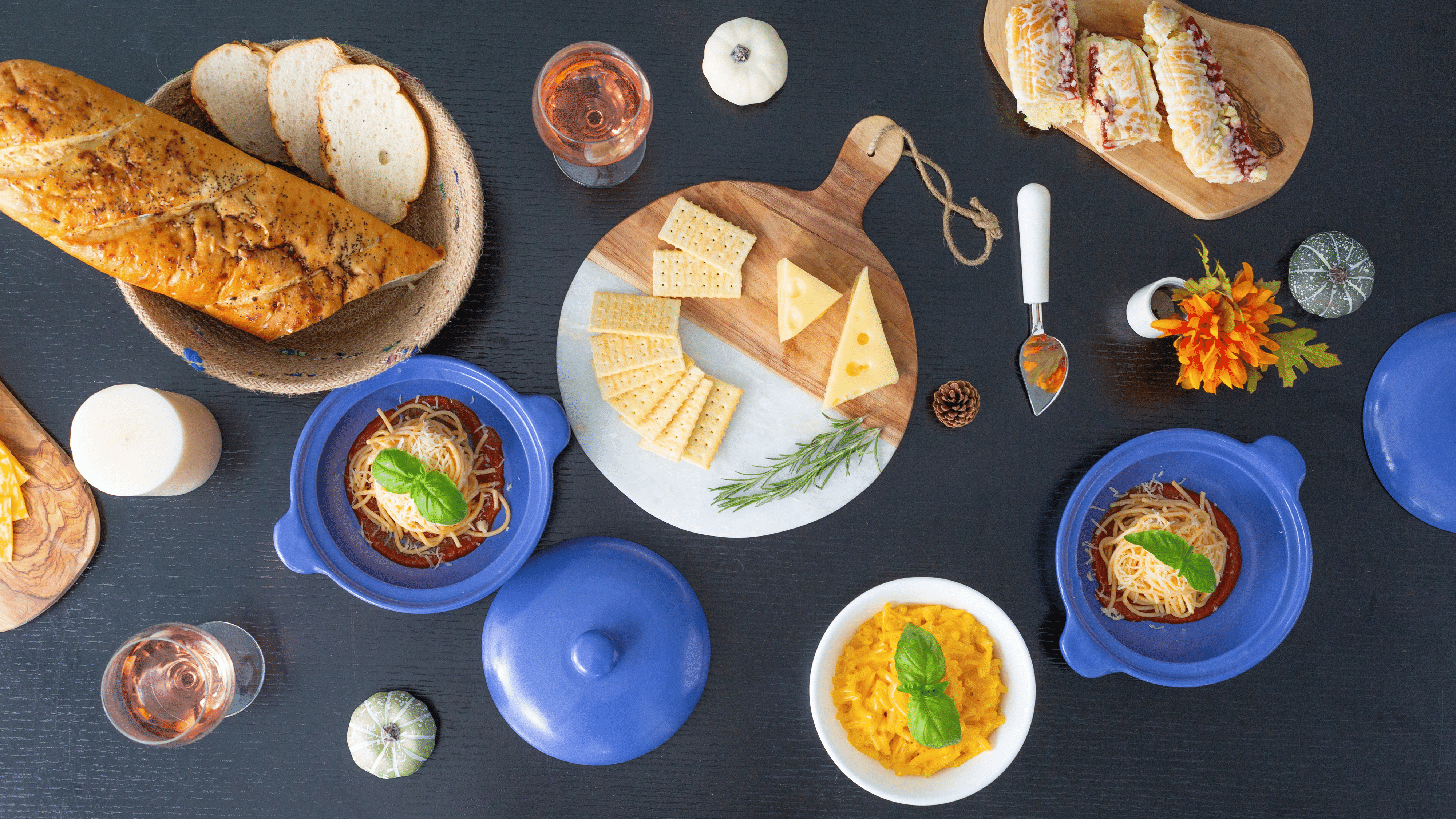 As we count down the days to our favorite holidays this fall, we might notice that this year is different. It might even be different in a bad way. But many things are still the same. 
There are still things that still matter, like our homes and our family. And although many of us have had a lot of time at home, it's the quality time at home that really brings us together. Taking a little extra time to bond with the family––whether it's over your best attempt to make a shrimp dumpling, or while enjoying a beautifully lopsided tortilla––is priceless. 
So, let's head to the kitchen and make this festive season truly one-of-a-kind!