As part of an ongoing effort to serve our global community, we initiated the artisan fund to support projects that make a difference. 
This month, we are partnering with Holy Land Handicrafts Cooperative Society who would like to raise funds to support artisans and to continue keeping the cooperative active. This fund will support five artisan groups that are in need of financial support and artisanal workshops that are in danger of closing.
Help us raise $7,472 to support the artisans who they work with and to pay the expenses needed to keep the Holy Land Handicrafts Cooperative active.
What Is the Issue?
The COVID Crisis has impacted many artisan communities around the world. One of them being the Holy Land Handicraft Cooperative Society in Bethlehem, Palestine, which has been under lockdown since March 5th, 2020. The lockdown has created devastating financial losses and instability to the livelihoods of the artisans who create handicrafts made from the region's natural resources. 
Handicrafts create a stronger connection with Palestine's culture and identity. In Bethlehem, tourism is a major source of income and handiwork helps promote it and decrease unemployment. The Holy Land Handicraft Cooperative Society has made essential purchases as they were expecting to make income this summer out of tourism, but because of COVID, they won't be able to make those payments.
The artisans that work with Holy Land Handicrafts desire to keep their creative work alive for multiple generations and with your help, they can receive the financial support they need to continue creating handicrafts.
Here's How Your Contribution Can Make A Difference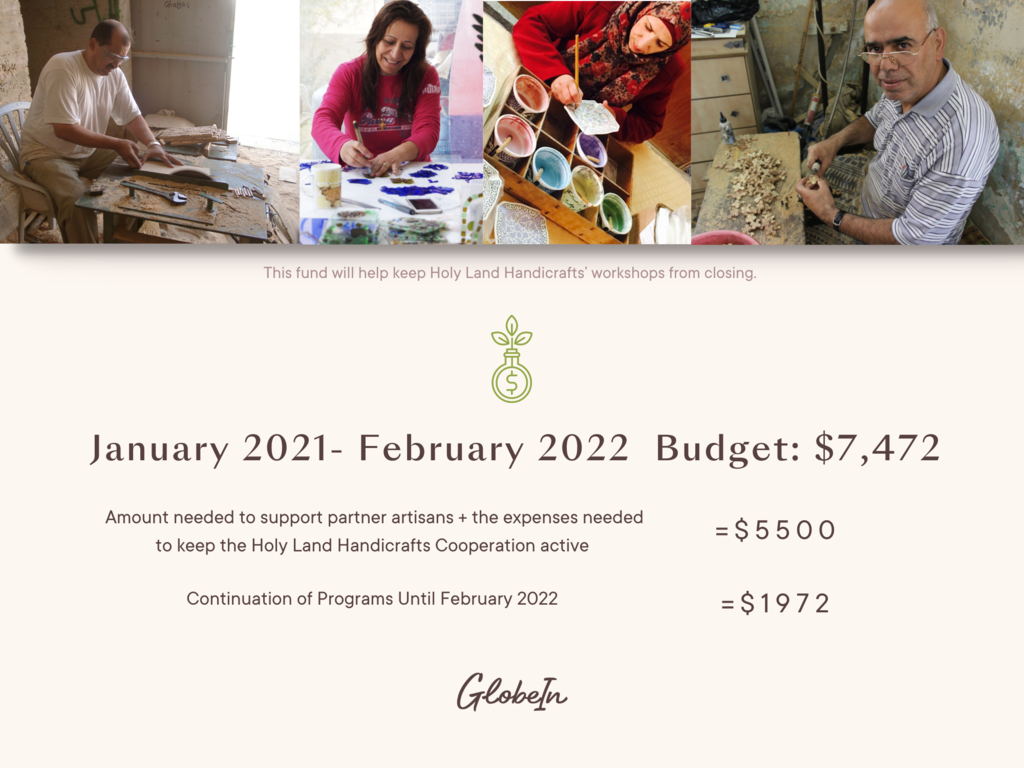 The talented handiwork artisans are continuing a long-held tradition that keeps them connected to their heritage and culture as well as enriching the lives of others who purchase handicrafts from them.
By reaching our $7,472.00 goal, the fund will pay the artisans for them to continue their handiwork and to pay for the cooperative's expenses like rent and the cost for the supplies that the artisans have purchased to make goods. 
If you're able to make a contribution, please login to your subscription settings between the 1st-10th of May and add your contribution to your cart. Non-subscribers can contribute via the Artisan Shop. Thank you for your dedication in helping artisanal communities thrive.