At GlobeIn, we're always listening to our customer's feedback and evolving to make your experience smoother. We are excited to announce a new change that will make shopping for handmade items from artisans all around the world more simple.
In this month's Artisan Fair, you'll notice a change to the timer in your cart. Items will be reserved in your cart for 24 hours, following which they will be removed from your cart unless you checkout before that. 
In the past, you were able to add and 'save' items in your cart for 24 hours, and then you'd be auto-charged for the items, without having to go through the process of checking out. This timer in the cart was designed to give all customers a fair chance to access the limited-supply items they want in the Artisan Fair. However, we heard your feedback that the auto-charge caused confusion for some customers.
Now, Artisan Fair items will be removed from your cart after 24 hours unless your invoice has been paid. 
Available items will go back into the Artisan Fair, where you can re-add them to your cart, or other customers can access them. With this change, you'll all be able to access available items in the Artisan Fair, while still having control over when and which items you get charged for.
How it Works
After you add an Artisan Fair item to your cart, a 24-hour timer will appear in your cart. The timer will restart every time a new item is added. 

Check out within 24 hours to prevent your chosen Artisan Fair goods from being removed from your cart.

You won't be automatically charged within 24 hours of adding goods to your cart.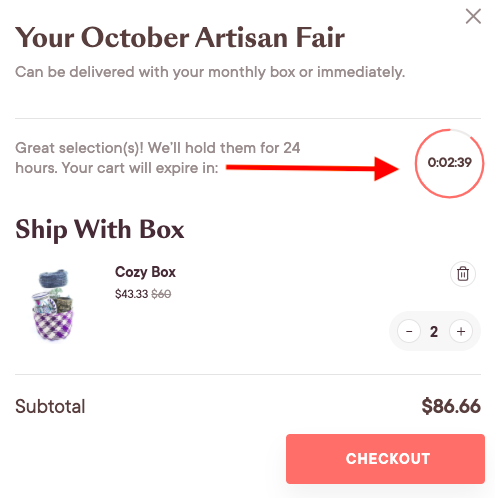 If you decide there's something you'd like to add to your order, don't forget you can always hit the 'Continue Shopping' button. Your previously spent money will be returned to your account as Maven Money until you re-finalize your order. Keep in mind, you'll need to finalize your new order within 24 hours to ensure your items aren't removed from your cart.

We hope you enjoy this change! If you have any questions about this new feature, you can join the conversation in the Maven's Group, leave some feedback in our feedback form, or contact support if you need help with something.