The Seahorse Pillow Pet from Y'abal Handicrafts carries with it a story of hope. Y'abal literally means "hope" in K'iche, the Mayan language spoken in the Guatemalan Highlands. Y'abal Artisan Group supports weaving cooperatives owned by indigenous women in Guatemala.
The Pacutama and Chicutama were coastal communities who were forced to move up to the highlands following destruction and flooding from hurricane Stan in October 2005. At the high elevation of the Western Highlands, the air is cold and dry with arid soil that causes slow crop growth. Families used to rely on income from cash crops like coffee and bananas but now need an additional source of income to combat the loss of cash flow.
By passing on the ancestral technique of back-strap weaving, women in the community earn income to support their families and preserve their cultural heritage. This beautiful, handwoven material is then used for different products and projects, like Silvia Mazariegos's pillow pets.
After high school, Silvia decided to specialize in sewing. Silvia learned to sew at ten years old from her tailor father. Then, she completed a year of tailoring training at Intecap, a Technical Training Institute in Quetzaltenango. She learned everything from pattern making to fashion tailoring.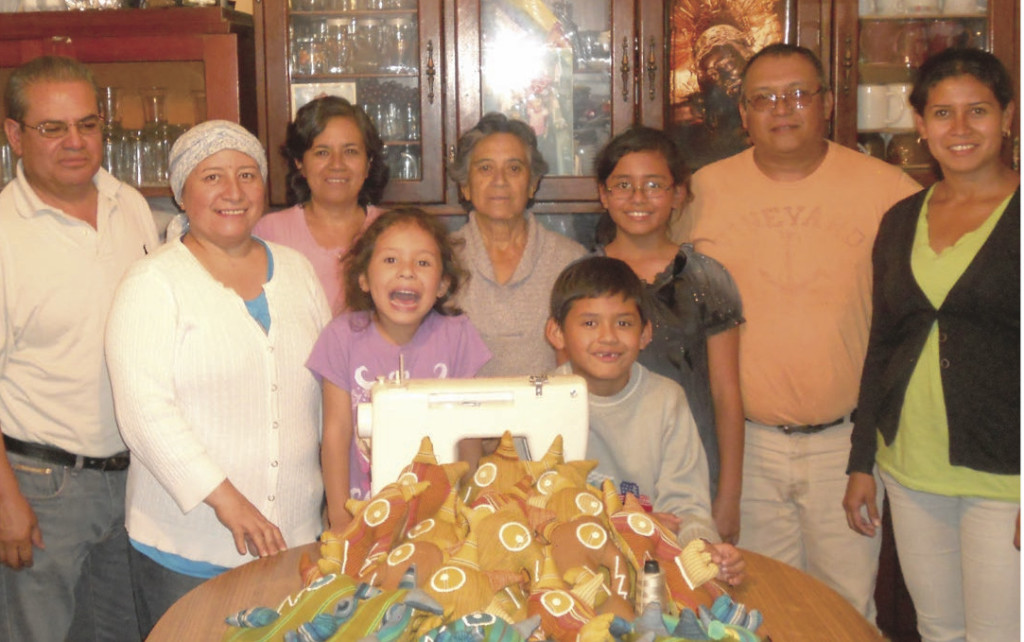 Shortly after joining Y'abal in 2011, Silvia began designing pillow pets. She fell in love with being able to combine all the different woven fabrics to create these little creatures. Silvia uses income from working at Y'abal to support her family and pay for her children's education.
All pillow pets are made of natural cotton with authentic Mayan woven patterns. Additional proceeds from the pillow pets project helps the village of Santa Catarina cope with the rainy season and supports the women weavers in the Pacutama and Chicutama Cooperatives.
A couple months before GlobeIn placed an order for the Pillow Pets, Silvia's sister Etna was diagnosed with breast cancer. The second woman in the family to be diagnosed, Silvia lost her eldest sister to the same disease.
In Guatemala, surgery and chemotherapy are expensive and unaffordable for most people. Together, Silvia's whole family is assisting in cutting, sewing, stuffing, and assembling GlobeIn's order for a thousand seahorses. The family plans to use the proceeds towards medical costs for Etna.
These little pillow pets hold big hopes for the future of Silvia's family and her entire community.
---
Post by Barbara Lee.
Barbara is a world traveler who is passionate about sustainable food systems, responsible consumerism, and holistic living. Her professional background and interests include writing, cooking, non-profit work, and eco-conservation.