Guest post by Renda Nazzal, Founder of The Argan Project. Renda started The Argan Project 1 year ago and is based out of San Diego, California. All of the argan oil used for The Argan Project is sourced directly from morocco.
Imagine you're driving down a newly-paved road in southwest Morocco. Shepherds guide flocks of sheep on your right, goats and camels on your left. Surrounding all of it – miles and miles of argan trees. Some trees host goats, as the animals climb to eat their leaves. Others are providing shade for a family's picnic. In the distance, you can see women hunched over, retrieving fallen argan fruit from the ground or picking them softly from prickly branches.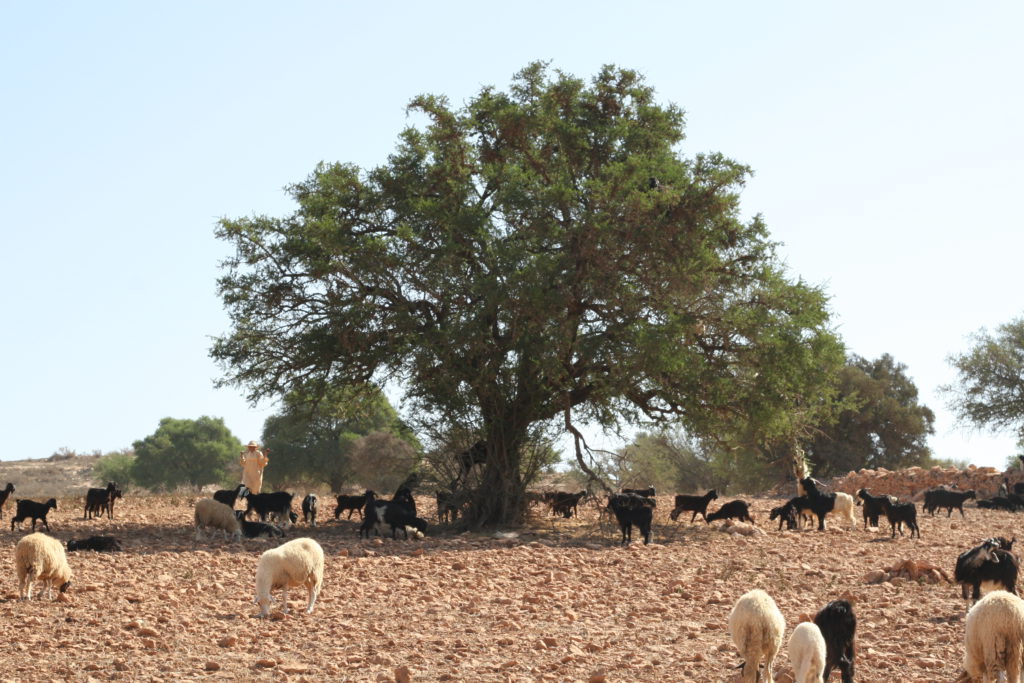 Argan trees help make life possible for the Berber people in this semi-arid climate of southern Morocco. Its deep roots stabilize the soil and prevents erosion, a major issue in the region due to the northward creep of the Sahara Desert.
For centuries, Berber women have been producing argan oil for themselves and their communities and its trees, fruit, and kernels are used locally in numerous ways. Argan trees provide wood for building, the fruit is fed to livestock, its kernels provide fuel and heating, and the seeds are used for culinary, medicinal and cosmetic purposes. Nothing is lost in this rural economy.
Argan oil production is a labor-intensive process that was originally done with a large mortar, beginning with seeds and ending with the strength and endurance of female hands literally squeezing the oil out from the paste. In the late 1990s, the first all-female argan oil cooperative was created, allowing Berber women to profit both economically and socially for producing argan oil.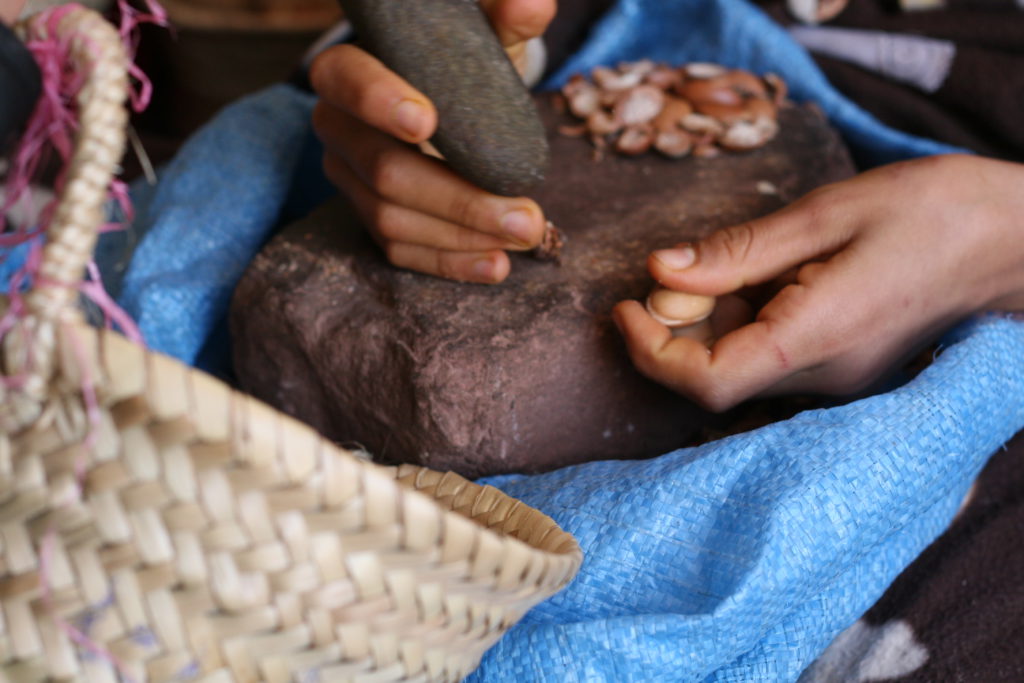 Now, machines are used to cold-press the oil, and for the first time ever, women are making a sustainable income for themselves and their families using skills they've learned at a young age. At first, husbands were skeptical and unconvinced that their wives should work outside the home. Employment and finances in the rural areas are traditionally dominated by men, while household and child rearing roles are assigned to women. However, husbands couldn't argue with the income from argan, especially if they themselves were unemployed and out of work.
Today, there are over 100 operating argan oil cooperatives in Morocco, employing thousands of rural women and contributing to the growth and recognition of the Berber economy and culture.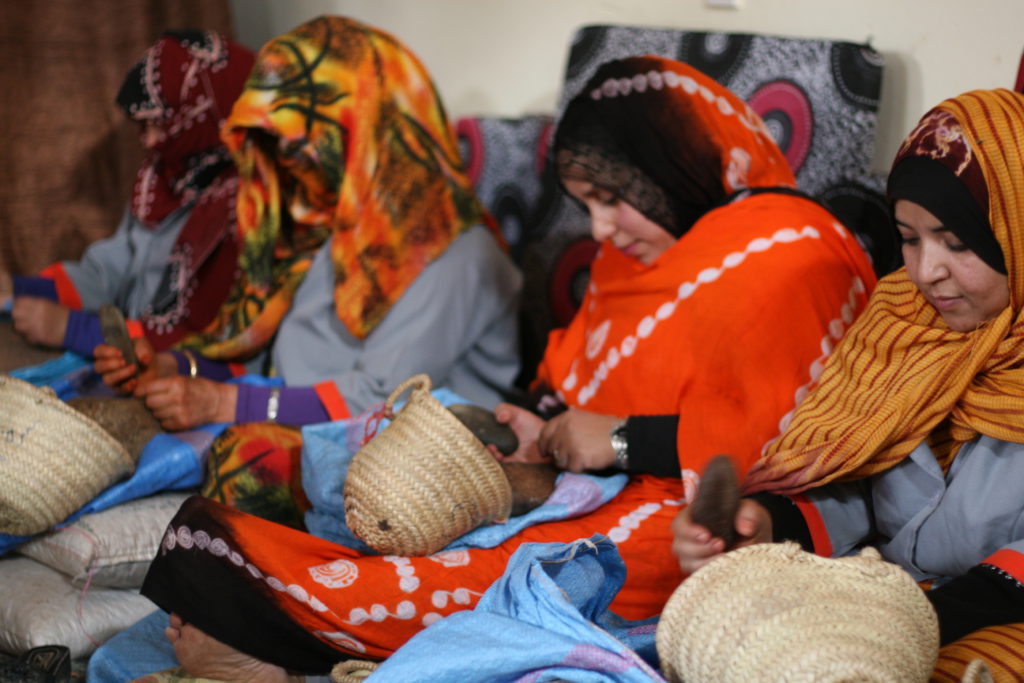 Unlike most argan cooperatives where women gather from several villages everyday to crack the kernels and produce, The Argan Project's argan oil shares a different story. In this project, argan fruit is purchased from farmers all along the southern coast and delivered directly to homes where women crack the kernels at their own leisurely pace. After, the women are paid and the kernels and seeds are picked up and brought to a location where they are pressed and filtered.
An inability to leave their homes and responsibilities is often the reason many women are unable to join argan cooperatives, despite their skills and knowledge of producing this precious oil. This unique model allows more women to gain access to work and a sustainable income since they are not obligated to walk long distances or find transport to a cooperative.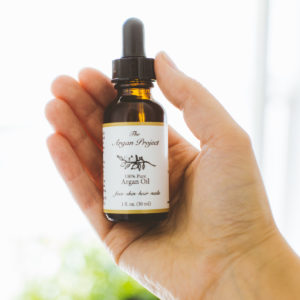 This month's Pamper Artisan Box features 100% pure, organic, fresh-pressed cosmetic argan oil from the Berber communities in Morocco. This argan oil is making a huge impact for the women involved. With 6,000 bottles filled with 200 liters of oil, each liter provides 20 hours of work for these communities. In total, GlobeIn's order provided 4,000 hours of work for 120 women living in four villages. The families living in the Guelmim area of southwest Morocco live with an average of four people per household, their entire income provided through this argan oil.
Known as a tradition and symbol of Berber culture, argan oil has grown to empower women to become agents of their own development. Their income provides education and healthcare for themselves and their children, and contributes to a more stable community.
---
ABOUT GLOBEIN
Every month, the GlobeIn Artisan Box delivers a fresh collection of useful and enthralling items from around the world. As an Artisan Box Subscriber, you learn about the products and the people who made them while discovering simpler ways to live a more fulfilled lifestyle. By subscribing to the GlobeIn Artisan Box, you can feel good about the products you use, the people you support and how your choices contribute to a better world.
Written by Renda Nazzal. Edited by Barbara Lee.