Ever since I was a child I've collected recipes. But truth be told, I generally create my own from a bit of one and a bit of another recipe. I'll read recipes and determine what portions can be replaced by using one of my tried and true favorites. I devour articles and books about cakes in particular. So many gorgeous exciting cakes! There are families of cakes; pound cakes, sponge cakes, butter cakes, chiffon cakes, angel food etc…. so many possibilities! I'm analyzing and determining what I can use of my own repertoire to create my version of these cakes.

My fallback cake recipe is a family recipe from my grandmother's days of rationing during The Second World War. It is a deceptively simple hot milk sponge cake. I've used it as a simple grab-&-go unembellished slice, and I've based portions of my past cake business on variations of it. It's that flexible. Lately many of my friends are gluten- or dairy-free, and this simple cake has easily stretched to serve those criteria too.

Hot Milk Spongecake:
2 large eggs
3/4 cup white sugar 
1 cup all-purpose flour
1 teaspoon baking powder
1/4 teaspoon salt
1/2 cup milk
1 1/2 tablespoons butter

Preheat the oven to 350F. Grease and flour an 8-inch cake pan, line the bottom with parchment paper or foil, grease, and flour the lining paper.

Heat the milk and butter together, either in the microwave or on the stovetop. Do not boil it, just heat it enough for the butter to melt.

Using the Enamel Mixing Bowl, beat the eggs and sugar together at medium-high speed until the egg mixture is thick and pale, and drops from the beaters in ribbons.

Measure 1 cup of flour using the Tunisian Ceramic Measuring Cup then add baking powder and salt together in a small bowl to be poured over top the whipped eggs. Using the beaters at low speed, mix the flour mixture into the eggs just until combined. Pour the heated milk mixture over the batter and beat at low speed until it is a smooth batter with no thick and thin spots. Pour into the prepared cake pan and bake until golden and tests done with a toothpick. In my oven, this is roughly 20 Minutes but watch and test for your own oven.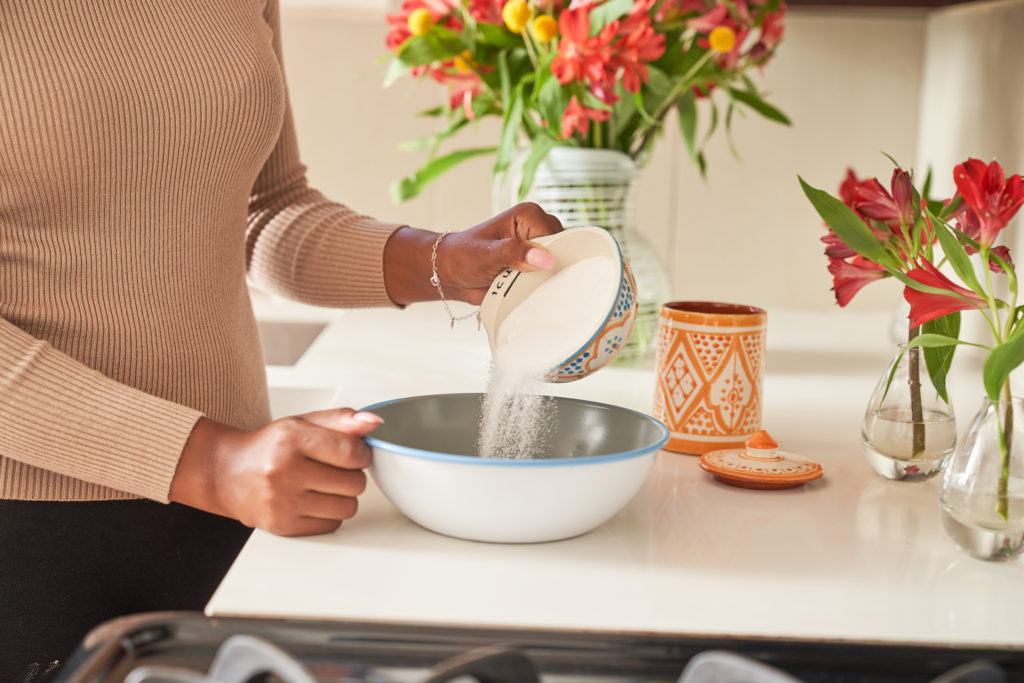 Variations:
Using your Stainless Steel Measuring Spoons from India, Add 1 teaspoon of flavor extracts such as vanilla, coffee, orange, almond, or culinary lemon oil to taste.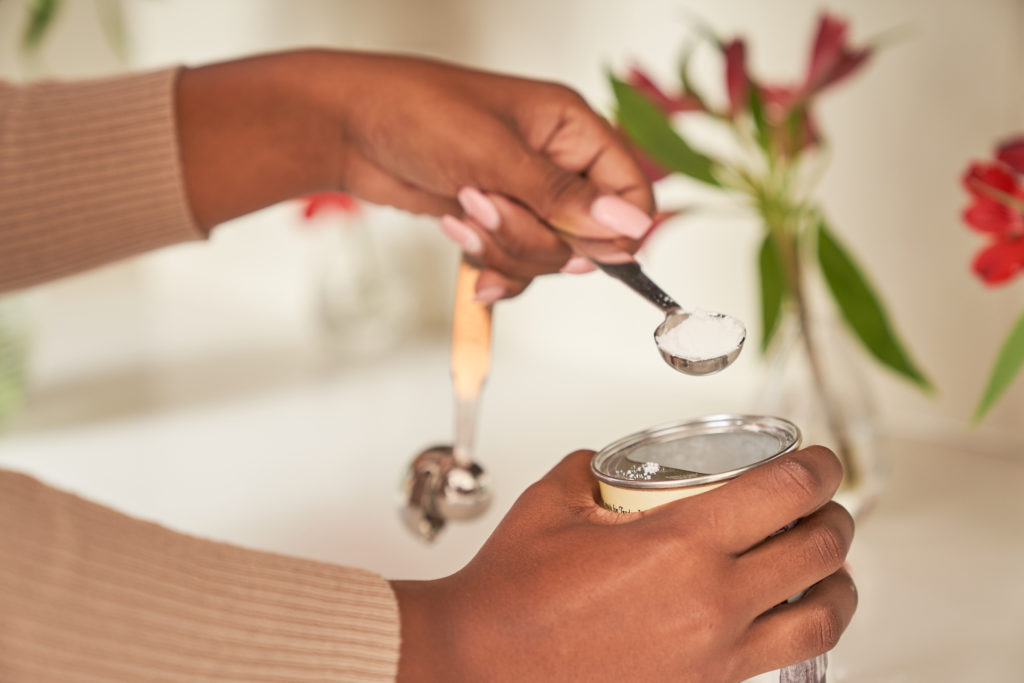 Or, replace 1/4 of the flour and replace with cocoa powder. Or add finely chopped nuts or fruits. Or pour the batter over pineapple slices and add a sprinkling of brown sugar from the Moroccan Sugar Canister for an upside down cake.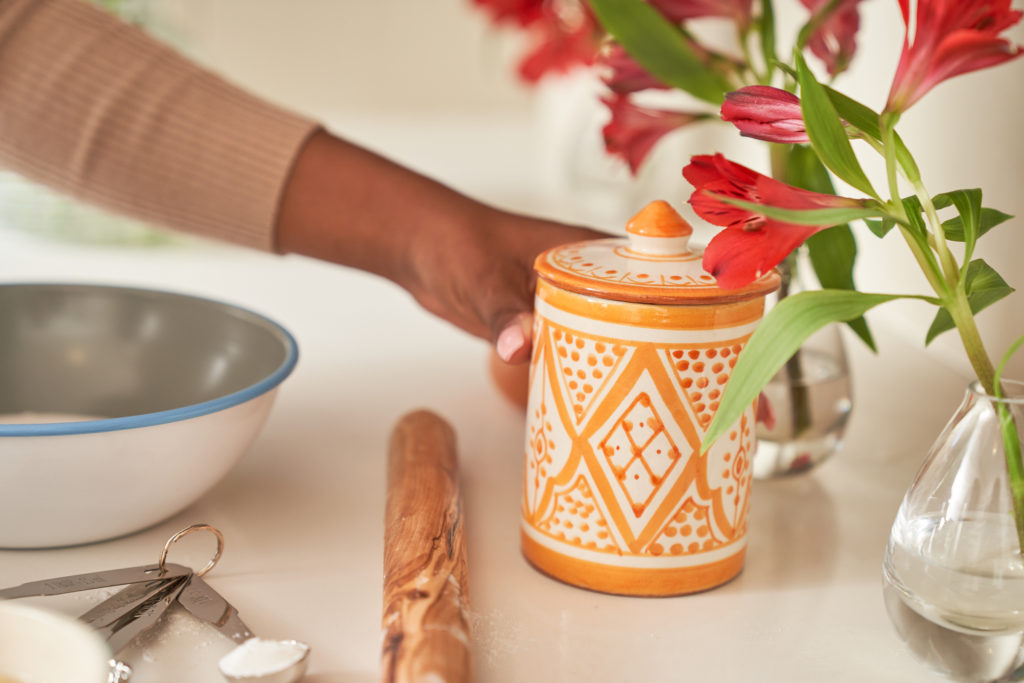 This recipe also works in a loaf pan, which should be lined completely to ease removal of the baked loaf from the pan. Turn down the oven to 325F for the deeper loaf cake. Watch it for doneness, when the top is golden and it tests done. As a loaf, it will take 35 to 40 minutes. Use it sliced in place of pound cake. It is my go-to for strawberry shortcake.

This recipe can be doubled and baked in a 10-inch springform pan, just lower the heat to 325F and bake until it tests done, closer to 40 Minutes.
For gluten-free (GF) cakes using this recipe, replace the regular flour with GF flour and increase the flavoring extract by 1/2 teaspoon to account for the slightly different flavor of the flour.
For dairy-free cakes, use water or coffee or juice in place of milk, and oil in place of butter.
For "GFDF" cakes, use these replacements in combination.

A favorite cake topping is a very easy mixture called Ganache, which is quite simply chocolate melted with a creamy liquid. For decades I've made ganache with whipping cream and chocolate, but recently I've switched over to using coconut milk in place of cream. I always have cans of coconut milk in my pantry. The resulting ganache is creamy, decadent, and delicious. And dairy free!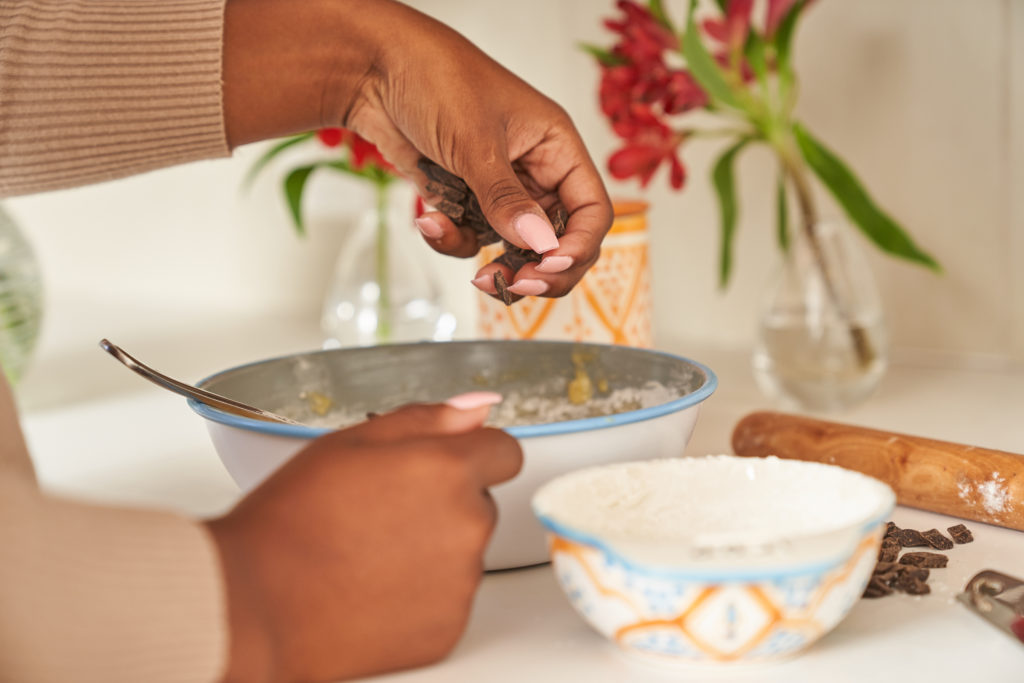 Ganache, the Dairy-Free and Delicious Version

2 cups of chopped semisweet or dark chocolate (or chocolate chips)
1 standard can of regular coconut milk

Heat the coconut milk until it is hot, not boiling. I use the microwave. Add the chocolate and stir slowly until perfectly smooth. One normal bag of chocolate chips is the exact amount needed. Use this as a glaze for pouring over the cake, or let it cool and thicken, then spread it over the cake as a frosting!
For the avid baker in your life, GlobeIn's Bake Box will make the perfect holiday gift!

ABOUT GLOBEIN
Every month, the GlobeIn Artisan Box delivers a fresh collection of useful and enthralling items from around the world. As an Artisan Box Subscriber, you learn about the products and the people who made them while discovering simpler ways to live a more fulfilled lifestyle. By subscribing to the GlobeIn Artisan Box, you can feel good about the products you use, the people you support and how your choices contribute to a better world
---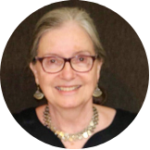 Recipe by Joan Jackson, GlobeIn Maven
Joan Jackson wrote a newspaper food column in California for more than 17 years and taught dessert & pastry making classes in California's Bay Area. She has retired to beautiful Vancouver Island, Canada.