The number one improvement our members have requested is a more seamless shopping experience where all of your credits, rewards, and gift cards can all be used in one place. That time has finally come! All of the small changes we have been making over the last year have been leading up to this moment – the merge of the Artisan Fair and Artisan Shop!
For all of our current members, when you log into your account you may notice that a few things are looking different. Below, we will explain, in detail, all of the changes that you can expect to see on your end.
But, let's start with what will stay the same. Box Builder will to be open from the 1st – 15th of every month for Premium Members and from the 2nd – 15th of every month for Maven Members. Box Builder will still be accessible through your account by clicking on either the "Box Builder" tab at the top of the page or through the "Build your Box" button once you log in. And all orders will continue to be ship-immediately – meaning, you won't have to wait until the end of the month for your orders to ship.


The main change that you will notice is that there is no longer an Artisan Fair. The Artisan Fair has been merged into the Artisan Shop. When you first come to our website, you can access the Artisan Shop through the "Shop" tab at the top of the page or by logging into your account. If you look at the Artisan Shop without logging into your account, you will notice a "members price" and a "non-members price" listed for every item. This will show you how much you save on each product by signing up for a membership. If you already have a membership, simply log in and start shopping to receive the members-only pricing!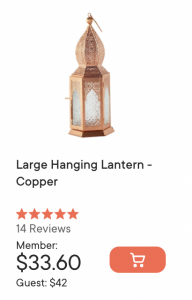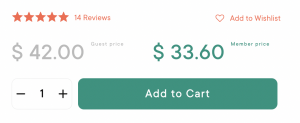 **Our members are very important to us and we want all of you to continue to feel special! When new products come in, you will still be the first to know! We will also continue to run exclusive offers and sales for members only to show our gratitude! 
Maven Money will now be called Maven Points. These Maven Points will function in the same way as the old Maven Money, in that they can be used as payment towards your purchase. The main difference is how they will look and where you can access them. Because we are switching to a points system, 100 Maven Points will equal $1. Previously, Maven Money looked like a cash value. Now, they will show as points without any decimals. For example, if a member previously had $47.35 Maven Money on their account, it will now show as 4735 Maven Points.
Because Maven Points can now be used in the Artisan Shop, we have made the decision to merge them into the Maven Rewards program. This entire program has been revamped to include new ways to earn Maven Points and easier access to your points during checkout.
**For Premium Members, their monthly Maven Points allowance will continue to be automatically added to their account at the beginning of the month in time to use Box Builder.
You can access your Maven Points and see all the ways to earn by clicking on the "Maven Rewards" icon at the bottom right corner of our website. If you are not already logged in, it will prompt you to do so.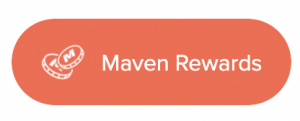 From here, you can see all of the ways to earn, ways to redeem, details on our new referral program, and your previous Points activity.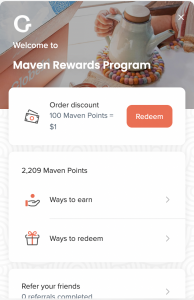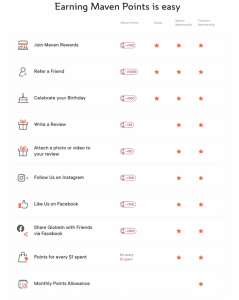 Anyone who visits GlobeIn.com can access the Maven Rewards Program and earn Maven Points. However, Members have many more ways to earn! 
**To earn all possible rewards for all of your actions, make sure you log into your account first before exploring, purchasing, or sharing!
Redeeming your points for discounts and payment towards your purchases is as easy as earning them! The easiest way to use your points towards your purchase is by using the sliding bar to select how many points you would like to apply. This sliding bar to redeem your points is located in the order summary after you click "Check Out".


Once your points are redeemed, they will automatically be removed from your account. If you would like to redeem them to use on a future order, or to gift a coupon to someone else, you can use the popup at the bottom right on our website to redeem your points for a coupon code that will be automatically generated for you as well as sent to you through email.