The Artisan Fund is a monthly community program that we create and collaborate with the artisan communities we work with. Once the events are completed, we let you, our wonderful donators, know how your contributions have made a difference!
---

Eye spy with my little eye… a free eye check-up and spectacle distribution for artisans in Barmer, Rajasthan! We raised funds in March, but due to intense weather conditions the event was postponed. This allowed us to ensure that the health workshop conditions were suitable for patients. The Artisan Fund is all about finding solutions to assist and benefit the artisans!
From July 24 to July 27, we partnered with Matr Boomie to host a four-day event for eye check-ups in four remote villages near Chohtan. A large number of artisans arrived at the camp, excited for an opportunity to check their health and receive spectacles as needed!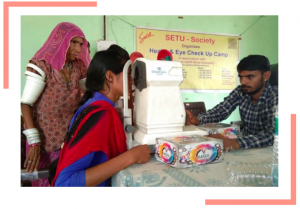 In each of the four villages of Barmer – Navatala, Binjarad, Dadusar and Mithrauthe – a team of qualified doctors & opticians were on site, ready to examine patients. Eye exams were conducted each day from 10 am to 4 pm.
The artisans are predominantly women engaged in detailed embroidery work. The majority of the artisan families depend on their work as their main source of income, and their craft requires good eyesight for the meticulous needlework. Regular eye check-ups are essential for these artisans, but many of them are from economically weak backgrounds. Thus, they cannot afford to get the check-ups done or be able to purchase eyeglasses.  With the funds for the Artisan Fund, we were able to provide artisans free checkups, eyeglasses, and transportation for quality doctors to visit their communities.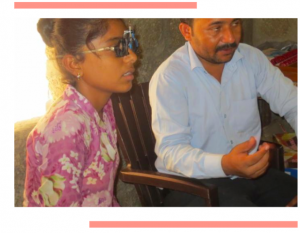 In total, 351 artisans participated and 167 received their choice of spectacles for free!
The artisans accepted the free eye service and spectacles, happy to be supported as they continue their craftsmanship. The Artisan Fund raised $1,835 in March,  falling only slightly short of our initial benchmark of $2,500. We hope to continue gaining support for our artisans as we spread awareness of our mission to better their well-being and living conditions.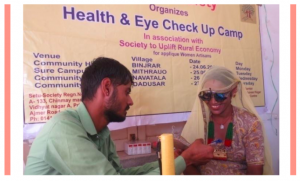 ---
Here at GlobeIn, we aim to continue to create new Artisan Funds and raise money to help propel the artisans forward. With your help, we know that our own goals to educate and achieve equal opportunity will become a reality!