Since 2013, we've been committed to supporting the artisans we work with in whatever ways we can. Our business model helps ensure that talented artisans are able to practice their craft and get paid fairly for it.
But how do you deliver on that promise in the face of a worldwide pandemic?
When hundreds of our artisan business partners around the world faced a loss of income due to lockdowns, we knew something had to be done. Every month we've raised funds for different artisan communities, and GlobeIn customers have consistently helped us reach and surpass our goals. GlobeIn customers are the best because of their empathy. They've consistently proven that they care about people around the world and that they value the amazing work that artisans do. So, from everyone at GlobeIn, thank you, customers. You inspire us every day.
Read on to learn about how crucial your support has been in creating real, positive change in artisan communities during this pandemic.
How did we raise funds?
In early April, we started raising funds by matching every customer's dollar donation in Add-on credits. This created a proactive COVID-19 relief fund, available to any of the artisan partners we work to help cover costs if any artisans or their families fell ill.
Since then, we've created artisan funds every month for various projects. But no matter the goal, once the target amount was reached, additional funds went to the COVID-19 relief fund, resulting in nearly $16k total!
This approach has enabled us to support 13 artisan partners, with funds and supplies directly going to hundreds of artisans and their families around the world. Here we feature 8 of those partners who have reported about the change these contributions have made for them and their communities.
…
WHICH PARTNERS?
1. Abdeslam
Abdeslam is one such artisan partner operating out of Marrakech, Morocco. It's a workshop of 25 talented ceramicists working under the close guidance of Khaloufi Abdeslam, the workshop's founder and master ceramicist.
In Morocco, swift action by the government, including a strict nationwide lockdown in place since March, has kept coronavirus cases relatively low compared to many other countries in the region. However, recent spikes in July have caused all major cities to enter a lockdown to contain the spread.
The pandemic has also negatively impacted Morocco's economy, which is heavily dependent on the tourism and hospitality sectors. The overnight shutdown of most industries and their slow re-opening has pushed unemployment levels to nearly 13%, and the month of June alone saw half a million people file for unemployment.
Despite the relative success of government action, the public healthcare system in Morocco has been described as overburdened. According to an article by Al Jazeera, "there is also a shortage of doctors, hospitals and health centers in urban and rural regions outside of the major cities."
To support his employees during this healthcare crisis, Abdeslam has provided them with $200 worth of hand sanitizer and masks. Each of the 25 artisans has received two masks and two bottles of hand sanitizer.
2. Altiplano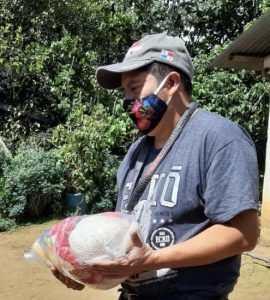 Altiplano is a partner based in Guatemala. They work to provide fair wages and financial independence for the many rural communities on the shores of Lake Atitlan.
Latin America has been hit particularly hard by the coronavirus, as it currently accounts for over a quarter of the world's total cases. In Guatemala, the summer months have seen consistently high numbers of new cases, with figures hovering around one thousand new cases per day. However, with only sixty thousand total cases, Guatemala's numbers are consistently lower than its neighboring countries.
The government has enforced various stages of lockdowns since March, with many non-essential businesses remaining closed. Despite recent measures aimed at economic relief, some studies estimate that the pandemic will push nearly 300,000 Guatemalans into extreme poverty and that millions will not have enough income to feed themselves throughout 2020.
Altiplano used funds from the COVID-19 relief fund to directly address this issue. One artisan who works for Altiplano, Lucas, took it upon himself to single-handedly distribute essential food items, including beans, sugar, and corn to the many artisans they work with in remote areas using his pickup truck. We want to take a moment here to give a shout out to Lucas for his hard work and selfless dedication to his community. In such trying times, people like him shine particularly bright.
3. Bemos Crafts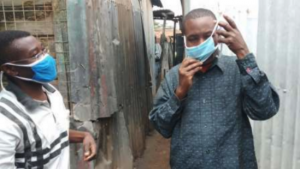 Bemos Crafts is based in Nairobi, Kenya, where it teaches artisanal methods to young men and women from rural areas. They specialize in making crafts from upcycled animal bones.
Like many African countries, Kenya imposed a strict lockdown in March to contain the coronavirus. With sixty thousand reported cases, Kenya has had relative success in containing the spread compared to other countries of the continent.
Due to months of lockdowns and closures, many Kenyans have been out of work. Floods and locust swarms have placed additional strain on families and have increased the price of food. Bemos Crafts reported that many are unable to buy everyday essentials due to rising prices and a sudden drop in income. In particular, masks and hand sanitizer are hard to come by, placing many members of the Bemos Crafts community at risk.
To address this problem, Bemos Crafts used the funds we raised to buy masks and distribute cash to its artisan employees so they could buy what they needed. Each artisan was given 27 masks and a sum of cash to distribute to their families and loved ones.
4. Nyabigena Soapstone Carvers Cooperative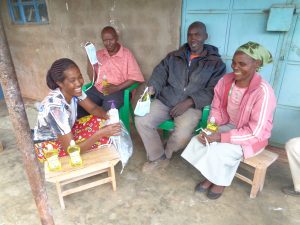 The Nyabigena Soapstone Carvers Cooperative is located in south-western Kenya. The soapstone found in this part of Kenya has created a community of talented carvers who run this cooperative.
To ensure that artisans in even the most remote of villages have access to masks and sanitizer, this fund was used to purchase 160 masks and 30 bottles of hand sanitizer. This provides each of the six artisan partners we work with enough supplies to protect themselves and their families during this pandemic.
5. Kazi Goods/All Across Africa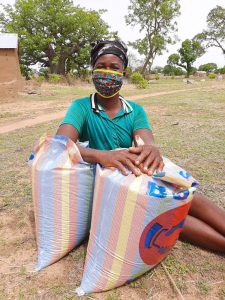 Kazi Goods and All Across Africa are our artisan partners based in Bolgatanga, Ghana.
Ghana has the fifth most coronavirus cases in Africa. After lockdowns earlier in the year, some estimates place job loss at nearly half a million, including many in Ghana's significantly large informal sector.
The twelve artisans we partner with in Bolgatanga received food and hygiene items purchased with $500 from the relief fund. Thanks to your generous support, artisans received essential food items like corn, flour, salt, and millet. They also received hand sanitizer and soap to keep them safe. Abaa Gifty, one of the weavers with All Across Africa, says, "We will never forget this great support. (Ti ka mamtame tunkate)"
6. Likha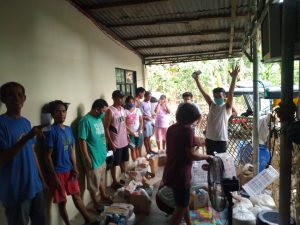 In the Philippines, artisan partner Likha employs thirteen artisans from towns in the vicinity of Manila, the capital. They make beautiful planters and jewelry from natural materials. You might even own some of their mother-of-pearl coasters!
The coronavirus situation in the Philippines has grown significantly worse over the summer. After a series of strict lockdowns beginning in March, coronavirus cases have continued to spike in July and August. Healthcare facilities are consistently overwhelmed, with new reported cases in the thousands since July.
That's why over $600 of the artisan fund has gone to provide the artisans of Likha with essential goods. Assistance was divided into cash, food supplies, and hygiene supplies. Artisans were provided with essential non-perishable items in bulk to ensure that they can feed their families during lockdowns. Masks, soap, alcohol and vitamins were distributed to combat shortages of these essential hygiene supplies.
7. Sasha World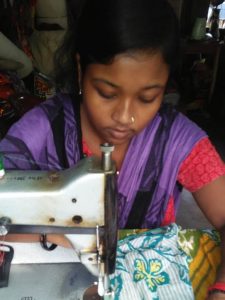 Also located in India, Sasha is a Fair Trade partner located in the eastern part of the country. They report that in their communities, the immediate and longer-term effects of the coronavirus have been affecting primarily the poor and households headed by women.
The lockdowns beginning in March have caused a significant loss in income for many of Sasha's artisan groups. Sasha chose 25 artisans with significant financial burdens to support with funds from GlobeIn. Most of these artisans are women caring for their families as the primary breadwinners. The funds helped them purchase food and essential medicine for ailing family members.
8. Oaxaca Basket Weavers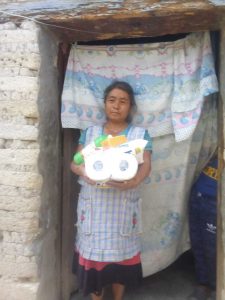 The Oaxacan Basket Weavers are the partners we've worked with the longest, going back to 2014. They're behind many wonderful woven goods, most notably the signature palm leaf baskets that are featured in the majority of our Artisan boxes.
However, the coronavirus situation in Mexico is serious. They have the seventh most cases in the world and one of the highest death rates from the virus. Studies in Mexico have shown that as in other parts of the world, populations with low formal education levels and widespread poverty are most vulnerable to the virus. The situation is particularly dire in Oaxaca where the basket weavers live. As one of the poorest states in Mexico, nearly three quarters of its population live in poverty and less than half have received a high school degree.
Funds from the COVID-19 relief fund were used to purchase essential hygiene supplies like masks, soap, toilet paper, and alcohol that were then delivered to artisans and their families living in remote villages throughout Oaxaca.
…
At GlobeIn, we're in the business of building a global community. And nothing expresses that idea like the monumental support from GlobeIn customers for the artisan community at large.
The change we've created has been inspiring. Artisans are reporting that the support has truly improved their situations with respect to the pandemic.
This successful initiative proves that the link between customers and artisans around the world is unbreakable. Even in the face of a trying pandemic, empathy and altruism can be powerful catalysts of change.
Look for our next post about how funds have helped our other artisan business partners!