Paper wrapping paper started as a tradition back in the 1910's by two brothers running a stationary store in Kansas City, Missouri. When they ran out of the plain old paper considered the fashion back then, they started using "fancy" paper. The fancy paper was a huge hit and the tradition began. These brothers were Joyce and Rollie Hall, the founders of Hallmark.
At an estimated $2.6 billion spent annually, wrapping paper is quite a sizeable industry. A quarter of the trash collected in the US is thrown out between Thanksgiving and New Year's. This is an estimated 25 million tons of garbage, 1 million tons more per week than the average.
According to Use-Less-Stuff.com, if every American family wrapped three presents in reusable materials, we could save enough paper to cover 45,000 football fields.
Included in this month's Giving Artisan Box is a wrapping box created from recycled textiles from the fashion industry. Using boxes like these as a way to wrap gifts is both beautiful and sustainable. The recipient can also keep using the box for future gifting or keep it as a storage container.
Here are some other ways to wrap your gifts sustainably this holiday season to minimize your impact on the environment (and give two gifts in one).
FABRIC GIFT WRAP
Originally from the Japanese style of gift wrapping known as furoshiki, is the tradition of wrapping presents in a square cloth. This cloth can have any number of beautiful patterns and colors, but most importantly, it is completely reusable for more gifts or other household purposes.
You can make your own from scrap fabric or by buying yards of inexpensive fabric from the fabric or craft store.

TEA TOWEL OR SCARF
Two presents in one, find and stash attractive tea towels to use to wrap gifts in. Your recipient not only gets a waste-free gift, but an extra something that can be used every day (or to wrap another present).
The Shibori Scarf from Matr Boomie is a perfect example of a scarf that can be a gift-wrap and a second present.
RIBBONS AND TOPPINGS
Save and reuse any ribbons you are gifted. Also, opt for cloth ribbons rather than metallic or plastic ribbon that can only be used once. The ribbons can also be used throughout the year for decorating your bags or even as a hair accessory.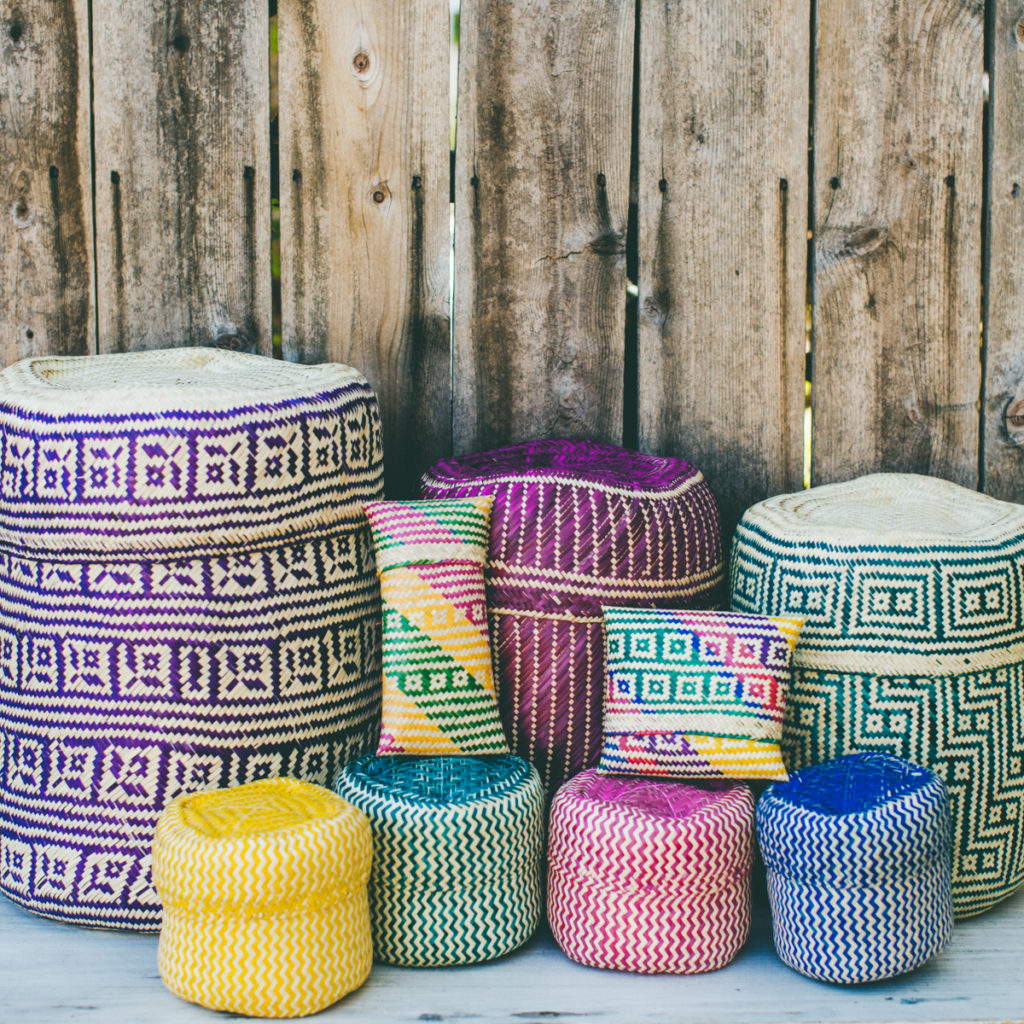 ALTERNATIVE WRAPPING
Choose things that can be used a gift and a container, like a flowerpot, a new plastic container set, an attractive tote bag, or a cozy blanket. For example, someone I know once gifted a set of concert tickets inside a wallet. It made for a great surprise when the person opened their gift as well!
GlobeIn's Signature Hand Woven Baskets from Oaxaca Mexico are the perfect example of an item that can house a gift and be extremely useful.
However you celebrate this holiday, think about how to give with Mother Nature in mind. Remember to buy fair trade and support your favorite artisans.
---
Post by Barbara Lee.
Barbara is a world traveler who is passionate about sustainable food systems, responsible consumerism, and holistic living. Her professional background and interests include writing, cooking, non-profit work, and eco-conservation.