Salads don't have to be limited to the summer or as a healthy lunch alternative. As the weather gets cooler, keep eating salads by adding warm components and seasonal vegetables and fruits. The mixture of the autumn flavors, colors, and warmth is perfect for a gathering. Also, or as a lighter option during the holiday months.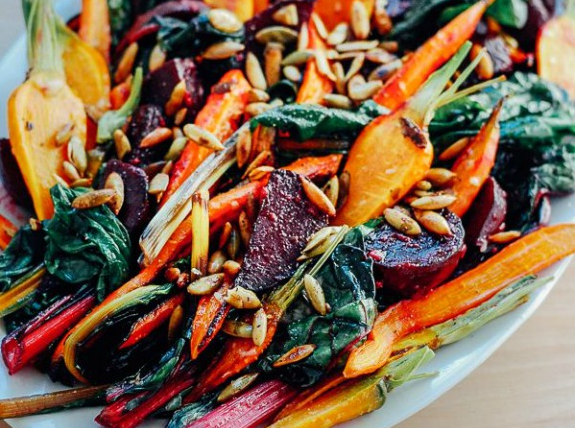 Roasted Vegetables
Pumpkin, beets, sweet potato, and Brussel sprouts are perfect vegetables to roast and toss together with a balsamic dressing. Add some hearty greens like finely diced kale, arugula, or spinach to make up a beautiful fall salad that can be served warm. This recipe from Brooklyn Supper is perfect for a quick, oven-warmed dinner that is a cinch to make.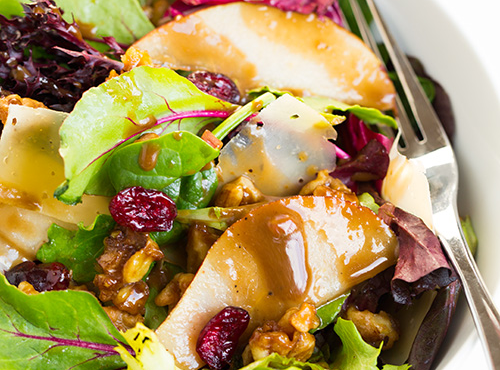 Warm Pear & Walnuts
Nothing's better than warm poached pears on a beautiful spinach salad. Pair it with some toasted walnuts and you've got a match made in autumn. Try this version from Cooking Classy. Add one step to roast the pears in the oven, poach them in red wine, or use a iron grill pan.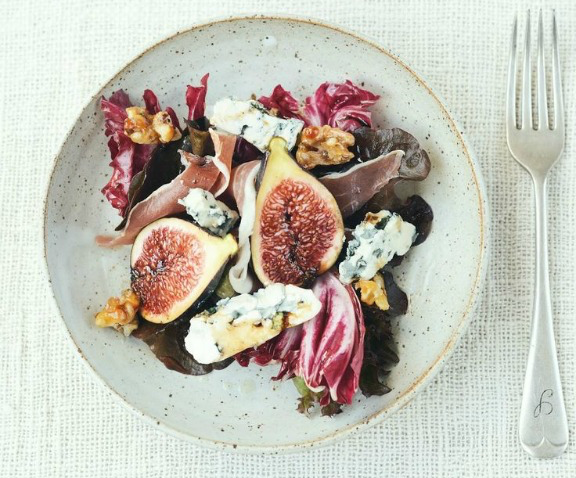 Figs & Blue Cheese
There's such a small window when figs are in season, it's hard not to eat them every day when you can get your hands on them. Figs are originally from Turkey and were first cultivated in California in the late 1800's. Make this simple salad by From The Kitchen (pictured above).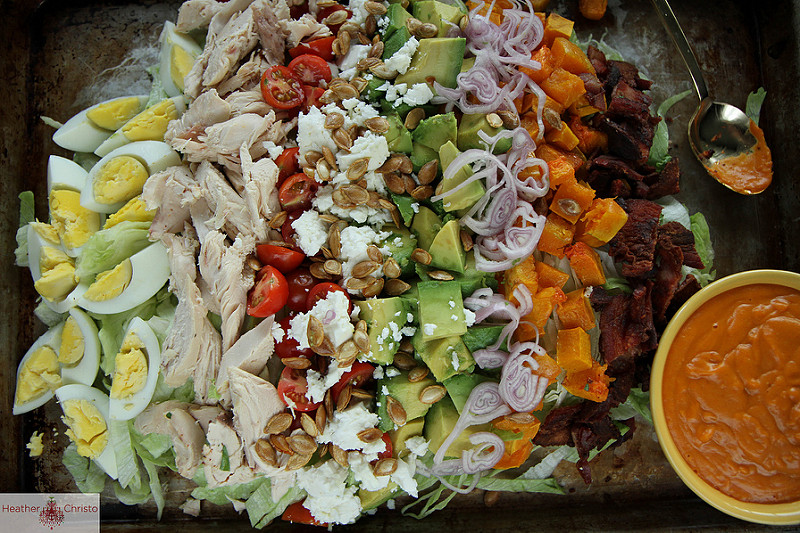 FALL COBB SALAD
A slight variation on a very classic salad, add roasted pumpkins and you've got a perfect salad for fall get togethers. If you're vegetarian, you can swap out the chicken for warm beans (try white beans like black eye-peas or cannellini) and the bacon for sun-dried tomatoes.
This amazing version from Heather Christo includes a smokey pumpkin dressing that is perfect to use on any salads this fall.
Use these beautiful, hand-crafted Neem Wood Salad Grabbers from The Village Experience, India to throw together your hearty fall salads. They're also perfect for serving up your beautiful creations at get-togethers or dinner at home. Read about The Village Experience and their mission to use travel to change the world.
---
ABOUT GLOBEIN
Every month, the GlobeIn Artisan Box delivers a fresh collection of useful and enthralling items from around the world. As an Artisan Box Subscriber, you learn about the products and the people who made them while discovering simpler ways to live a more fulfilled lifestyle. By subscribing to the GlobeIn Artisan Box, you can feel good about the products you use, the people you support and how your choices contribute to a better world.
---
Post by Barbara Lee.
Barbara is a world traveler who is passionate about sustainable food systems, responsible consumerism, and holistic living. Her professional background and interests include writing, cooking, non-profit work, and eco-conservation.