Don't get carried away with the cooking this Thanksgiving—save some consideration for your Thanksgiving table setting, too!
Your Thanksgiving table is the background to your delicious spread and you want it to make your dishes look even more enticing. Spend some time unleashing your creativity and design a tablescape that complements your cooking. 
This Thanksgiving, make your table its own topic of conversation by filling it with unique, interesting, and memorable pieces. From handblown glassware to artistic serving dishes, beautiful linen, and playful decorations, choosing the right elements can transform your Thanksgiving table into an Instagrammable work of art. 
So, pop your crafty hat on and make a statement with these 5 unique Thanksgiving table items.
1. Festive Glassware
Let's make a toast this Thanksgiving with festive glassware that's colourful and playful. Leave your formal glassware in the cupboard and edge towards funkier pieces that showcase more modern elegance and charm.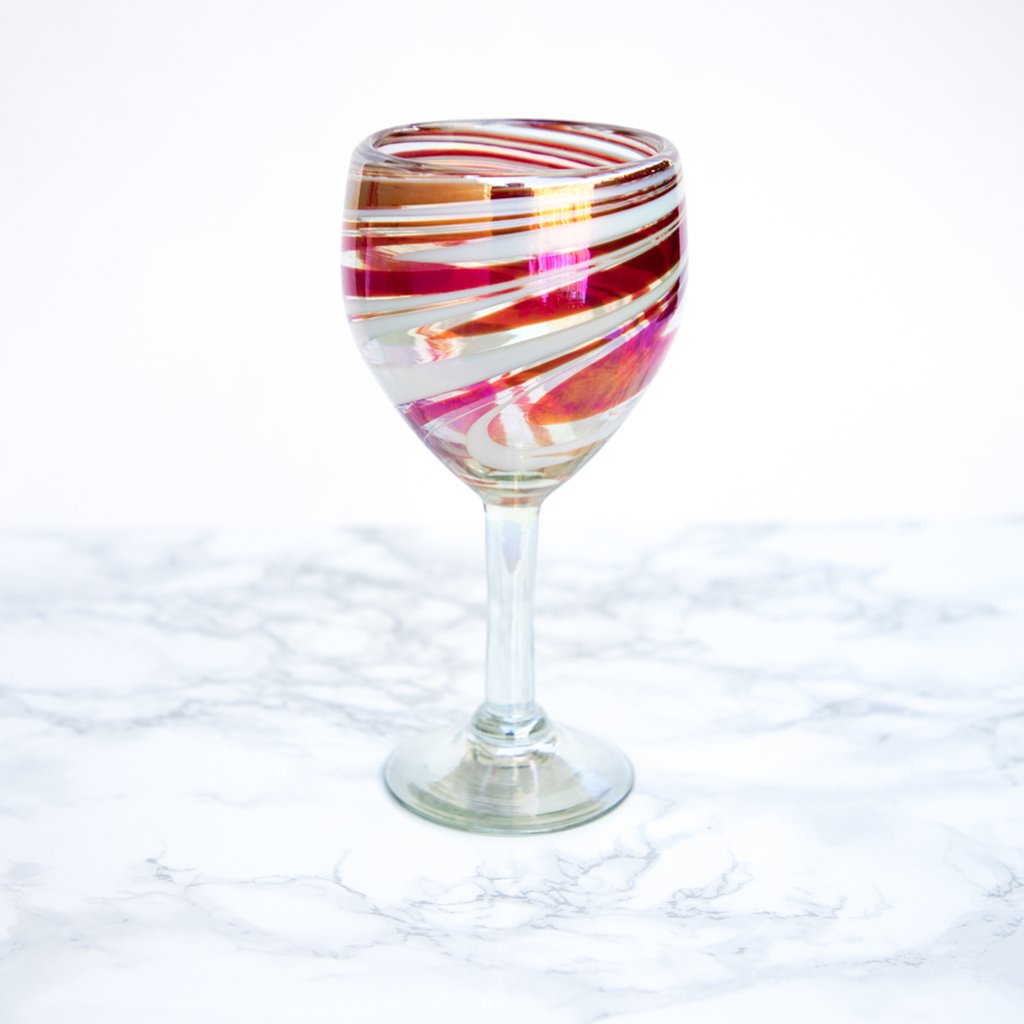 This tall hand blown wine glass says 'I'm stylish, but traditional'. Featuring a gorgeous swirl design and iridescent pattern, these glasses will twinkle on your Thanksgiving table and make it shine. 
With a combination of red, pink, purple, and gold hues, these pearly wine glasses transcend seasons and are perfect for Thanksgiving all the way through to summer. 
And how's this for unique? The stunning glasses are handmade in Mexico by a team of glassmakers working to keep sculptural glassblowing well and truly alive. Get the wine glass here.
Pair your pearly wine glasses with this gorgeous pitcher, featuring the same festive iridescent design. Made from thick glass, this pitcher is large and weighty and commands attention on the dinner table.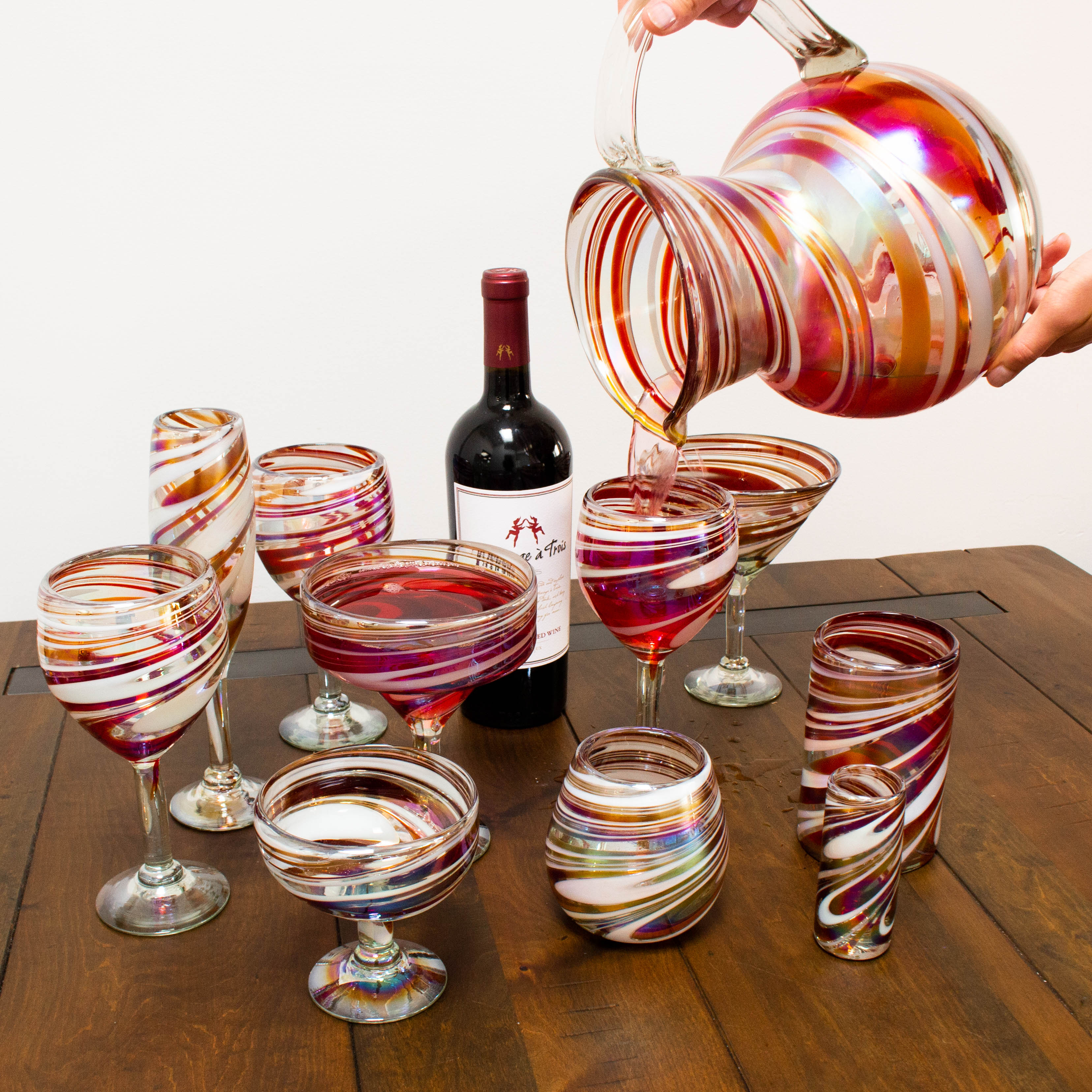 Ideal for serving iced tea, sangria, and other festive beverages, this pitcher will last you through summer BBQs and winter feasts. Make your table shine! Get the pitcher here.
For something a bit more modern, go for stemless wine glasses. This glimmering wine glass features a blend of different colors, so it'll pair perfectly with your chosen color scheme.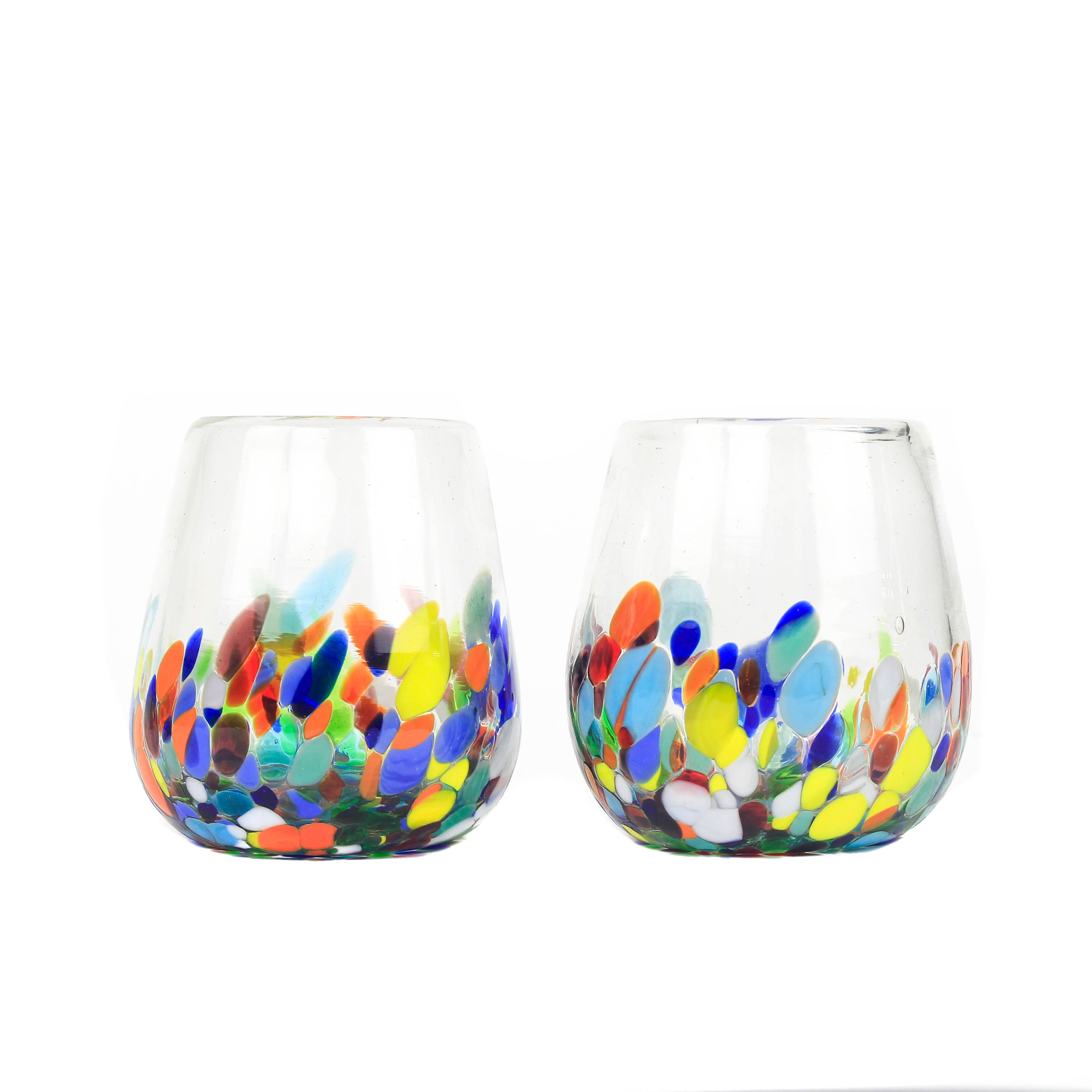 Even better, these wine glasses are generously large in size. So pour yourself and guests a hearty glass of your favorite drink and toast to good health and great wine! Get this stemless wine glass here.
2. Statement Serveware
When the food is served, it's your time to shine. Make your Thanksgiving dishes stand out even more with statement serveware that draws eyes and compliments. From serving forks to cake stands, salad bowls, and cheese knives, choose Thanksgiving serveware that'll show people you're more than just a good cook—you've got good taste as well.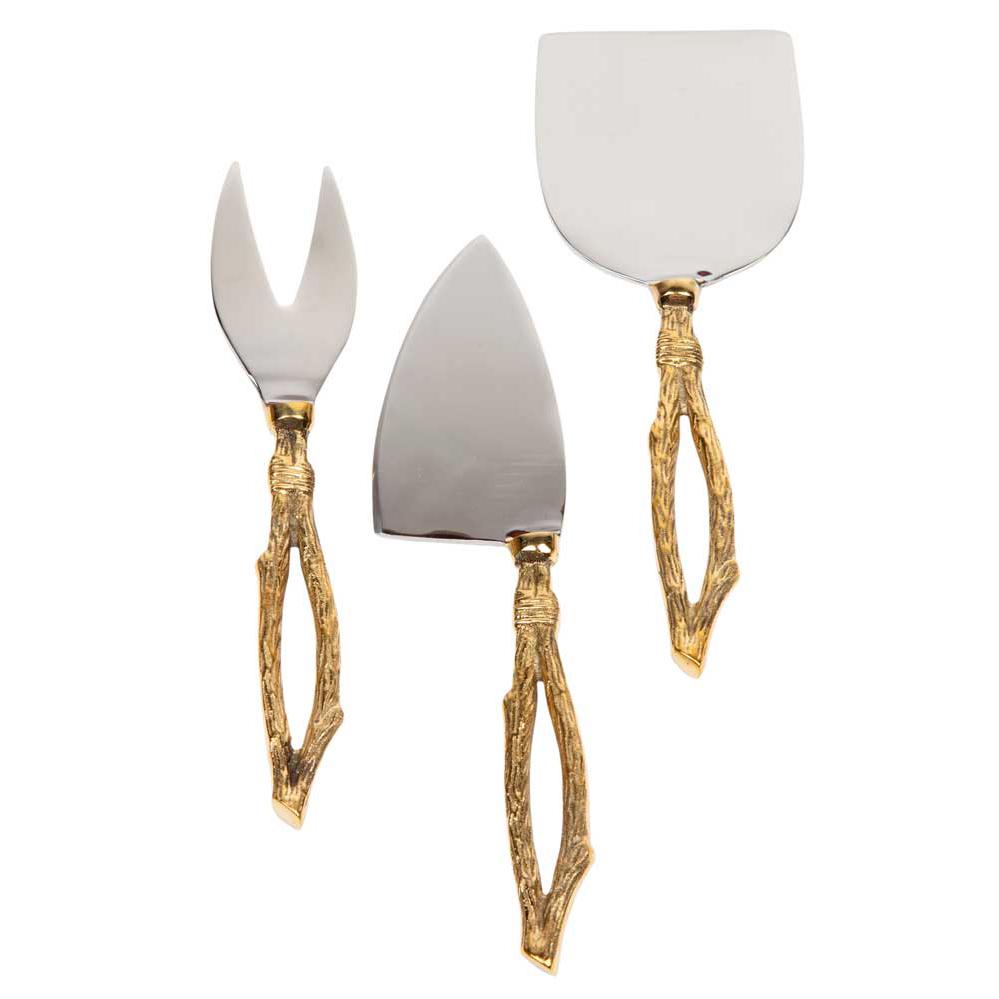 If you'll be serving a cheese platter or grazing table at your Thanksgiving dinner, complement your spread with these artistic cheese knives. Made from brass cast to look like tree branches, these cheese knives offer subtle glamour while effortlessly pairing with multiple table settings and colour schemes. 
There's a feel-good story behind these knives too – they're handcrafted in India by artisans working to use alternative metals and materials in their craft. Get these cheese knives here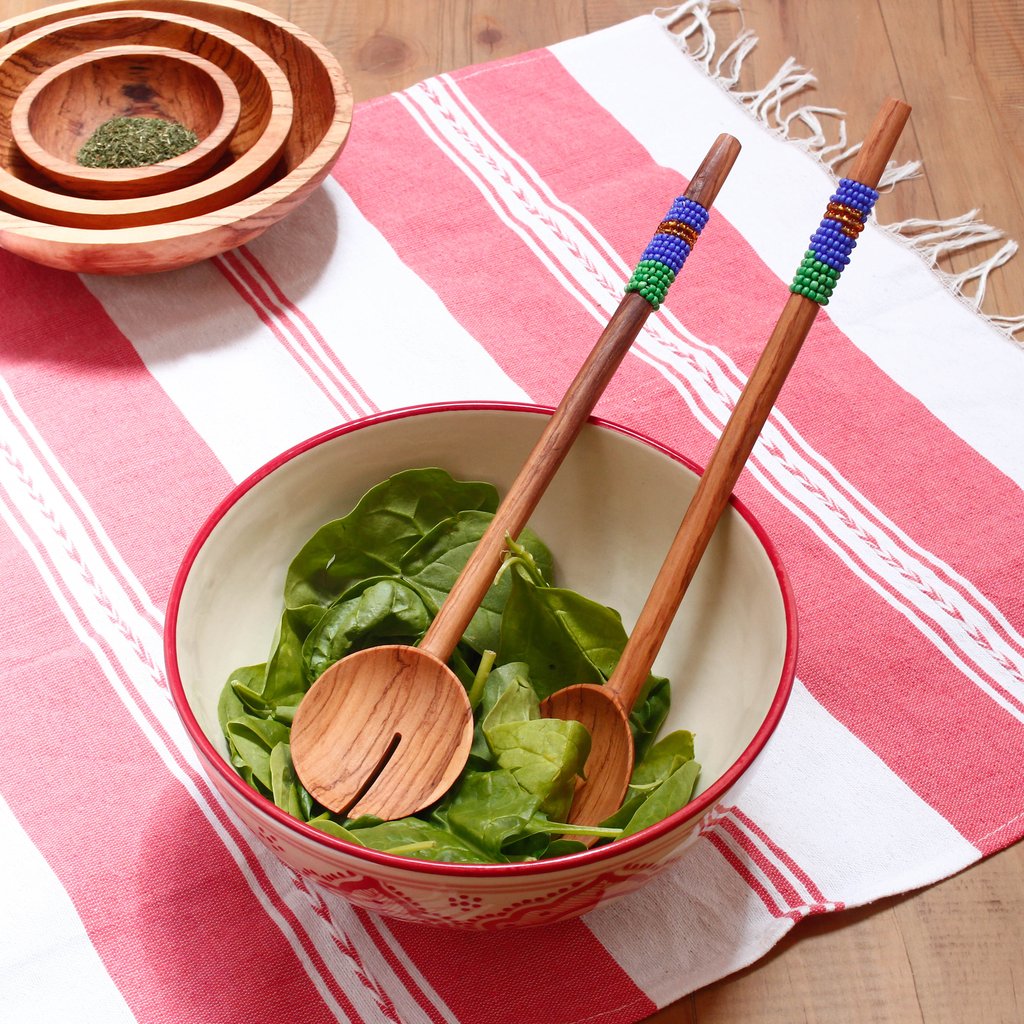 This hand carved serving fork is perfect for those who like a little embellishment but aren't ready to branch out into tableware that's too whimsical. The colourful hand-beaded handle says 'I'm not your average serving fork', but the simple design blends into the dinner table without attracting too much attention.
There's another feel-good story behind this one, too. The fork is made in Kenya by Judith Adhiambo, a mother of four who is earning a living through her bead-working skills. When you buy this fork, you're helping Judith pay for her kids schooling—a great way to give back on Thanksgiving! Get this serving fork here.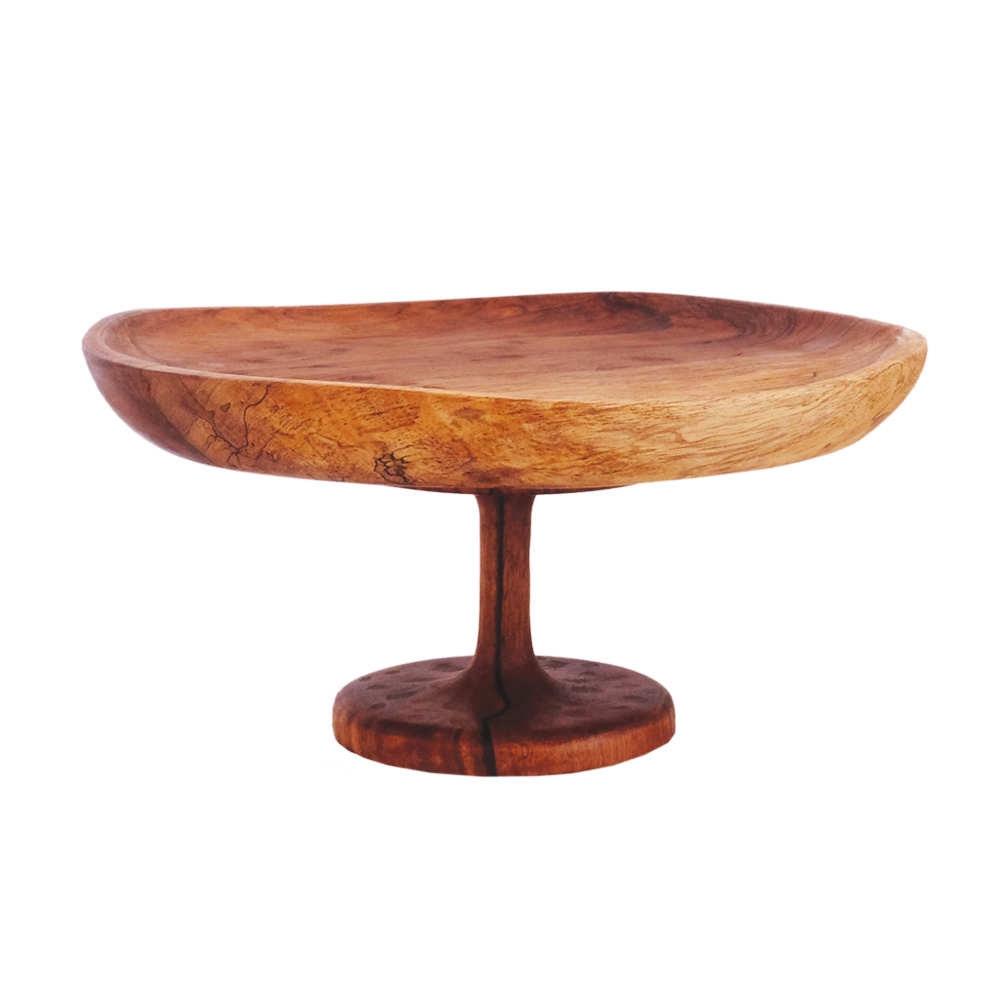 Desserts deserve statement serveware, too! If you've got a beautifully decorated cake, your family pumpkin pie recipe, or fudge brownies to serve on Thanksgiving, make sure they get their due attention. This hand-carved wooden cake tray is perfect for rustic, farmhouse, or autumn harvest themes. Get this table stand here.
3. Seasonal Decorations
Not everything on the table has to serve a purpose! Give your Thanksgiving table a touch of whimsy and fun by adding cute seasonal decorations. Go for maple leaves, pine cones, bouquets of autumn flowers, big candles, and pumpkins to evoke the spirit of Thanksgiving.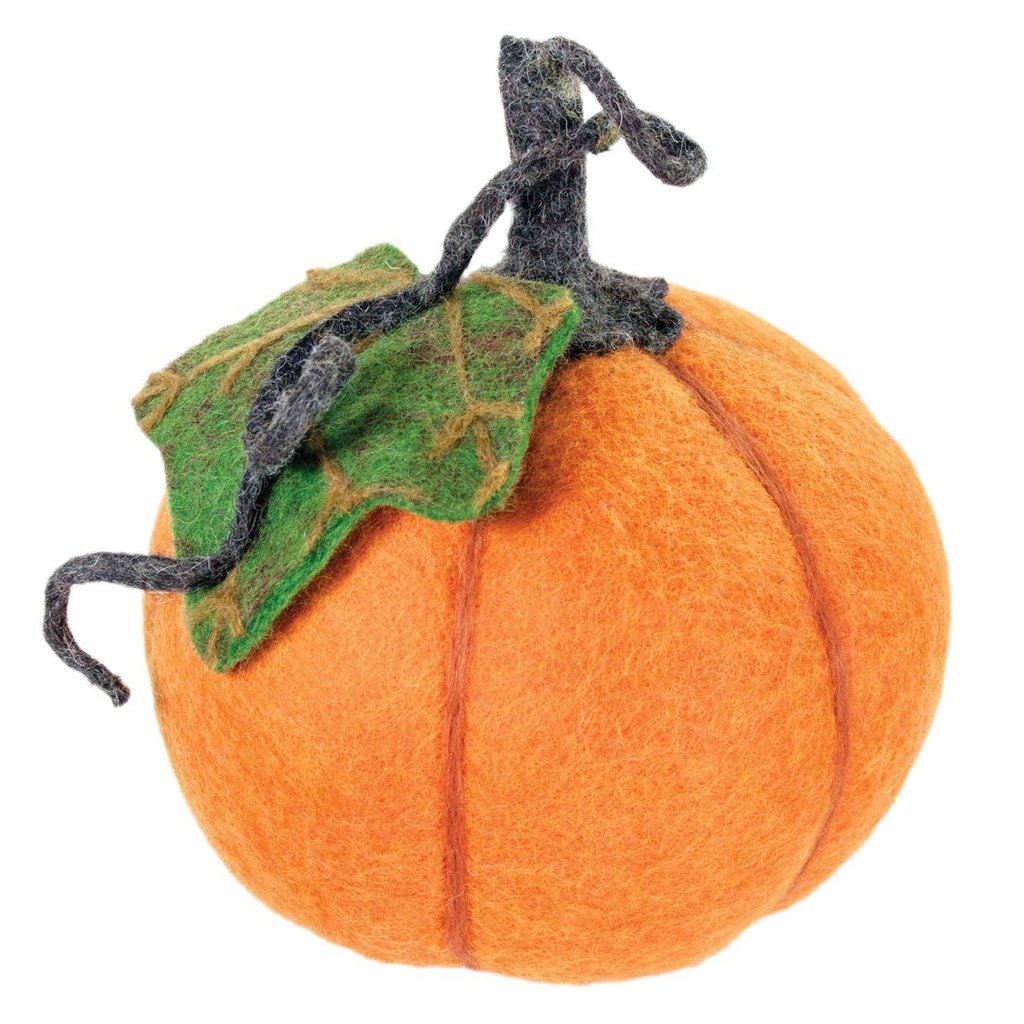 For a bit of cheeky fun, choose plush decorations like this little pumpkin. Handmade from felt by artisans in Nepal, these pumpkins are Fair Trade, non-toxic, and 100% wool. It's the perfect decoration when you're looking to reduce waste and make more conscious decorating choices. Get this cute pumpkin here.
4. Artisinal Table Linens
Linens are the backdrop to your Thanksgiving table. They add a background to your Thanksgiving meal and make everything else on the table pop. Whether it's a funky table runner, intricate tablecloth, or colourful napkins, there are plenty of ways you can make your table linen unique on Thanksgiving.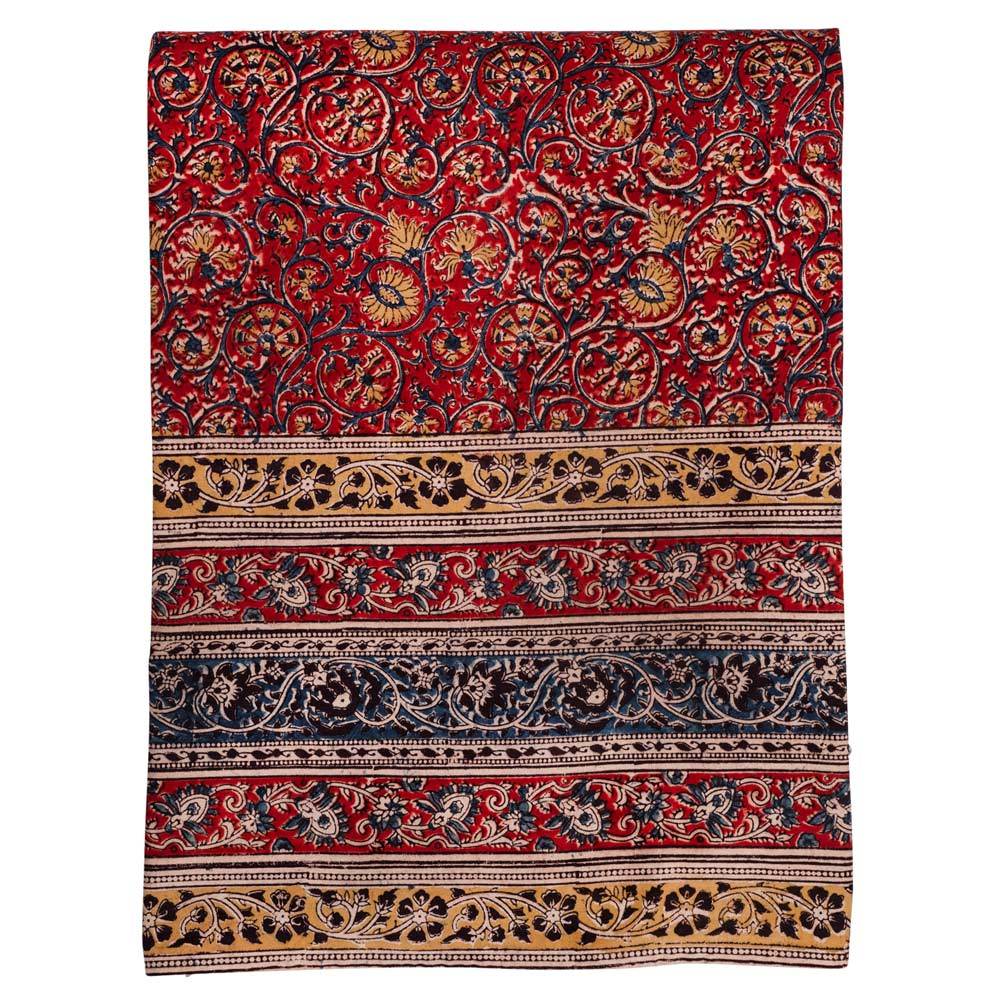 This gorgeous cotton tablecloth encapsulates the spirit of the autumn harvest, featuring an intricate leaf and vine pattern that's perfect for Thanksgiving themes. The beautiful warm colours pair well with red, blue, gold, and even green colour schemes.  
Lovingly handmade by artisans in Mumbai, the tablecloth is a stunning work of craftsmanship that will add an underlay of elegance to your Thanksgiving table. Your food deserves a tablecloth that matches its excellence! Get this tablecloth here.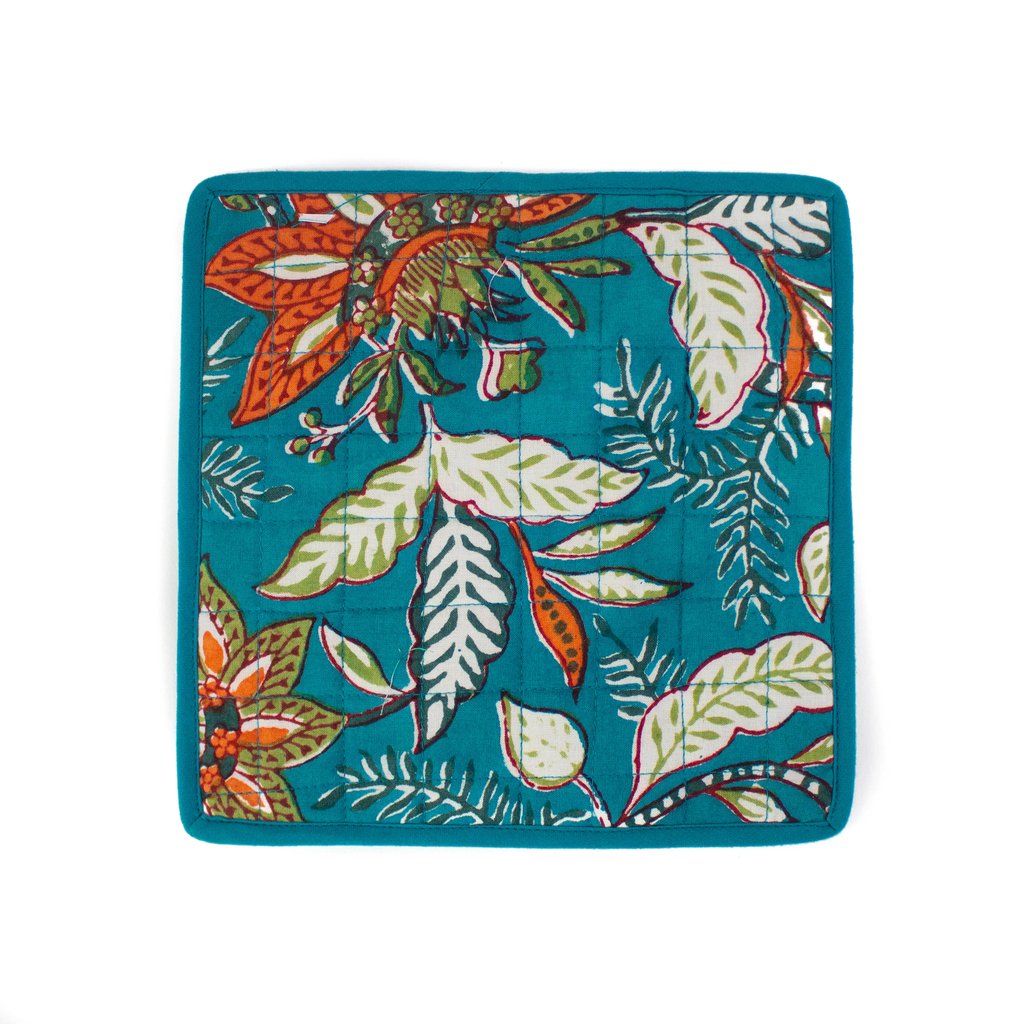 Sometimes it's the small things that make a large statement. This festive hot pad is one example, featuring a funky leafy autumnal design. With bright colours that complement a modern table setting, it will liven up your table despite its small size.
The best part is the 2-in-1 design that makes this a hot pad and oven mitt in one! Use it to carry your pot from the kitchen and set it down on the table with ease. Get this hot pad here.
5. Beautiful Dinnerware
When it's time to put your food on the table, do it in style. White serving dishes and dinnerware have their place, but if you want to be unique, go for creative designs that attract attention and please the eyes.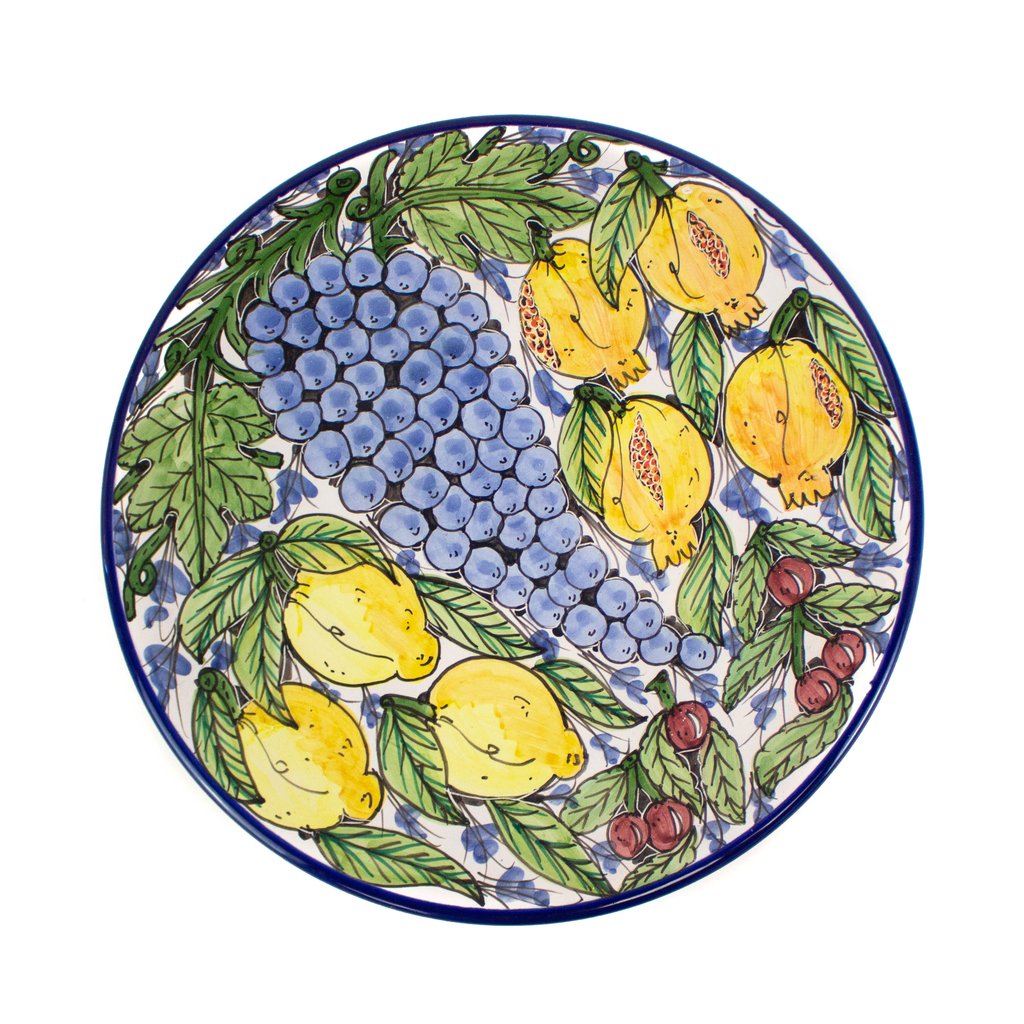 This fruity serving platter features an exquisite hand-painted design. Fusing funky chic with rustic kitchen glamour, this dish is a great place to serve your Thanksgiving turkey. 
Handcrafted from ceramics, the dish is skillfully made by a team of artisans in Tunisia. Get this beautiful serving platter here.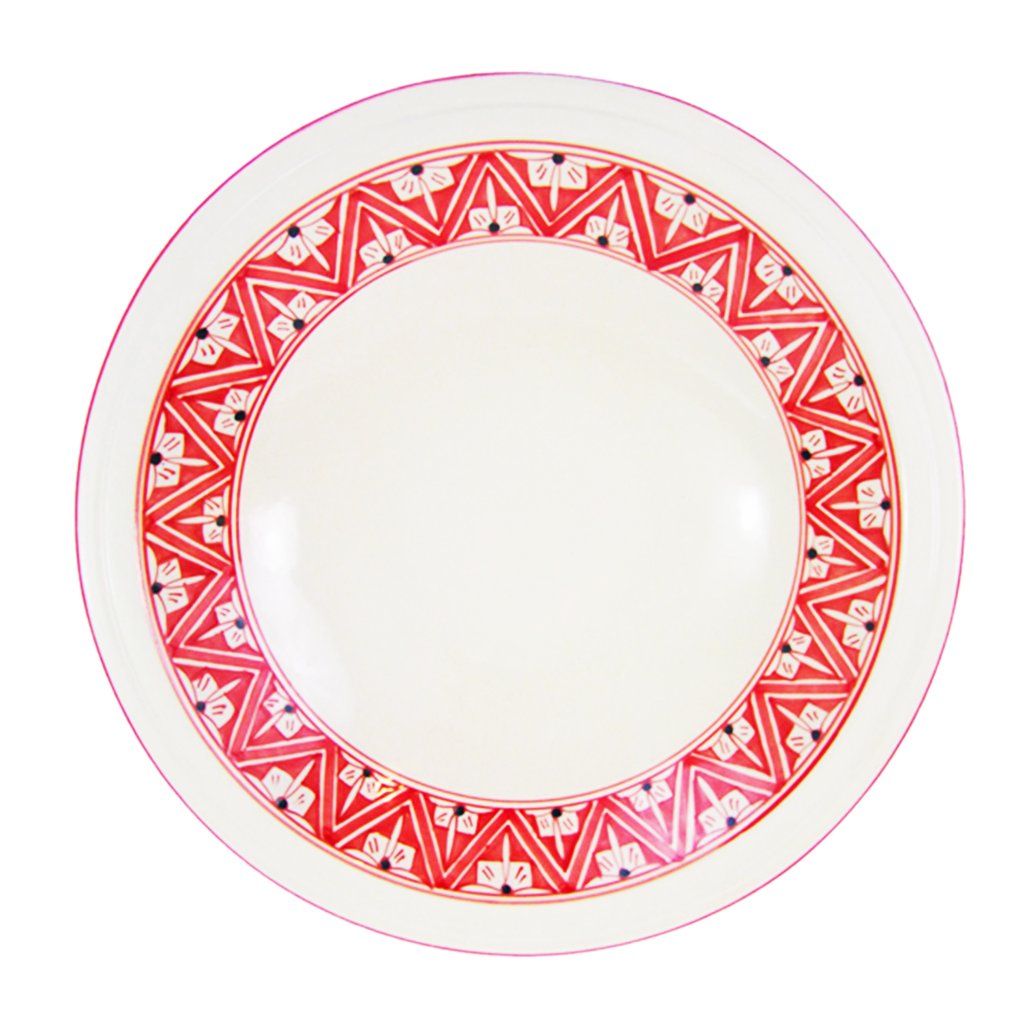 This serving bowl is ideal for those who want unique dinnerware but don't want to stray too far from the traditional white. The dish features a vivid red pattern with classic Tunisian design and exudes both elegance as well as artistic flair. 
Made from stoneware ceramics, the bowl is the perfect centrepiece for both a muted table setting and one that's more heavily decorated. Get this serving bowl here.
Create a more meaningful Thanksgiving holiday
Let's wave goodbye to mass-produced items and make this Thanksgiving an expression of gratitude to the world's amazing artisans and craftsmen.
The items illustrated in this article from GlobeIn are all unique handmade pieces that you won't find in any department store or supermarket.
They're lovingly crafted Fair Trade products that help support the artisans who made them by providing stable employment and income. So this year, bring a few different cultures to your dinner table by purchasing Thanksgiving tableware from GlobeIn and give something back to the world at the same time.