It began with helping a friend.
Amy Blair, Founder of Batik Boutique, moved to Malaysia because of an intense curiosity about the world. Nine years and 3 kids later, Blair leads a company of 50 women artisans in Kuala Lumpur, Malaysia. These artisans make up Batik Boutique, a group that hand dyes and sews fair trade fashion goods for the international market.
"I built a business model around the needs of these women," explains Blair. "It was more about how can we bring sustainability to a group of women who want to work and contribute to their household income, but can't because they're trapped. They're stuck without transportation, no child care, and have limited time."

"If we don't disrupt the cycle of poverty now, we're going to repeat it in ten to twenty years." – Amy Blair, Founder of Batik Boutique
from ONE MOM TO ANOTHER
Blair said she related to these women's struggle because she was also a new mom. Also, she was raised in a low-income bracket back home in Texas. While Blair notes it was easier for her to escape this cycle in America, she said it is more difficult for women with social constraints. Blair wanted to create a sustainable way to empower these women in order to disrupt the cycle of poverty.
"They have on average five kids," said Blair. "Women are the ones who have influence over family and kids. It's my belief that if we don't disrupt the cycle of poverty now, we're going to repeat it in ten to twenty years."
Blair was driven by friendship. She and Ana met through a mutual friend and the rest is Batik history. Read Ana's story. A single-mom of two, it was Ana and women like her who Blair sought to help in this company.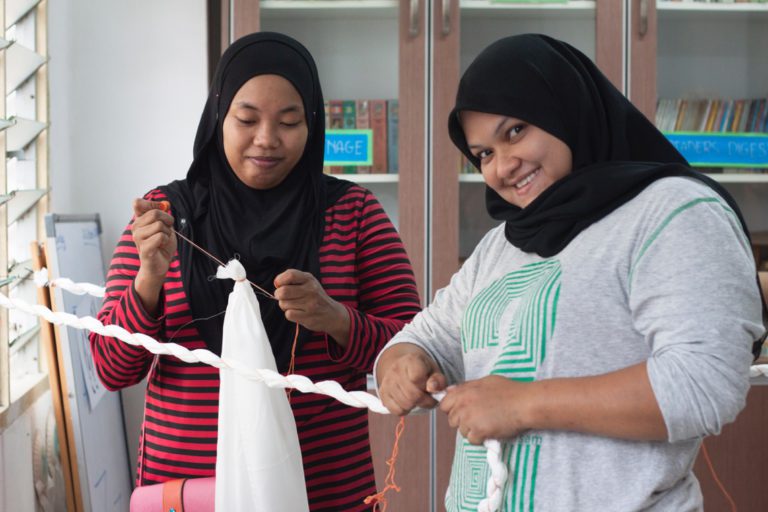 Batik: AN ANCIENT TRADITION
Named after a 2,000-year-old Indonesian technique, batik is an intricate dying process that creates beautiful designs in layers. This labor-intensive process involves the use of dye-resistant beeswax and resin to paint or stamp designs onto fabric. The fabric is dyed by hand painting or dipping into dyes. The wax is boiled off to reveal beautifully hand-printed fabrics.
At Batik Boutique, dyes are naturally made from tropical leaves and plants. They also produce shibori dyed fabrics for larger orders.
Want to know if it's really batik? Check to see that both sides are dyed.
Although batik is practiced in different countries, the motives and designs differ between locations. Blair explains that in Southeast Asia, the prints reflect local fauna and flora, like hibiscuses. The blocks are hand-carved in rural villages. These remote designers find inspiration in their everyday surroundings.
BUILDING SOLUTIONS TOGETHER
Blair, whose background is in tourism, describes the process of creating Batik Boutique as a "huge learning curve." In the beginning, she would take her newborn and travel to different villages, asking and learning how they made their fabrics. She took these techniques back with her and taught the women, working with them to create products that appealed to the international market.
"When you go into a demographic and say you can solve all their problems, there's a problem in that," says Blair. "We've been listening to their struggles and needs and made a model that fits that."
Batik Boutique's employees create their own hours and work from a sewing center near their homes. This eliminates the need for childcare and transportation. Some husbands support their partners by watching the kids while their wives work.
"At first, they were figuring out what their kids were going to eat today," describes Blair."You see the shift and their attitudes change."
The company conducts quarterly reviews with all the women and help support their solo business ventures. She said most of the women are now saving for large investments, like a refrigerator or motorcycle.

"This is empowerment." – Amy Blair, Founder of Batik Boutique
A MEASUREMENT OF SUCCESS
One of the stories that Blair shared is about Yati, a young mother of three. At first, Yati was so nervous and insecure that she would cry whenever they discussed work with her. After six months, Yati was a top income earner. Now, she is determined to save for a driver's license and vehicle.
"This is empowerment," says Blair.
In 2016, Batik Boutique produced almost 20,000 products and employed 177 artisans. With all artisans and their dependents, the company benefited a total of 1,428 people in Malaysia. To create the Jewelry Roll for GlobeIn, Batik Boutique used a total of 50 artisans who worked over 10,000 hours on production and quality control.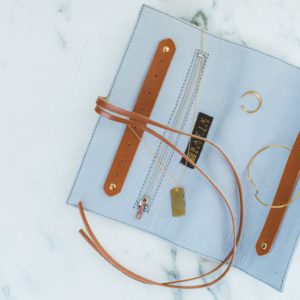 Through GlobeIn and other large purchases, the women at Batik Boutique can provide for their families today and in the future. Blair says long-term partnerships enables Batik Boutique to support new employees. It also ensures that these women have a sustainable source of income.
If you find yourself in Kuala Lumpur, the women at Batik Boutique teach hand-dying classes. Learn batik or shibori dying techniques and take home your own handmade gifts.
Batik Boutique was the winner of the 2015 Amplify Award from MaGIC. Provided by the Malaysia Ministry of Finance, Amplify Awards are given to help social enterprises positively impact the lives of Malaysians.
---
Post by Barbara Lee.
Barbara is a world traveler who is passionate about sustainable food systems, responsible consumerism, and holistic living. Her professional background and interests include writing, cooking, non-profit work, and eco-conservation.