In celebration of Cinco De Mayo, we want to share our journey of working with basket weaving artisans from Oaxaca, Mexico. Our journey with these artisans has been extraordinary, and has allowed them to make a sustainable income while creating the beautiful baskets found in your monthly subscription boxes. 
The artisans in Oaxaca tirelessly create beautiful and traditional baskets, like the Caminito Handwoven Basket. The beautiful baskets that they weave are known as tenátes, and traditionally are used to hold tortillas during mealtimes. At GlobeIn, they contain some selections of Fair Trade goods like the Amapola Handwoven Basket in the all-time bestseller, the Cozy Box. To create them, the artisans collect palm leaves, dry them in the sun, dye the leaves, and weave them to make baskets that can be used in many ways. Each basket is made in roughly three hours and on average three baskets are made per artisan per day. These colorful baskets can be beautiful and versatile accessories. The artisans are dedicated to weaving baskets and have a can do attitude as they are able to create different shaped baskets and patterns in bulk quantities.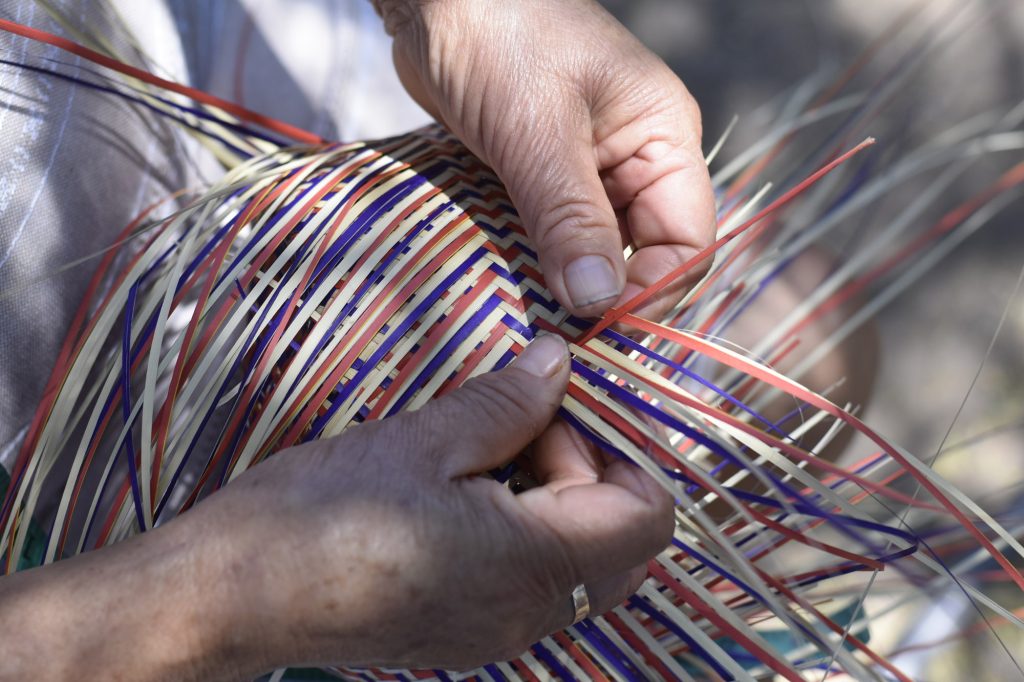 Marina, a palm basket weaver from Oaxaca Mexico, was one of the first artisans who worked with GlobeIn. After a trip to Mexico to look for talented artisans, Vlad, our Co-Founder and CEO,  and other members of the team met Marina, and started sourcing baskets from her. They were so popular with customers that we continued to source more and more. The operations grew from 1-2 weavers to over 200 people, and Marina became the community leader there, organizing these 200 women. We still work with her to this day.
Marina, along with Pamela, GlobeIn's Country Manager in Mexico, created an amazing network of artisan leaders who represent groups of artisans in different villages. The leaders regularly commute long distances to meet to discuss business matters. Before GlobeIn, these groups saw each other as competition within their communities, but with GlobeIn, they were able to become part of the team and share the knowledge required to make consistent handmade products that people love. Dedication, collaboration, and teamwork allows these artisans to thrive and make a difference in their communities. Monthly subscription orders provide a stable income for these artisans, and the opportunity to save money to pursue dream projects. 
For Marina, that dream was to save for a house and have a big wedding. Vlad had the privilege of being invited to her wedding two years ago (you can read more about that here), and she and her husband (who also came to work with GlobeIn) have built a modest house.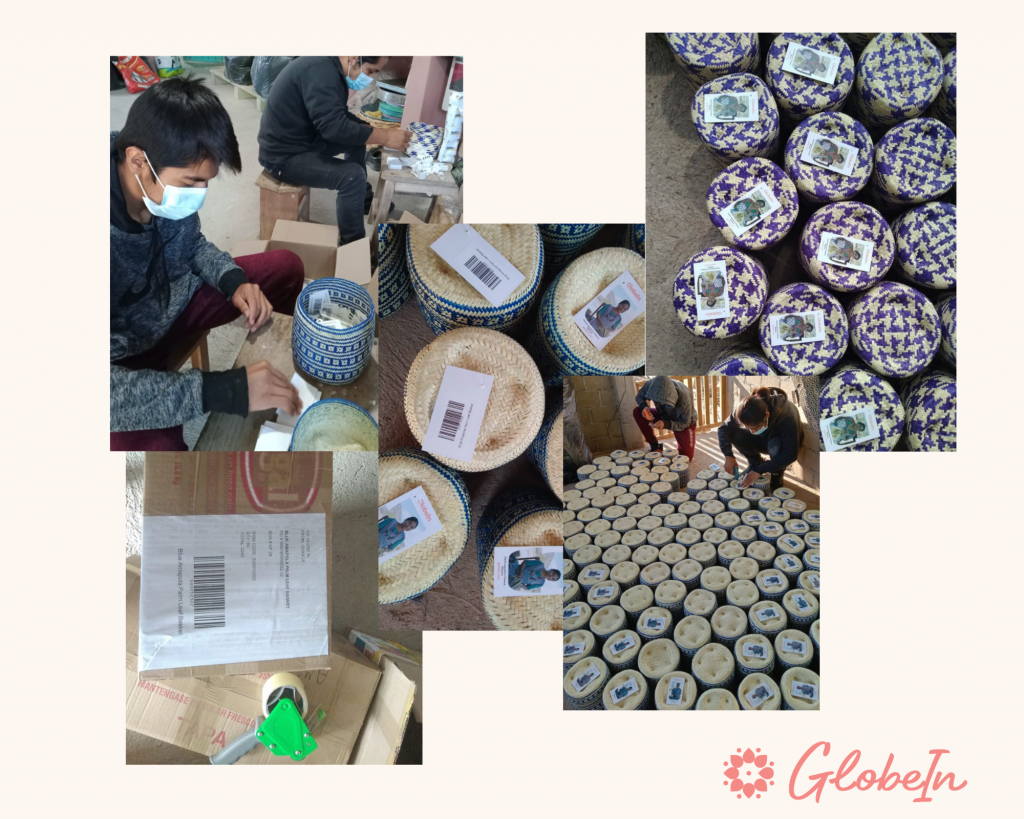 Working with GlobeIn can be life-changing for the basket weaving artisans as Oaxaca lacks basic infrastructure, education, and only produces 1.5% of Mexico's GNP. Basket weaving is one of the main sources of income for people living in this region, which allows them to keep a cultural tradition alive. The Indigenous people in Oaxaca live by the countryside, are often marginalized, and work on government land to sustain themselves. They have a hard time making a living by doing this and many leave the region to move to cities like Oaxaca City and Mexico City to be able to make a livelihood. As many of them leave the countryside, the traditions preserved are at risk of extinction. By creating baskets for GlobeIn, the Oaxacan artisans are able to keep their cultural traditions alive while being able to receive a fair wage.
We are always looking to increase the capacity and skills of the artisan groups we work with, so that they can sustain and grow their businesses even outside of their relationship with GlobeIn. Recently, Pamela worked with the Oaxacan basket weavers to teach them how to add product tags to their baskets. This is something that is standard for many producers outside of the Fair Trade world, and will make it easier for the artisans to work with other retailers. It also makes it much easier for our warehouse to receive items, since they know immediately which product and order they relate to.
GlobeIn has made a major impact on the lives of these artisans in Oaxaca. Many of them have become leaders for the first time and have become more confident. One example is Marina's husband, who was able to help Marina with GlobeIn's operations and leave farm work, which was a huge step for them. Other basket weavers like Juan and Juanita were able to open a store in downtown Oaxaca to sell products that would interest tourists and potential wholesale buyers. The artisans were able to use basket weaving as a way to grow their careers and change their livelihoods. They have not only brought joy to GlobeIn customers with their traditionally weaved baskets, but their lives have been transformed during the process.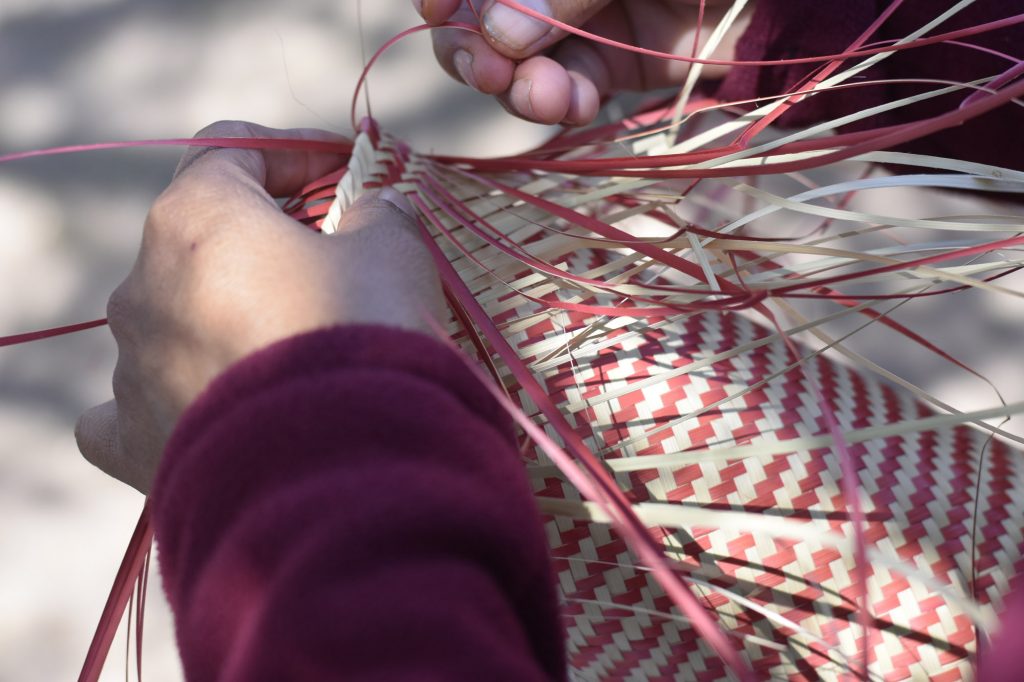 Celebrate Cinco De Mayo and the talented basket weavers by making a purchase through our Cinco de Mayo collection. You will be helping these artisans make a livelihood and change their lives, while filling your home with stunning Mexican Fair Trade goods.