It started with a sewing machine and a dream. This is how an entire company found its beginnings.
From the first time she visited Kenya in 2009, Jenny Nuccio felt called to the area. After the visit, a short vacation of 2 weeks, she vowed never to visit again. Yet, she kept returning year after year.
At one point, Nuccio worked for a non-profit that sponsors education for children. She would assess children's situations when they were sent home from school when unable to pay their school fees. During these home visits, Nuccio found a common theme.
"All the kids being sent home were coming from disadvantaged situations," explains Nuccio. "Women who were widowed or had a disabled husband and eight kids."
Living in mud huts with an average of four children per household, Nuccio says these women lacked opportunities for earning income. "The women would pick mangos, put them on baskets on their heads, and walk ten miles to town to sell one for $0.20 and walk back, just to do it again the next day," tells Nuccio. "There was a hopelessness in their faces."
Wanting to help, Nuccio decided to teach the women a tangible skill they could take with them anywhere – sewing.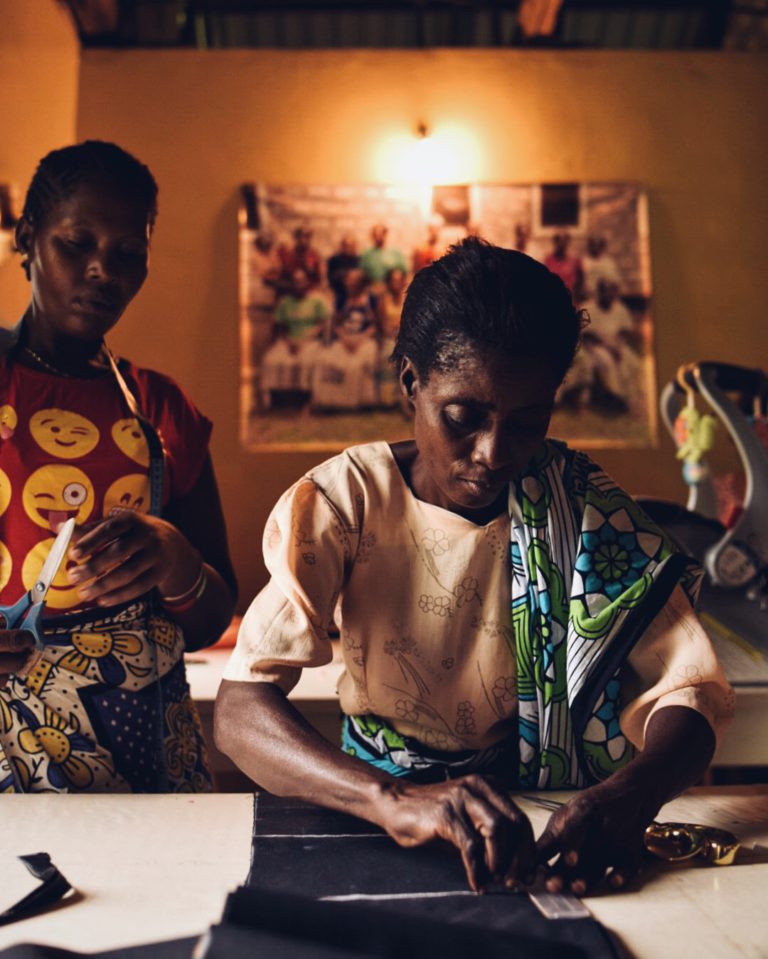 A DISCOVERY TURNED TO ACTION
In 2012, Nuccio and 16 women living in Mtepeni Village, 30 kms north of Mombasa, laid the foundation for ImaniXchange. The group started with pedal-powered sewing machines. Nuccio hoped that by teaching them to sew, the women could improve their lives.
But, there were unexpected challenges.
"They could make their kids' uniforms, but they still had no money to use to buy the materials to make the uniforms," Nuccio describes, frustrated. Additionally, most of the women lacked education. "The first time I handed them measuring tapes, the women had no idea what to do," explained Nuccio."I realized none of them knew their numbers."
In response, Nuccio began building a business model – a company that would empower women through employment, education, and hope.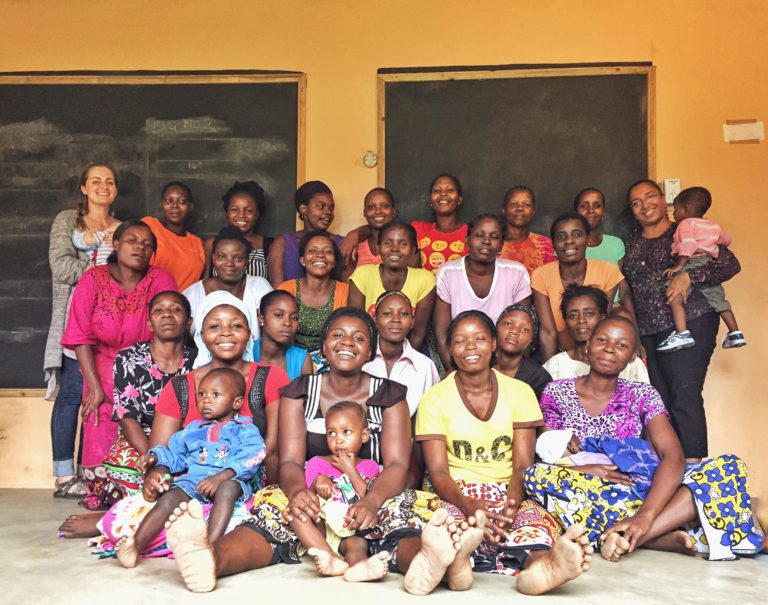 PErsevering THROUGH HARD TIMES
At the start, Nuccio explains it was difficult to finance and run the company. There were months she couldn't pay the women and considered giving up. If she left, she knew the women would continue to survive. But she didn't want them to just survive. She wanted to give them the opportunity to thrive. Every day, the women would continue showing up, even when Nuccio couldn't pay them. She persevered because the women also believed in themselves.
Yet, there was a more personal motivator to Nuccio's unwavering determination.
"After living out there for eight months alongside these women, with no running water or electricity, they became my sisters. They were family," said Nuccio. "I couldn't leave my family."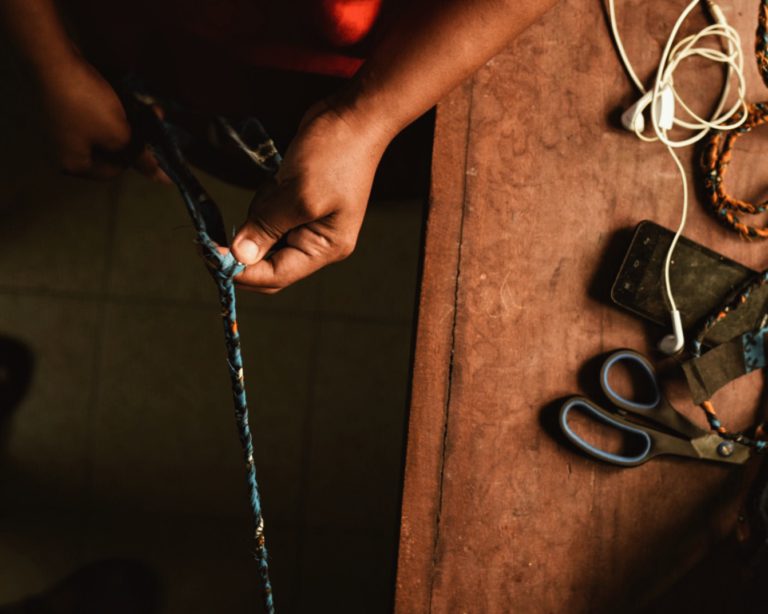 BUILDING FROM THE GROUND UP
ImaniXchange started with dedicated volunteers who would help sell products stateside to mom-and-pop shops and at small trade shows. Through word-of-mouth and Nuccio's personal network, the business has grown immensely. In 2016, ImaniXchange expanded from a small collective to a company with 3 locations and over 50 employees.
Employees receive classes in English, reading, and finances, learning how to save and raise strong families. They also attend workshops held by other moms and entrepreneurs. The company encourages women to bring young children to work, up to the age of 3. ImaniXchange pays for children's care-taking while their moms work.
"When basic needs are met, the women can actually dream about the future." – Jenny Nuccio, Founder/Director of International Affairs

THRIVING FOR YEARS TO COME
When these women started at ImaniXchange, they lacked education and didn't know how to write their names. As they learned, it humbled Nuccio to watch women in their 30s come to a very important realization – they are still valued and worthy, regardless of their age. Over time, the women gained confidence and became happier. This happiness overflows into the household and their children.
"Here, they always think for today and it's really exhausting," explains Nuccio. She says that with high death rates and concerns about feeding their families each day, many Kenyans don't plan for the future. "It's big for them to be thinking about years down the road, not just today."
This, Nuccio believes, is the key to creating sustainable change in this community.
"When basic needs are met, the women can actually dream about the future," says Nuccio. She says that the oldest kid in their current education sponsorship program is 13-years-old and she looks forward to seeing the improvement for someone who was raised with this program.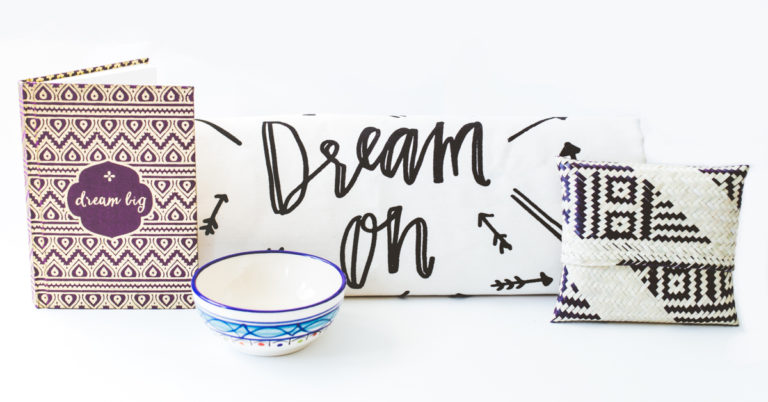 THE GLOBEIN EFFECT
Nuccio believes investing in future generations will end the cycle of poverty. The company takes a percentage of all sales and pays school fees on behalf of employees' children. There are currently 46 kids in the program.
The cost of sending a child to school in Kenya is approximately $100 a year. With GlobeIn's order, ImaniXchange will be able to pay school fees for all children in the program for the next 3.5 years. Nuccio says it's especially important that ImaniXchange is gaining exposure to a globally-conscious audience, such as GlobeIn customers.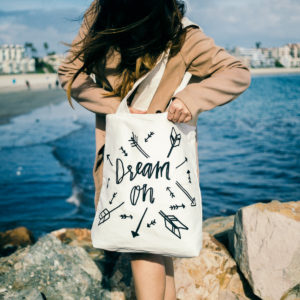 All ImaniXchange products are handmade. The name of the seamstress can be found on your product's label. From there, notes are shared and placed on the bulletin board at the workshop to help connect and thank each artisan.
---
Post by Barbara Lee.
Barbara is a world traveler who is passionate about sustainable food systems, responsible consumerism, and holistic living. Her professional background and interests include writing, cooking, non-profit work, and eco-conservation.