We caught up with Matthew Marshall, New Story Charity's CEO and Co-Founder, to get updates on the situation in Haiti and how the GlobeIn community's contribution of $2,465 will be used to bring a new chapter to one family's life.
In October 2016, the GlobeIn community banded together to bring hope to the people of Haiti. After Hurricane Matthew hit Haiti, death tolls exceeded 800 and tens of thousands were left homeless. Working with New Story Charity and Haiti Design Co-op, GlobeIn ran a campaign to support local jobs and home creation in Haiti. through artisan work and direct monetary donations with the Elsa for Haiti campaign.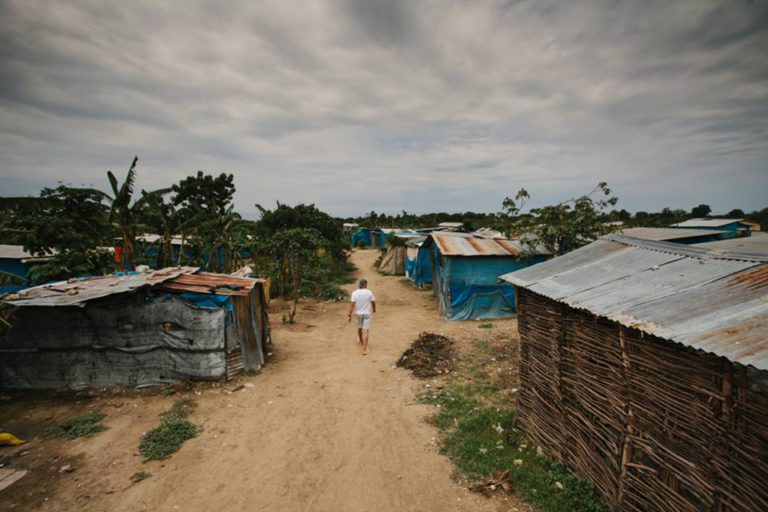 At two years old, New Story has funded the creation of 805 natural disaster-resistant homes in Haiti and El Salvador. One of the communities that New Story focused on rebuilding is Leveque. Located in western Haiti, the community remained a tent city for years following the 2010 earthquake. Now, 151 colorful homes sit happily and proudly against the sparse green foothills of the Noires Mountain range.
New Story's local partner, Mission of Hope, builds homes for families based on census and lotteries. Marshall explains that most families are facing similar dangers in these disaster-torn communities. For the GlobeIn campaign, the money will go towards funding a home for a family in Jeremie, the community most affected by Hurricane Matthew.
"They're the ones who push the project forward, hire a local contractor," explains Marshall. "They're stewards of the community. The majority are Haitian staff."
Marshall stands behind the idea that local non-profits like Mission of Hope know better than someone in San Francisco what is best for the community in Haiti. New Story aims to use technology to maximize efficiency in building communities, but there are hold ups like limited internet, especially in disaster areas. The company plans on creating its own app that allows partners to send photos and updates directly to donors in real time.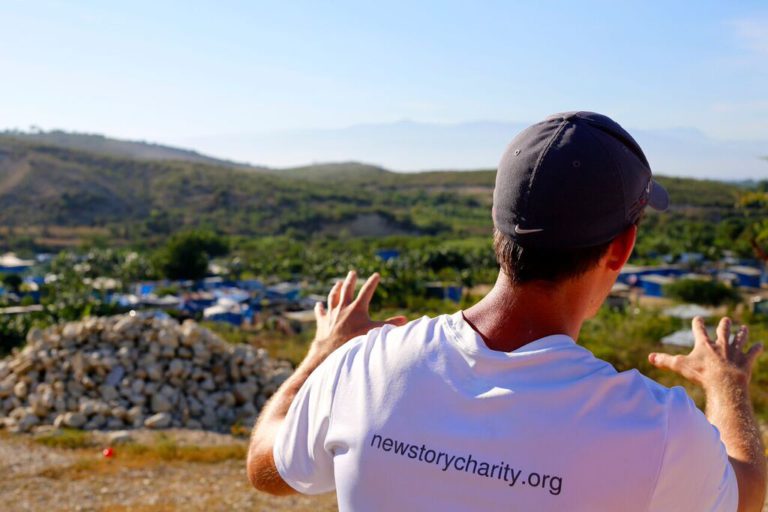 ON HURRICANE MATTHEW
"Hurricane Matthew is unique for us," says Marshall. "This is the first immediate disaster relief that we've been involved in. It's slowed down the process, obviously, when you have a disaster like this."
Marshall explains that this meant immediate needs like clean water and food were put ahead of housing construction. While creating a delay for neighborhood building, Marshall says the goal is to build the community correctly to maximize long-term benefit to families.
"Ultimately, we would rather take our time and build the best home and the best community that is possible, because we're building for the long-term, not the short-term," says Marshall, explaining that the exact family who will be benefitting from GlobeIn community's contribution will soon be selected. "We're building for when there's another hurricane, that these families will not be in the same situation."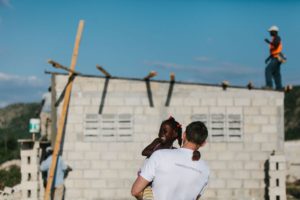 New Story has begun breaking ground on new homes in the southwest of Haiti where the most damage was sustained from Hurricane Matthew.
In a recent email update, New Story released updates and photos of the families who will benefit from GlobeIn's contribution post Hurricane Matthew. In case you missed it, GlobeIn Co-Founder Liza Moiseeva wrote a piece, featured on WhyDev, explaining how to best give back during times of disaster relief.