This past year at GlobeIn, there has been tremendous growth and many firsts. GlobeIn tried a lot of new things, and the support of the mavens made much of it successful. 'Mavens', as GlobeIn affectionately calls its insiders/subscriber group, have a private Facebook group where they come together to share recipes, products, advice, and parts of their lives. This year alone we celebrated the growth of this group from 5,000, to almost 8,000 members!
To celebrate mavens, GlobeIn decided to look back on their special moments of 2019. Read on to see some of our favorites
1. MavenCon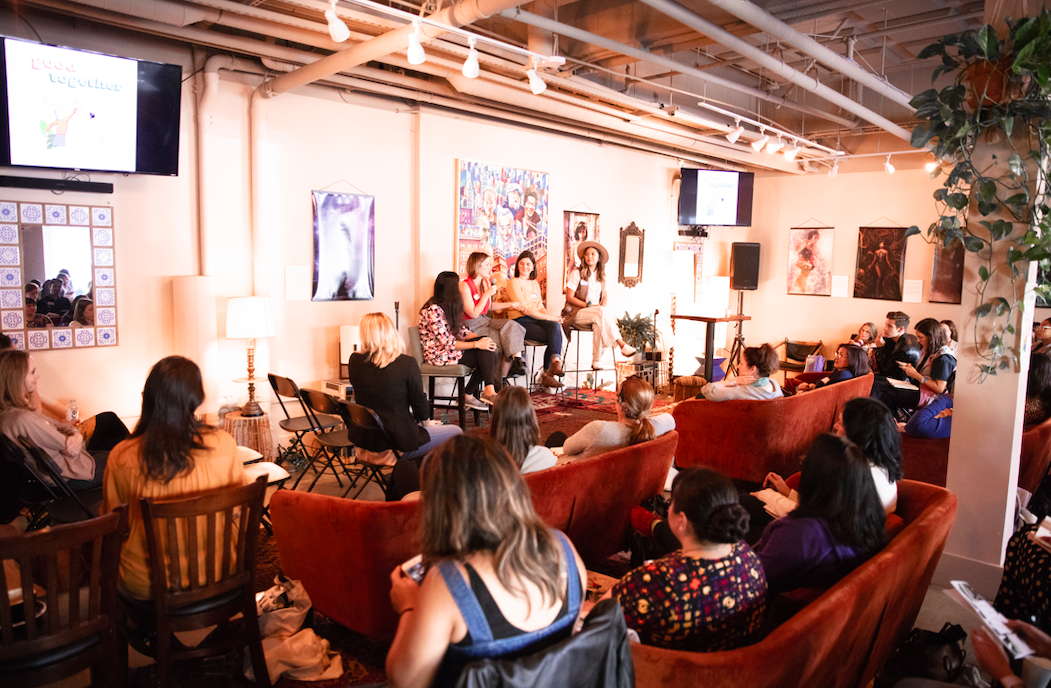 Undoubtedly one of the most exciting Maven Moments of 2019 was MavenCon. GlobeIn hosted their first ever conference for mavens, right from their office in San Francisco! For those who have watched any of the videos on GlobeIn's page, those who attended got to sit on the coveted green couch (a particularly fun moment for me 😉 )! 
While there, mavens got to spend time with the co-founders of GlobeIn, talk one-on-one with customer service and other staff members to provide valuable feedback about products and the company, and give input on new products. 
An added bonus: mavens got to build their own box! Each maven got to select various items to create their own themed (or not) box to be shipped home. 
There was also another day full of speakers, panel discussions, and getting to know one another. 
In 2020, MavenCon will be in Austin, Texas. You can find out more or purchase early-bird tickets here!
 2. Maven MeetUps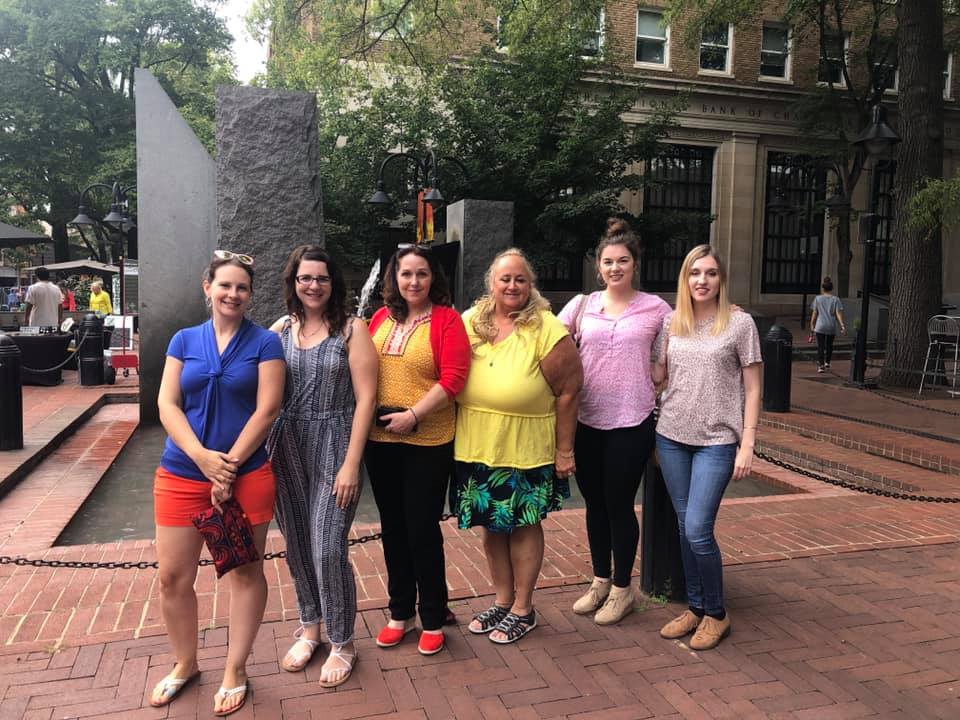 It's kind of hard to determine exactly where this idea started. A few mavens who live near each other would occasionally meet up for lunch or go shopping together. Liza then presented me with the idea of official Maven Meetups, and we discussed what that would look like. 
After the first one in September, mavens stepped up and began hosting them all over the country! In total, there were 9 meet-ups across the United States, in just 4 months, and already there are more planned for 2020.
This is a great way for the community that's grown inside the group to continue to flourish face-to-face.
3. #GlobeInSwap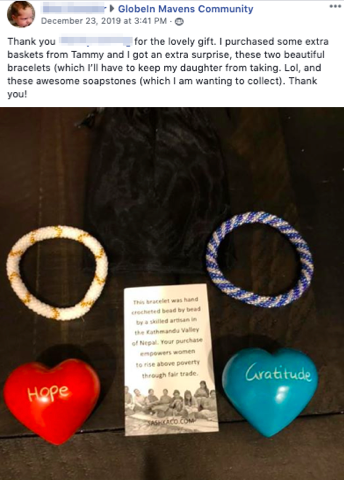 A hashtag that had been around for a while really got some use this year. Mavens have long traded with one another various GlobeIn items they've received in their boxes that they were not using or did not need. 
This year we saw mavens take it to the next level. Not only did they swap with one another, but many mavens added extra items, a homemade ornament, handwritten notes, or other small surprises in their trades. 
4. Secret Santa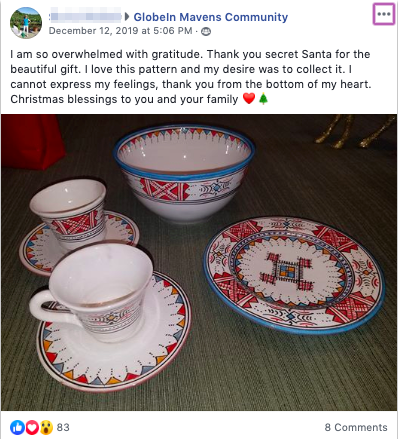 Amping up the generosity, some mavens participated in a Secret Santa this year. Although I did not participate (but sign me up for 2020!), it was fun for everyone to watch mavens show off their gifts. 
Hand painted platters, baskets, hand made jewelry, ever popular malika mugs, sari table runners, the list goes on. Mavens went above and beyond to show love and appreciation to one another in the spirit of giving.
5. Overwhelming care and compassion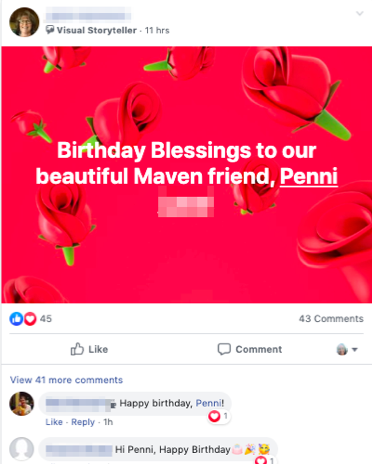 One thing that always strikes me about the mavens group is how kind they are to one another. Often, mavens find the group is a safe place to vent or express worry about personal matters in their lives. And the other mavens show up every time: offering love, support, and a listening ear. Whether it is feeling nervous about a surgery, a death in the family, work related issues, or going through the ups and downs of adoption, mavens cheer each other on. 
This care and compassion is also reflected in their generous support of the Artisan Funds each month, which are donations that mavens make to different causes to directly help artisans GlobeIn works with around the world. 
In 2019, the first year the Artisan Fund was created, mavens donated over $20,000 to different programs for the artisans. The Artisan Fund was an idea that came from the mavens themselves, and they have shown up and made it happen.
 6. Community building and relationships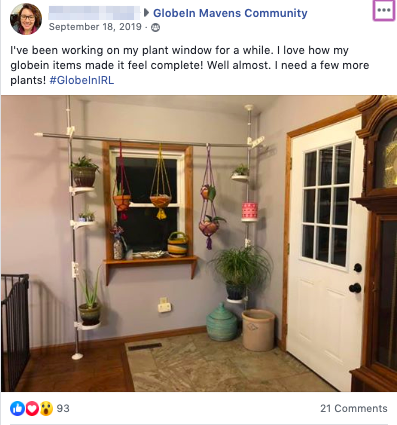 Time and time again, when a new member joins the Mavens group, they comment on how welcoming the group feels and how they feel refreshed by the sense of community. Even though the group continues to grow at a fast pace, it still feels personal. Every post gets active engagement, and not just by a few members or by the same members all the time.
Recipes are shared, mavens are doing live videos of unboxing their items, cooking, and sharing their lives.. The hashtag #GlobeInIRL (GlobeIn in real life) was created to inspire others in how they are using their artisan made products in everyday life. It is not just about what everyone is buying, but how their lives are changed as a result.
And I really think that is what it comes down to for the mavens group: community. There is already a sense of camaraderie as we all work together with the same goal in mind: buy and support Fair Trade. But it is the connection to the artisans that GlobeIn provides, through videos, stories, and pamphlets, coupled with the openness of the mavens to share their lives together, that makes the community so great.
Bring on 2020
2019 saw some pretty amazing things for mavens. I cannot wait to see what 2020 brings!